Information Commissioner Gitanjali Gutierrez issued Decision 14/2019, which "concerns the Department of Health's failure to issue an internal review decision within the statutory timeframes under the Public Access to Information [PATI] Act 2010."
"In Decision 14/2019, the requester sought records related to day care centres and child care providers in two separate but related PATI requests," a spokesperson said.
"The requester sought an internal review of the initial decisions on the requests. The Department outlined a number of administrative and logistical challenges it faced in issuing an internal review decision. The Department also explained that it had remained in communication with the requester throughout, including issuing an 'interim internal review decision'.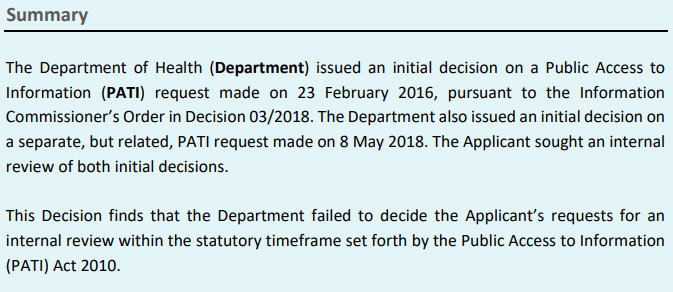 "The Information Commissioner has commended the Department for its intentions and efforts to disclose the responsive records. The Information Commissioner has acknowledged the challenges public authorities may face in processing PATI requests and that the Minister's practice code on the administration of the PATI Act will hopefully provide such support when published.
"The Information Commissioner has noted, however, that the timeframes set forth in the PATI Act are designed to support the public's right to access non-exempt records.
"The Information Commissioner has clarified that there is no provision in the PATI Act for 'interim decisions' and such decisions can cause confusion for the requester concerning the process to be followed, which may undermine the requester's right to an independent review by the Information Commissioner.
"The Information Commissioner has found that the Department failed to issue an internal review decision within the statutory timeframes. The Department, however, issued both internal review decision during the review and the Information Commissioner has not required the Department to take any further action in relation to the Decision."
A full version of Decision 14/2019 follows below [PDF here]:

Read More About
Category: All