Soldiers from the Royal Bermuda Regiment have spent their first week as part of an international disaster relief exercise in the Caribbean.
A total of seven soldiers are in the Dominican Republic in the run up to the deployment of more RBR soldiers for the second phase of Exercise Tradewinds, to be based in St Vincent & the Grenadines.
Lieutenant Colonel David Curley, the RBR's Commanding Officer, said Bermuda's soldiers were on parade for the opening ceremony at Las Calderas Naval Base before he and Wayne Caines, the Minister of National Security, were given high level briefings by the US Southern Command [Southcom], based in Miami and responsible for operations in the Caribbean region.
[L to R] RBR Commanding Officer Lieutenant Colonel David Curley and National Security Minister Wayne Caines get a briefing in the Dominican Republic from Lieutenant-Commander Daniel Rice, the captain of HMCS Goose Bay, a coastal patrol ship deployed as part of the multi-national Exercise Tradewinds in the Caribbean.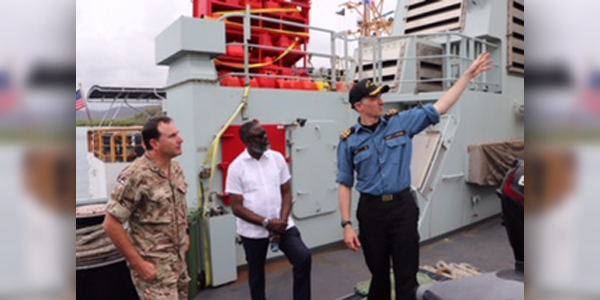 Col Curley added: "I was proud to see the RBR contingent lined up alongside service personnel from 12 other countries."
He said: "The Minister was very impressed at the sight of RBR troops in various locations working with Southcom and other units from different countries."
The RBR group includes Major Ben Beasley, the Second in Command of the Regiment and Captain Gordon Emmerson, who joined the RFA Mounts Bay, a logistics ship, when it visited Bermuda last month.
Two medics, Sergeant Husayn Muhammed and Lance Corporal Sivakumar Senthamaraikannan, joined forces with medics from other armed forces for training and teaching sessions.
Captain Emmerson, along with Colour Sergeant Curtis Grant, worked with troops from the elite 24 Commando Royal Engineers on the use of explosives and tactical and operational planning.
Col Curley said the second phase would involve soldiers from the reorganised RBR humanitarian aid and disaster relief [HADR] B Company, who will fly to St Vincent & the Grenadines on Wednesday [JUN 12].
He added: "This will test the RBR in all aspects of training and operations and will strengthen our abilities in all areas of HADR, which is crisis management at all levels.
"I have no doubt the exercise will make us even better prepared to tackle natural disasters and hurricanes, both at home and overseas, in the future."

Read More About
Category: All