Bermuda soldiers mounted an assault on a "terrorist stronghold" as part of a training exercise in the Caribbean.
Royal Bermuda Regiment troops stormed a building occupied by "terrorists and bomb-makers" alongside troops and police from other countries as part of Exercise Tradewinds in St Vincent & the Grenadines.
Lance Corporal Kyree Govia said: "I've done this sort of thing before. It's not brand new and I think we did well.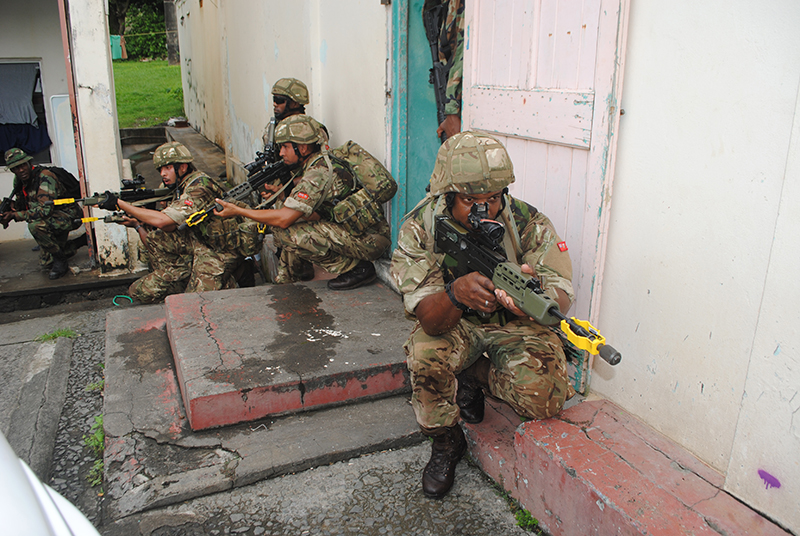 "We were told it was a gang that had taken over the compound. Our job was to retake it. It was a snatch and grab operation."
The 24-year-old employee at Master's hardware store in Hamilton, from Pembroke, was speaking after a platoon of RBR soldiers struck at the Old Melrose police station near the St Vincent & the Grenadines capital Kingstown.
They were told that the leaders of terrorist and crime group the Brigade of Martyrs Liberation had holed up in the building and also had a bomb factory there.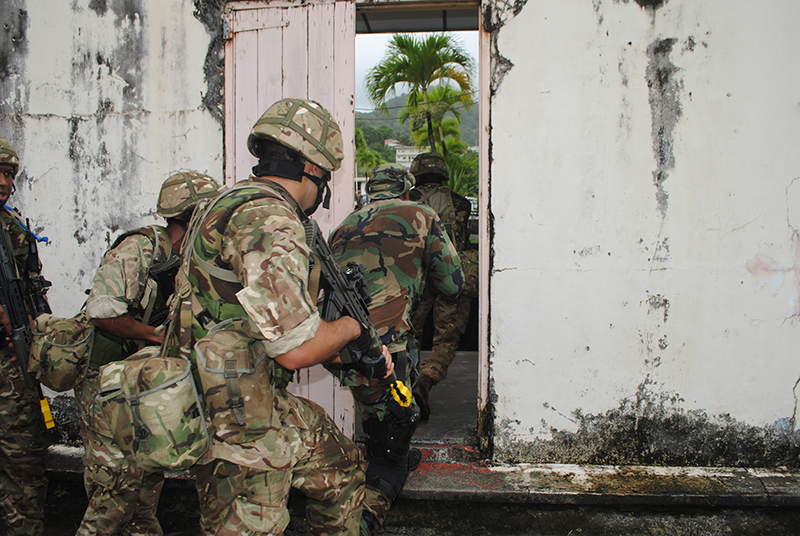 Two improvised explosive devices were found during a sweep of the compound after a short firefight and were disabled by soldiers from other participant countries while the RBR formed a cordon around the building.
RBR Private Ashanti Stovell, 22, said the strike operation against enemy forces was a baptism of fire for her.
She added: "We were well-briefed on the job. There is always room for improvement and for a lot of us this was the first time we had done an exercise like this."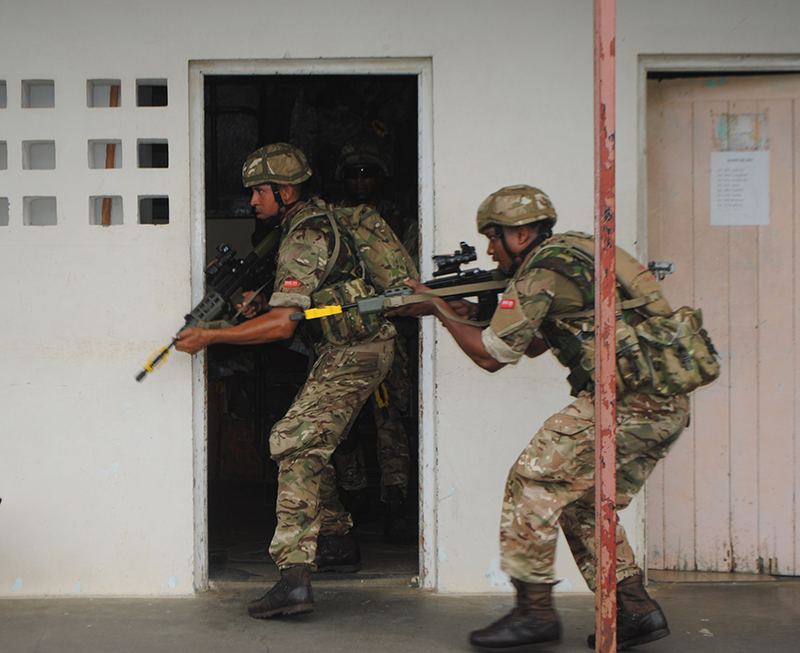 Pte Stovell, a supermarket cashier from Smith's, added: "I enjoyed it. We cleared the building. My job was to look at what was happening outside the area for things like runners and for anyone with a weapon that shouldn't have one."
Private Ryan Hayling, 30, a hardware store warehouse worker, said the RBR contingent suffered no casualties during the raid and had successfully completed the mission.
He added: "The St Vincent & Grenadines Police were really helpful. We learned a lot from them and they're easy to work with as well."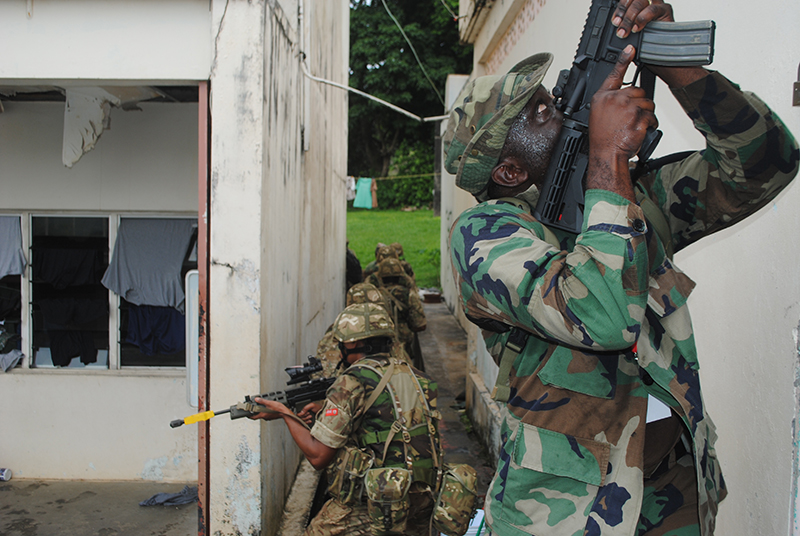 Captain Kenji Bean, the second-in-command of the land force component of the exercise, said: "I've spoken to a lot of the soldiers and they have really enjoyed working alongside the military and police from different countries.
"They have experienced a different part of the world, different cultures and different levels of training.
"It also gave them experience of the level of endurance that is needed to sustain a major operation.
"They are now better prepared and more robust for when they continue their training back in Bermuda."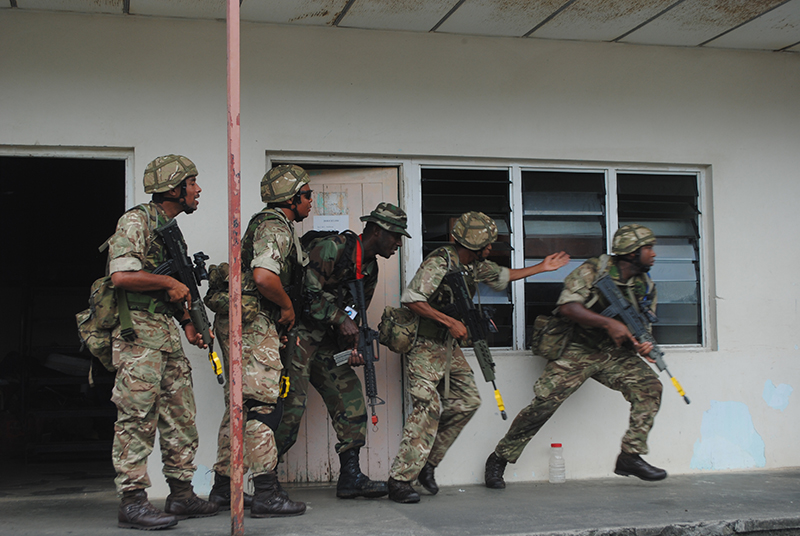 Capt. Bean added: "Tradewinds has worked well because it's testing our responses to different events, as well as teaching new tactics to sharpen our skills and drills.
"Our communications ability is being tested as is our ability to get things done efficiently.
"It has also forced people to get out of their comfort zone and we have been able to network with other agencies from around the Caribbean and around the world and share our experience with them."
Capt. Bean said: "The RBR as a career is great exposure for anyone looking to expand their skills. It's hard work – but it's rewarding."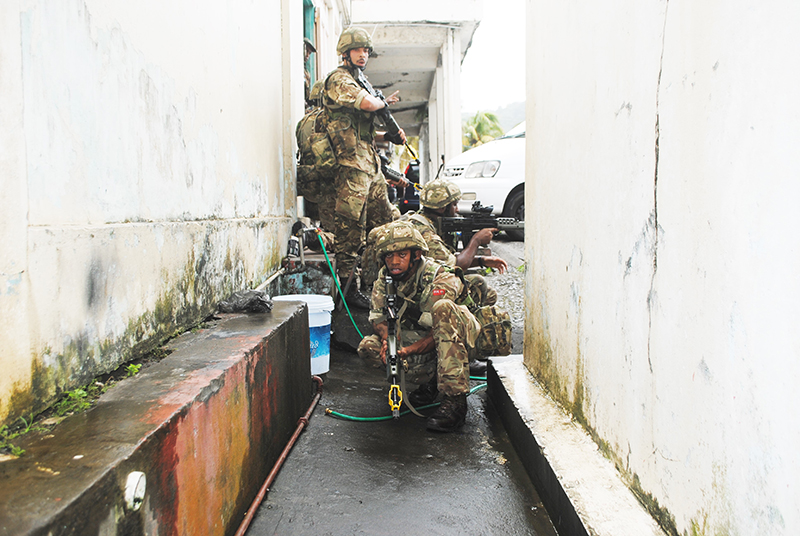 Tradewinds, run by the US military's Southern Command, was designed to build increased regional co-operation in complex multinational security operations, as well as humanitarian assistance and disaster response work.
Countries taking part include Antigua and Barbuda, the Bahamas, Barbados, Belize, Bermuda, Britain, Canada, Colombia, Dominica, the Dominican Republic, France, Grenada, Guyana, Haiti, Jamaica, Mexico, the Netherlands, St Kitts and Nevis, St Vincent and the Grenadines, Suriname, Trinidad and Tobago and the United States.

Read More About