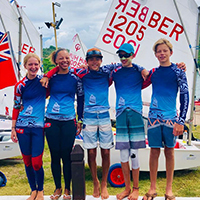 The 2019 Optimist World Championship in Antigua came to an end with the best results ever for Team Bermuda.
Out of 65 countries at the largest ever Optimist World championships, Bermuda was the sole country with two top ranked sailors.
Bermuda was led in the Gold Fleet by Christian Ebbin who finished the Regatta with 145 net points in the 8th place spot, while Sebastian Kempe finished in 11th place with 149 net points.
In the Silver Fleet, Magnus Ringsted finished in 20th place and 85th overall, Laura Hupman finished in 42nd place in the Fleet and 106th overall, while Nicole Stovell finished in 5th place in the Emerald Fleet and was 197th overall.
Coach Pablo Weber said, "I am very proud to be part of Team Bermuda and thankful to the Bermuda Optimist Dinghy Association for giving me the opportunity to help develop these sailors. I also want to thank all of the people that made this possible."

Read More About