Food Box Bermuda has released the July menus, featuring five different box options, ranging from $50 to $285.
The deadline for orders is Monday, July 15th at 7:30pm, with the distribution date set for Monday, July 29 between 6.00pm – 7.30pm.
One option is "Fruit & Veg Box" for $50.00 which includes 14oz TJ Farms Select Mixed Vegetables, 14oz TJ Farms Select Cut Green Beans, 32oz Broccoli Florets, 32oz Chopped Spinach, 16oz TJ Stir Fry Blend, 3 [10oz] Chiquita Ripe Plantains,10oz Mango Chunks, 10oz Whole Strawberries, 12oz Pineapple Chunks, and 12oz Sliced Peaches.
Another option is the "Assorted Meat Box" for $130.00 which includes 4 pieces Top Sirloin Steak, 3lbs Red Castle Beef Hamburgers, 2lbs Turkey Burgers, 1 pack [3lbs] Chicken Franks, 5lbs Great White Salmon, 5lbs Chicken Tenders, and 2lbs Jade Lion Large Uncooked Shrimp.
The full July menu follows below [PDF here]: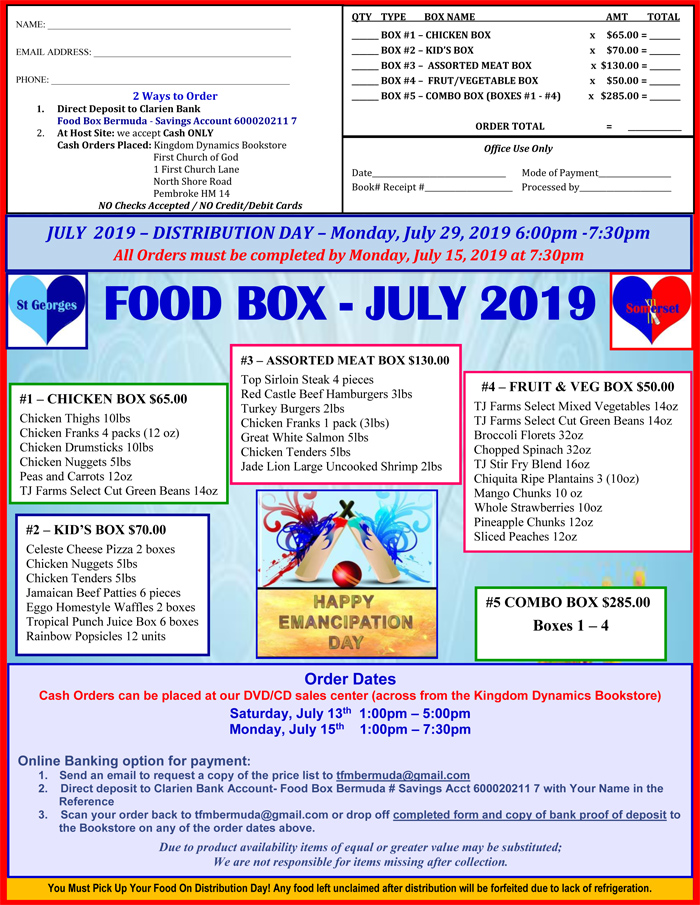 Read More About
Category: All