Burrows Lightbourn recently presented a Johnnie Walker statue painted by local artist Jaylaka Jayathunga, with the piece to be placed at Masterworks.
A spokesperson said, "We at Burrows Lightbourn are proud to present a locally adapted and completed Johnnie Walker statue, painted by local artist Jaylaka Jayathunga. The statue is approximately six feet high and two feet wide.
"We are extremely delighted to be providing a platform for local artists to showcase their ability on a larger scale. The Johnnie Walker piece shown will be permanently placed at the Masterworks Museum for all to view and enjoy."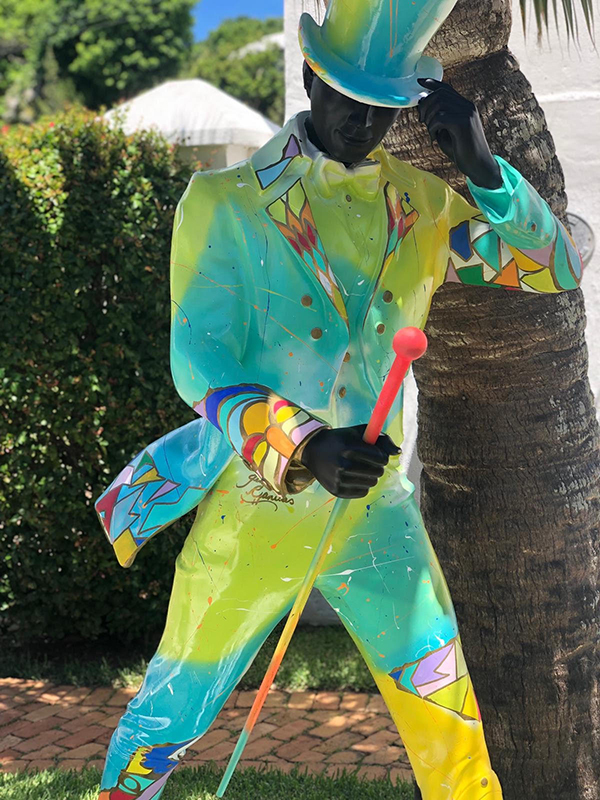 "To provide a little context behind why we are so appreciative of the artist and the artwork shown. Ms. Jayathunga was contacted a few weeks prior to the Bermuda Carnival, inquiring if the Johnnie Walker statue could be completed in-time for Carnival, as it was earmarked to be displayed at GLOW Bermuda, one of the headliner events for the weekend.
"She gladly agreed, however stated that due to her current studies abroad, she would not be back on island to complete the project until two weeks before the deadline. Unfortunately, upon her arrival, the statue was still in the process of being repaired due to damages incurred.
"The statue became ready a week before the event, Jaylaka then arrived at our warehouse with nothing but a bag of brushes and spray paint, armed with an Ez-Up and a few bottles of Icelandic water, Jaylaka spent three days from 8.00am to 6.00pm in the blistering Bermuda summer heat completing the project you see before you."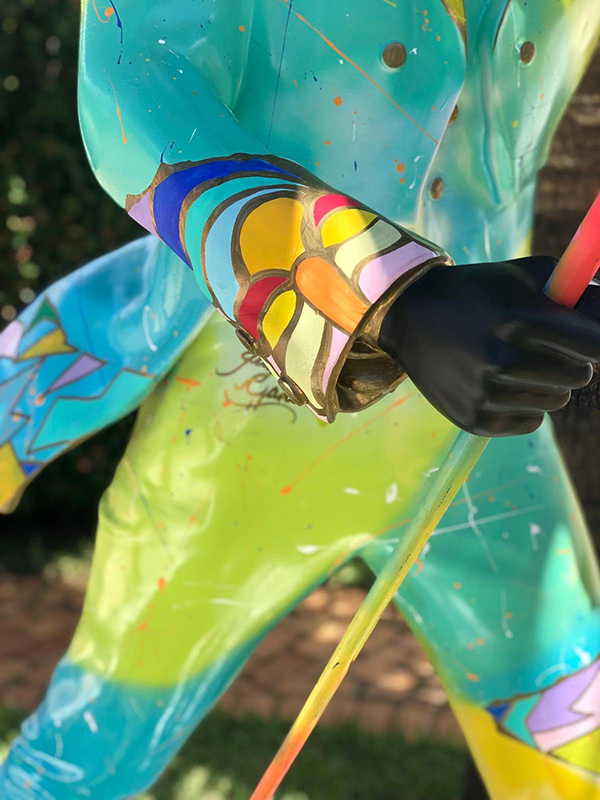 "During the entirety of this, the warehouse was operating at full capacity in preparation for Carnival, a series of events which is largely sponsored by Burrows Lightbourn and easily one of the busiest period for the company. The constant traffic of trucks, vans and containers within the BLL warehouse loading dock coupled by staff and by passers awkwardly observing, doesn't exactly make for a very comfortable environment.
"The quote 'there is beauty in the struggle' couldn't be more applicable to this scenario. A local artist stepping massively out of her comfort zone and against all odds, producing a phenomenal piece of work.
"We thank her for talent and wish her all the best in her future endeavors. Thank you for your perseverance. It is also to be noted, that a secondary statue was completed by local artist, Alshante Foggo however this statue was unfortunately broken during the events of the weekend."

Read More About
Category: All, Entertainment, News