The Bermuda International Long-Term Insurers & Reinsurers [BILTIR] continues to make a positive impact in the local community by awarding its fourth scholarship to University-bound Bermudian student Zya Fraser.
"The announcement came on July 19 at the Association of Bermuda International Companies Education Awards luncheon. The scholarship award is $30,000 over a two-year period [$15,000 in year one and $15,000 in year two]," a spokesperson said.
"Ms. Fraser will be attending Georgia State University, where she plans on pursuing a major in Risk Management and Insurance. As a student of the Berkeley Institute, she achieved three GCSEs with excellent grades in English and Mathematics.
"Ms. Fraser's dedication and "can-do" attitude is demonstrated not only by her academic achievements, but also by her relentless involvement in the community, supporting local rest homes, shelters and dance schools. In 2018, Ms. Fraser was also a Nominee for the Outstanding Teen Awards.
BILTIR Senior Advisor Ronnie Klein pictured with Zya Fraser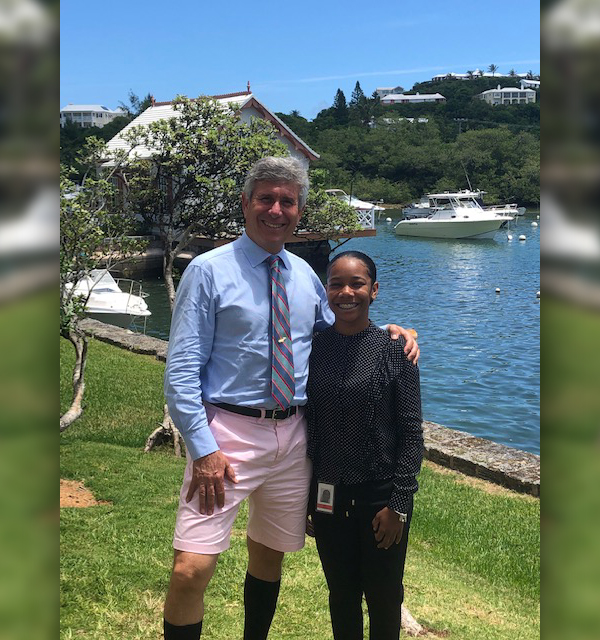 "BILTIR is pleased to support the ABIC Education Awards, whose mission is to enable qualified Bermudians in financial need to pursue their undergraduate or graduate educational goals in areas related to international business. The BILTIR scholarship targets Bermudians studying insurance-related subjects such as mathematics, actuarial science and underwriting."
Ms. Fraser stated, "I am grateful and blessed to be one of the 2019 ABIC Scholarship recipients. This award means the world to me and will assist me greatly with completing my degree. I thank the ABIC Scholarship Committee as well as BILTIR for investing in my future".
Thomas Olunloyo, said, "As a Board member of BILTIR, I look forward to being Zya's mentor over the course of the next two years and hope to provide positive guidance and support to help her achieve her fullest potential. BILTIR is committed to assist Bermudian university students pursue careers in international business and Zya is well deserving".
BILTIR corporate administrator, Wenda Roberts, stated, "We are extremely proud to award our scholarship to such an outstanding young Bermudian. BILTIR continues its efforts in introducing re/insurance to local students with lunch and learn sessions, a university intern program and a math tutorial program".

Read More About