Fans of TV's Bachelor Colton Underwood thought he was going to pop the question to his season winner and current girlfriend Cassie Randolph when they spent a romantic getaway in Bermuda earlier this summer.
"Betting Colton and Cassie get engaged in Bermuda who's with me," said Maddie T. on Twitter, typical of the thousands of posts that news of their island holiday prompted on social media when it was announced during an interview on TV's E! News.
But by the time the couple returned to the US at the end of June from a Bermuda vacation they recorded on their Instagram feeds, those keeping a careful eye on their social media photos were disappointed to see there was no gold band on Ms Randolph's ring finger.
Photo showing the couple in Bermuda via their social media: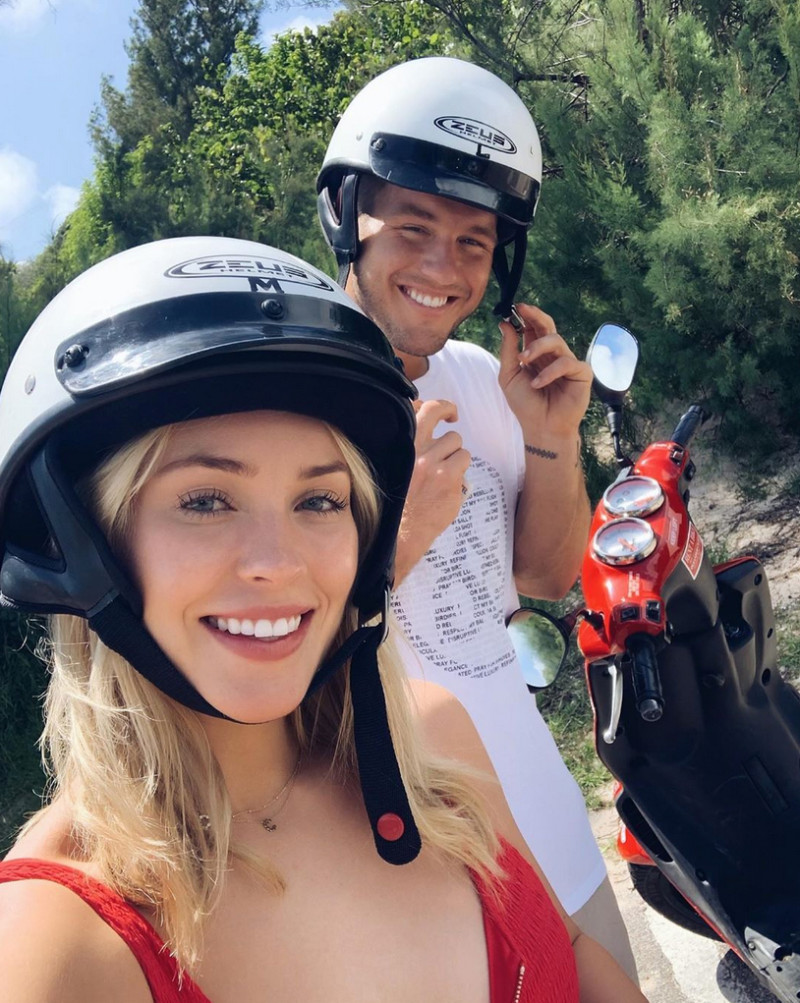 When the current season of ABC's The Bachelor ended in April, former professional football player Mr. Underwood and speech pathologist Ms Randolph had spoken about getting engaged "imminently". They have since backed off from that self-imposed deadline.
"We really don't have a timeline to get engaged," Mr. Randolph told US Weekly in May. "We've definitely talked about it, but we're just enjoying right now and not worrying about it."
They are now letting their relationship progress at its own pace. And that pace seems to be an extremely agreeable one based on the upbeat on-line journal they kept of their Bermuda trip.
"I'm like 4 rum swizzles deep… Bermuda I love you… Cassie I love you… #LiveTheLorenLife," Mr. Underwood, 27, captioned a selfie with Ms Randolph, 24, on June 24. In the comments section, she responded, "Go ahead and try to peel me off this sand. I dare you. I love you and Bermuda. Never leaving."
She posted similar sentiments on her Instagram account: "Never ever leaving Bermuda. Ever. If you need me, I'll be here with my kindle and a rum swizzle. Forever. Ok bye."
The reality show stars, who stayed at the Loren at Pink Beach, went boating and swimming while in Bermuda — and Ms Randolph befriended the cats which visit the hotel property. She joked on Instagram: "[Can] you bring your cat on vacation? Hahaha I'm bringing Goose and Maverick next time."
Mr. Underwood drove Ms Randolph around the island one day on a rental scooter, an excursion she raved about on Instagram. .
"Such a fun way to see the island … The most beautiful place. We live in an incredible world, and in moments like today it reminds me of just how small we are and how insignificant so much of what we worry about on a daily basis actually is. I feel very lucky," she captioned a selfie from their ride.
In the comments section Mr. Underwood added: "We make a good team. You make me a better man."
If they're as wild about one another as they obviously are about Bermuda, fans of the couple may not have to wait too much longer before Ms Randolph starts sporting an engagement ring.

Read More About
Category: All, Entertainment