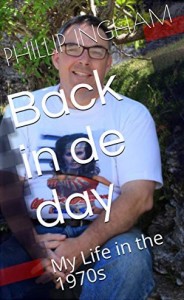 It's the story of a Bermudian childhood as seen through the prism of 1970s pop culture.
In his newly released ebook Back in De Day: My Life in the 1970s, Phillip Ingham looks back at the life-enhancing role played by television, music,and films during his childhood and teenage years.
Mr. Ingham, now 49, grew up at Rocklands Estate in Warwick and says despite the fact he contracted cerebral palsy as a three-year-old "that didn't worry me in the least. I was born into a world of much colour, humour and family discipline."
The music, TV shows and films of the day weren't so much forms of escapism for him as they were cheering extensions of a happy Bermuda childhood.
He says TV programmes like Sesame Street and the Six-Million Dollar Man and the music of everyone from Donnie Osmond to Elton John added to the quality of his life growing up rather than being distractions.
"One of the most poignant aspects of the 1970s to me was the atmosphere and energy of that time," he says in his memoir. "There was such a togetherness, not just at home but in society in general."
You can purchase Mr. Ingham's ebook online here.

Read More About
Category: All, Entertainment