The Bermuda Tourism Authority will host a Cultural Experiences & Food Tourism Stakeholder Session on August 7th, with the BTA noting that signups have been so strong that the session is now oversubscribed, and stakeholders not already pre-registered should look out for a recording of the presentation online.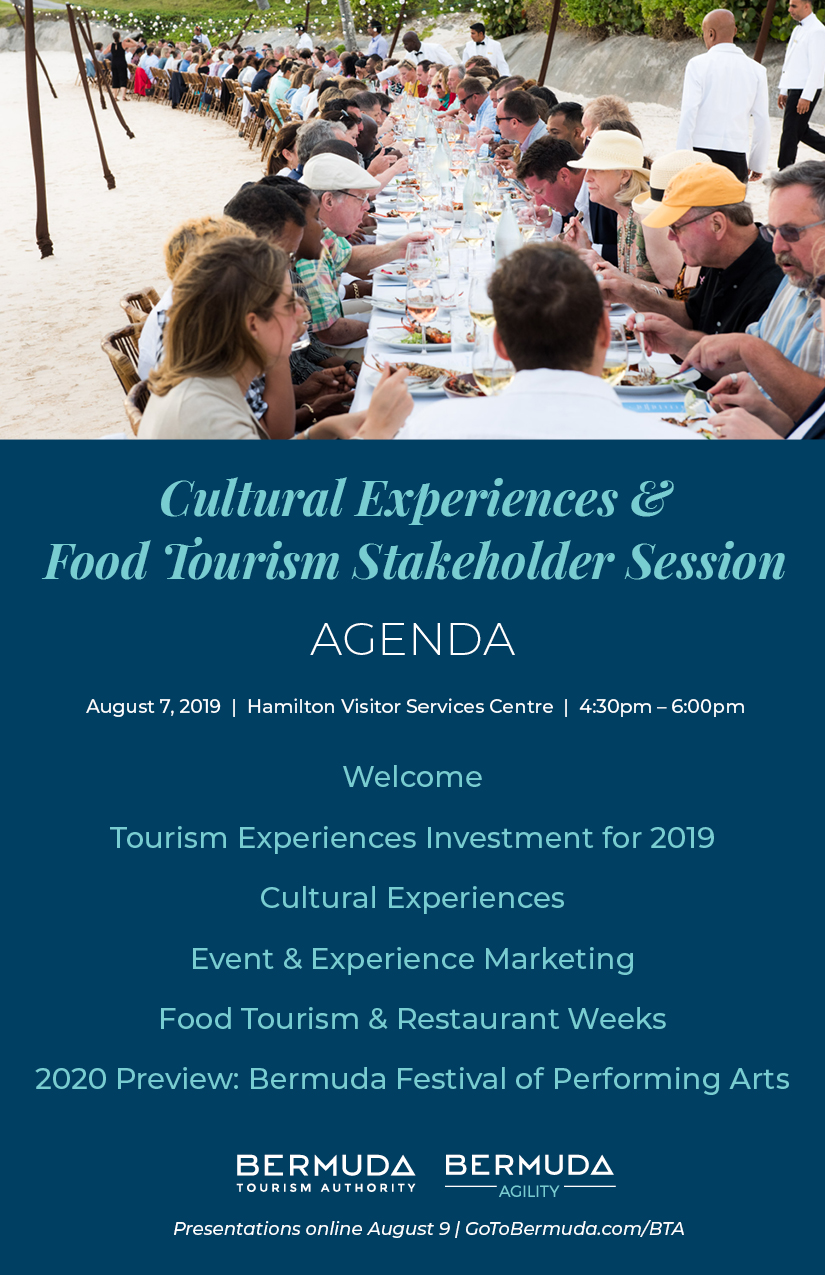 A spokesperson said, "Bermuda's diverse cultural tourism attractions will get a substantial boost from a new programme being launched by the Bermuda Tourism Authority [BTA] this fall. The initiative, a result of more than a year of research and consultation, will be unveiled at a public stakeholder forum this Wednesday.
"The island's black heritage, unique architecture, food culture and neighbourhoods are among categories of cultural tourism the new plan addresses. The goal is to present a diverse menu of culture options to visitors every month of the year, with particular emphasis on the fall and winter."
"We all appreciate how interest in Bermuda's culture and heritage peaks around Cup Match, but we also know visitors want an elevated cultural experience all year long," said Glenn Jones, BTA Chief Experience Development Officer. "With the help of our stakeholders, we now have an action plan that considerably raises the profile of cultural tourism in the visitor experience Bermuda offers."
The BTA added, "A cultural tourism strategy completed in March 2018 was woven into the National Tourism Plan last October. A working group partnership between the BTA and a consortium of cultural tourism stakeholders called Heritage Bermuda convened in the spring of 2019. Those steps led to an exciting menu of experiences being unveiled this week that aim to give visitors an authentic, first-hand look at the island's history, culture and lifestyle.
"Visitors can start participating in the new experiences this October," said Jones. "Meeting the desires of experience enthusiasts—a key target segment identified in the National Tourism Plan–is the primary objective."
"In addition to hearing about the strategic approach for cultural and food tourism Wednesday, stakeholders will learn how they can align their own ideas to the overall strategy. Attendees will also learn details about new visitor events, as well as innovative promotions starting in January to connect existing events, including the Bermuda Festival of Performing Arts and Bermuda Restaurant Weeks.
"Signups have been so strong for the August 7 forum, to be held 4:30–6pm at the Visitor Services Centre, Front Street, the session is now oversubscribed. Stakeholders not already pre-registered should look out for a recording of the presentation online, starting August 9. Media have also been invited."

Read More About
Category: All