Bermuda gave a polished performance to beat Antigua and Barbuda 3-0 [25- 17, 25-17, 25-23], to register their first win in the Eastern Caribbean Volleyball Association [ECVA] Under-20 Female Volleyball Tournament.
NORCECA's match report said, "Both teams went into match four of the tournament, with a different status, with Antigua and Barbuda having a win over Saba, whilst Bermuda had lost to St Lucia, in their opening fixture.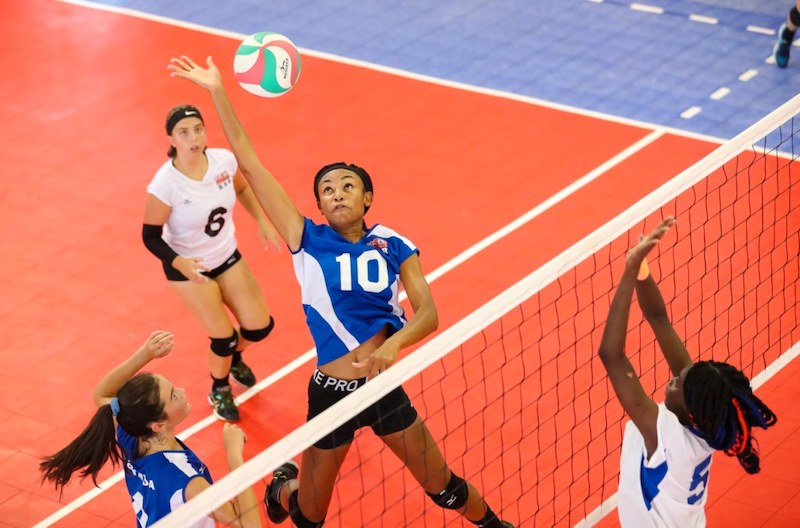 "But it was the Bermudans that made the fewer errors – 30, while Antigua and Barbuda committed 49, which proved crucial in the match's outcome.
"Bermuda also bettered Antigua and Barbuda in Serves 11-6, but was outdone in Blocks 4-1.
"Outside Hitter- Daniella Stegmann was Bermuda's topscorer with 7 points, with Antigua and Barbuda's Middle Blocker- Jah- Lieshia Knowles, also scoring 7 points.
A bubbly Gary LeBlanc, Bermuda's Head Coach maintained that his team stuck to the fundamentals.
"We assessed how we played against St Lucia and we focussed on those and the result was a win", LeBlanc assessed.
"Admitting that the match versus Antigua and Barbuda was 'not perfect', LeBlanc projected a fine- tuning of some aspects of the game, in preparation for the next meeting versus Saba.
"Meanwhile, Bermuda's Captain- Ashley Horseman expressed: 'It feels really good winning this match'.
"Thumbing the unity and spirit within the team, Horseman pointed out: 'We channelled our energy and we kept it up the whole match … It didn't matter if we were down three points or up five points, we had the same energy and that helped us to win'.
"On the other hand, assessing his team's defeat, Rixon Joseph, Antigua and Barbuda's Head Coach summed up, 'Today's match was a tougher match than yesterday's … The girls just needed to play a little harder and put in some more effort into their play'.
"Joseph was however optimistic that the team has what it takes to rebound in their final preliminary round match against St Lucia.
"And, in spite of the loss, Antigua and Barbuda's Captain – Nashea Browne was still in high in spirits.
"The game was a bit tough, we should have played better as we were not as focussed as we were in the match against Saba, but we promise to come out and do our best and keep the positivity up and keep encouraging one another", Browne related.

Read More About