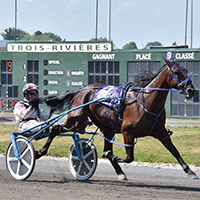 Kiwon Waldron was recently back in action, taking the St Aime Des Lacs Track in Canada by storm as he notched two wins and broke a track record.
Waldron was in action on three occasions during the day's racing, picking up two wins and a second place finish to go along with setting the new track record time.
Waldron and Shemaksmefelunreal finished second in a photo finish, clocking a time of 2:04.4 during Race Two.
Race Three saw Waldron back in the bike, this time with Atomic Sena, and the pair earned a win after stopping the clock in a time of 2:02.4.
Waldron was once again back in the winners circle after clocking a time of 1:59.4 in Race Seven when he was in the bike of Missionoftheheart, with the time breaking a track record.

Read More About