Today, the Minister for the Cabinet Office Wayne Furbert released the May 2019 Retail Sales Index publication from the Department of Statistics.
The Minister explained, "After adjusting for the retail sales rate of inflation, measured at 0.8% in May, the overall volume of local retail sales decreased 4.4% since May 2018. In addition, the total value of retail sales in May decreased by 3.5% year-over-year."
Chart extracted from the report: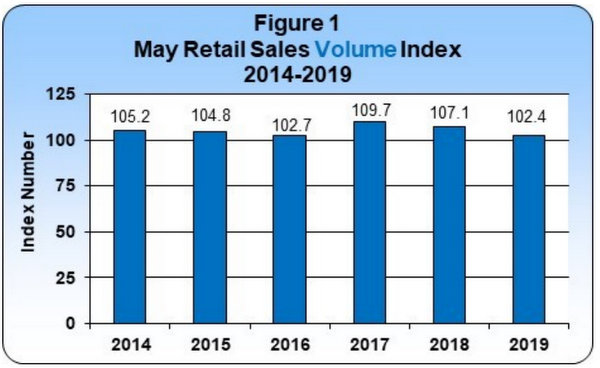 Highlighted below are the year-over-year May 2019 sales volume changes for the local retail sectors:
Apparel Stores' sales volume declined 18.0%.
All Other Store Types' sales volume decreased 8.0%.
Liquor Stores' sales volume decreased 4.1%.
Building Material Stores' sales volume declined 3.8%.
Service Stations' sales volume declined 3.4%.
Motor Vehicle Stores' sales volume declined 0.5%.
Food Stores' sales volume decreased 0.4%.
Minister Furbert stated, "I met with members of the Chamber of Commerce Retail Sector to discuss ways the Government can assist them. I made it clear that the industry must make changes to face the challenges of local retail sales being affected by purchases overseas. I also encourage residents to shop more locally."
The Minister also explained, "Year-over-year, imports via courier increased $1.1 million to $12.5 million largely due to imports of clothing, medicaments and jewellery.  Imports by households via sea rose $0.8 million to $1.5 million reflecting higher direct imports of furniture, clothing, liquor, and jewellery.
"Imports via the post office increased $0.1 million to $0.6 million.  In contrast, declarations of returning residents via the airport declined $0.1 million to $5.2 million."
The full May 2019 Retail Sales Index publication follows below [PDF here]:
Read More About