Bermuda's Zeiko Lewis is up for Charleston Battery's 'Player of the Month,' with the public able to help by voting Lewis into the top position.
The club said, "July was a strange month for the Battery. Charleston played just one of their four scheduled matches in July, a 2-3 win against Hartford on July 20th, and sets up a very busy second half of the USL Championship season. Here are you're top four performers for the month of July.
"Zeiko Lewis – Lewis got things started for the Battery in the 40th minute, converting on a free-kick from 21 yards out, curling his shot past a six-man Hartford wall and Frederik Due. Lewis was also credited with an assist on Dante Marini's goal, holding off three Hartford defenders in the box, controlling a loose ball into the path of Marini. Lewis has been one of Charleston's most consistent attacking options this season and played a major part in the Battery's 2-3 win against Hartford last month.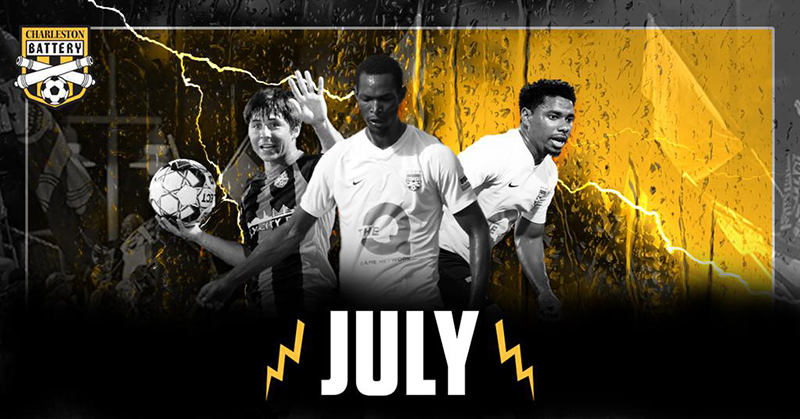 "Ataulla Guerra – Guerra brought the Battery level in the 79th minute scoring his first goal of the season in his first match back with the club. Guerra found himself with a bit a space slotting home a quick pass from Leland Archer in the box following a corner. The forward was the best offensive player on the afternoon attempting four shots, all of which were on target. He finished second on the team in passes attempted [36] and completed at an 86.1% rate.
"Dante Marini – Marini scored the match-winner ninety-two seconds after Ataulla Guerra equalized for Charleston. Marini continues to impress for Charleston, coming off the bench and scoring his third goal of the season, relieving O'Brian Woodbine in the 71st minute. Marini scored against Hartford earlier this season lifting the Battery to a 2-1 win at MUSC Health Stadium on March 16th. Marini has earned the Battery a total of nine points this season with each of his goals proving to be match-winners.
"Mother Nature – Mother Nature dominated the Battery during the month of July. Responsible for the postponement of two Charleston Battery matches, [ATLUTDII, Memphis 901 FC], Mother Nature seemed poised to cancel/postpone every single Battery match in the second half of the season.
"ATLUTD2 and the Battery played ten minutes after a ninety-minute delay, but Mother Nature had the last laugh forcing both teams off the field in the 11th minute. Charleston's match against Memphis never stood a chance and was called off before it began.
"Despite Mother Natures recent form against the Battery she holds a horrible record in the USL Championship this season, sitting dead last in the league, with an unimpressive 7-384-0 record."
To cast your vote for Lewis to win the club's 'Player of the Month' distinction, visit the Charleston Battery's website.

Read More About