The second annual BEDC Summer Student Entrepreneur Programme recently ended with a certificate presentation to the nine participating students.
A spokesperson said, "The Minister to Cabinet Wayne Furbert was on hand at the celebration to congratulate the students at the award presentation which took place at BEDC in the Training Room."
Minister Furbert said, "It has been a great opportunity for me to speak with and meet you young entrepreneurs. I have had the pleasure of sampling some of your products and I am thoroughly impressed with the level of quality and your passion.
"I am also an entrepreneur and understand what it takes to startup and run a successful business. You all are on your way to becoming great entrepreneurs and I encourage you to continue to develop the skills necessary to succeed not just as entrepreneurs but in life."
Xela Swan, SSEP Graduate, and Minister to Cabinet Wayne Furbert: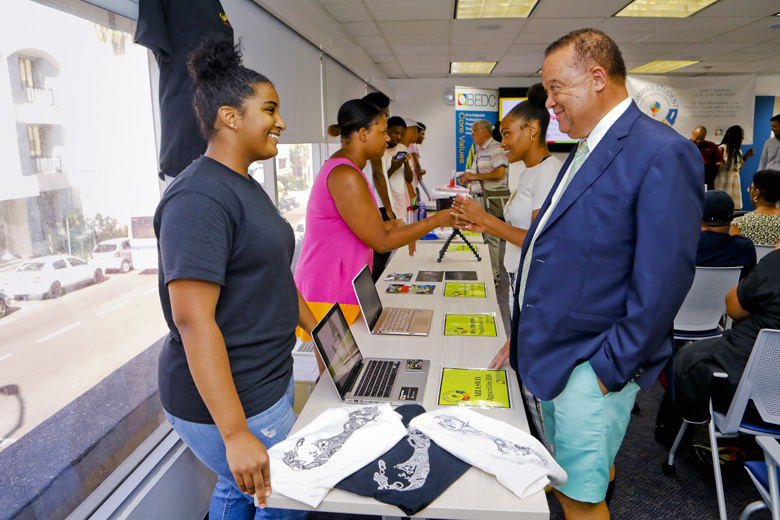 A spokesperson said, "The students set up displays to give attendees a sampling of their products.
"Participating students included: Mya Thompson, Simply Sweet a Natural Beauty Company; Tyler Cook- Aitken owner of Tiki-Shack, a snack vending Business that operated at Church Bay; Kenai Stowe, who started BTG Designs [Be the Greatest], Customization & Printing of stickers, clothing and more; Xela Swan, BDA Appareldise, custom designed Bermuda merchandise; Jaaziah Richardson-Webb, owner of Island Events – event planning services; Giovanni Hollis, Home-in-One- Property Management and landscaping services; Dymare Simons- owner of Aloe Aloe- Organic Aloe Based Drinks; Jaden Taylor, Snack Spot- Beach Snack Concessions and Andreaz Glasgow, Bermuda Local Guides,– Twizzy guided tours.
"In addition to displaying their products, each student had an opportunity to present an overview of their business and shared how the SSEP helped them to prepare themselves as entrepreneurs."
Xela Swan said, "This programme helped me to take an idea that I have had for two years and actually start it. I am grateful to the BEDC and for the opportunity that I was given to make my idea a reality. My t-shirts will be available for purchase at Harbor Nights and will be launching other products in October."
Dymare Simons [SSEP Graduate], Dennis Carter [BEDC MSME Officer], Grandmother or Giovanni Hollis [SSEP Graduate], Jamillah Lodge [BEDC Director Of Communications & Development], Xela Swan [SEEP Graduate], Jaden Taylor [SEEP Graduate], Kenai Stowe [SSEP Gradutate], Minister Wayne Furbert JP MP, Andreaz Glasgow [SSEP Graduate], Jaaziah Richardson [SSEP Graduate], Tyler Aitken [SSEP Graduate], May Thompson [SSEP Graduate], Ondreyah Rochester [BEDC MSME Officer], Raymond Lambert [BEDC Director Of MSME]: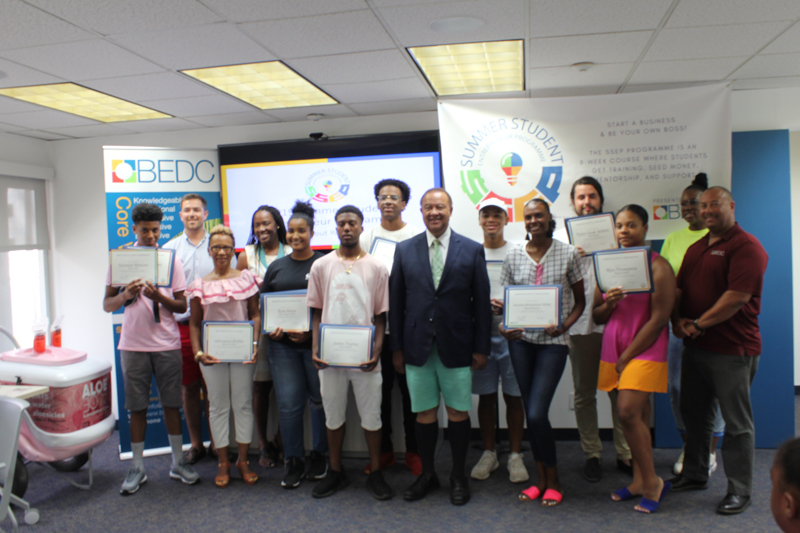 A spokesperson said, "The SSEP students between ages 16-25 to earn a livable wage and save funds during the summer period as an alternative to securing summer employment for a period of 8 weeks from July 8th – August 30th.
"The programme was designed to promote a culture of enterprise and entrepreneurship as a viable career option and inspire and equip young people in the local community to learn and succeed through enterprise."
Raymond Lambert, Director of the MSME Unit at BEDC, said, "The goal of the programme was not just to assist participants with earning money over the summer, but also to impart an entrepreneurial mindset that will assist them as they prepare for their futures working in the business arena or as entrepreneurs."
Read More About