The forward-looking abstract sculptures of Bermudian artist Dan Dempster are included in a prestigious new Los Angeles exhibit featuring the private work of Hollywood arts professionals who give shape and form to fantasy in movies and on TV.
His work is featured in The Art Directors Guild's Gallery 800 show Fantastic Voyage, a mixed media exhibition celebrating the science fiction and fantasy genres as well as the metaphysical realm.
The Art Directors Guild represents 2,500 members who work throughout the US, Canada and the rest of the world in film, television and theatre.
An example of Bermudian artist Dan Dempster's biomorphic stainless steel sculpture. Photo courtesy of Dan Dempster
Mr. Dempster, a contemporary artist based in California, is one of the show's few guest artists.
His work is being exhibited alongside that of 60 production designers, scenic, title and graphic artists, set designers, model makers, illustrators and others.
Examples of Mr. Dempster's biomorphic steel sculptures are on display at the exhibit. The term biomorphic dates from the 1930s and refers to abstract forms or images which evoke organic shapes found in nature.
Fantastic Voyage opened on, August 31, 2019 and runs through November 2 at the North Hollywood gallery.
Earlier this year his work was featured in another Gallery 800 show, the Art Unites 12 exhibit which ran from January through March.
Invitation for the The Art Directors Guild's Gallery 800 show Fantastic Voyage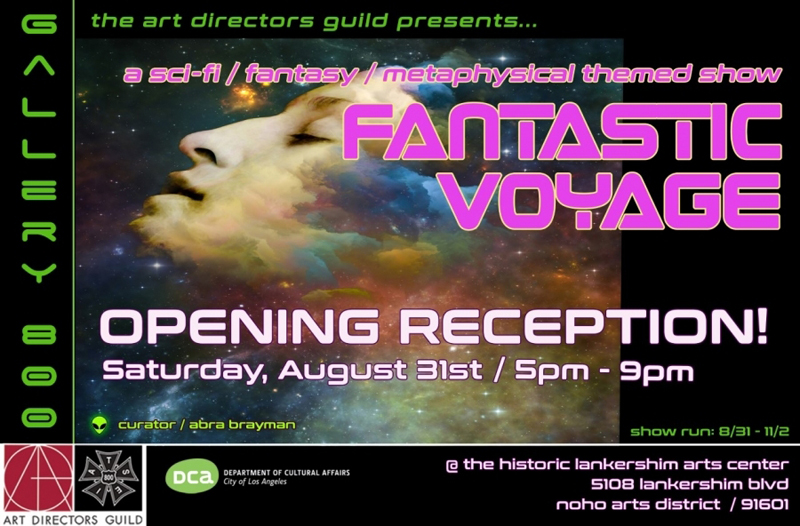 Mr. Dempster, who now lives in Palos Verdes, California with his family, has been a full-time artist for more than 25 years, holding his first solo exhibition at Bacardi International in Bermuda in 1991.
He says all of his drawings, paintings and sculptures are informed by his familiarity with the water, "having grown up in, on and under the ocean surrounding Bermuda."
His work has won Best in Show at the Bermuda Society of Arts, been selected for Biennials of the Bermuda National Gallery and won Best Painting award at the New Hampshire Institute of Art Biennial.
Mr. Dempster's pieces can be found in the collections of the Masterworks Museum of Bermuda Art, HSBC Bank of Bermuda, Banque de Montreal, Swiss Re, the Coral Beach Club as well as private collections.
His last major Bermuda show was in 2015.

Read More About
Category: All, Entertainment, News