Recently, three artists and musicians received a combined $25,000 in funding as part of this year's Bermuda Arts Council [BAC] Grant Awards, with Rashun Robinson, Leslie Tucker, and Peri Nolan-Trott all receiving grants.
Making the presentation was the Acting Minister of Labour, Community Affairs and Sports Kathy L. Simmons, who said, "Each recipient's passion for their chosen art form was evident during my conversation with them. I am encouraged by the contributions they will make in the Bermuda Arts community and the world."
Minister Kathy Simmons, Jennifer Phillips, Rashun Robinson, Peri Nolan-Trott and Leslie Tucker Sr., who is representing Leslie T. R. Tucker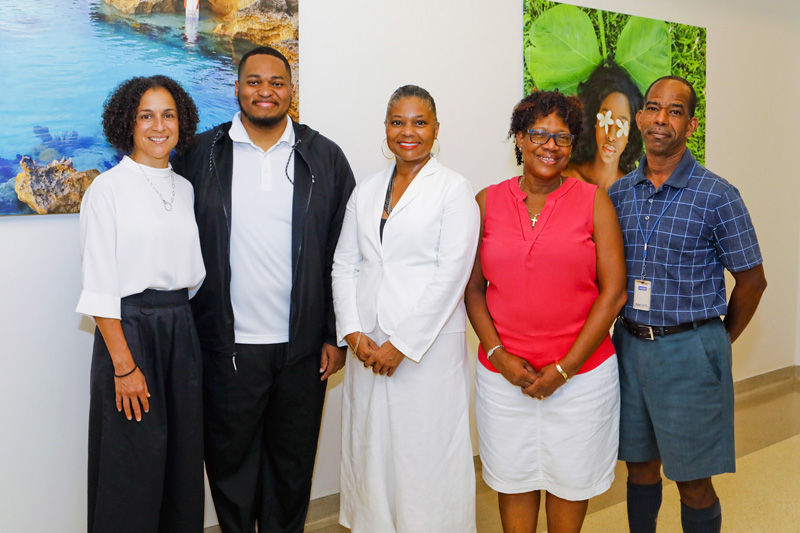 Bermuda Arts Council Chairperson Ms. Jennifer Phillips added, "This year, 27 student applications were received and three recipients were selected based on the quality and completeness of their application, artist aptitude in their chosen art form, community involvement and financial need.
"In keeping with our principal objectives of developing and improving the knowledge, understanding, and practice of the Arts, as well as increasing the accessibility of the Arts in our community, the Bermuda Arts Council awards grants throughout the year to both individuals and organizations.
"We are particularly cognizant of the importance of supporting the next generation of local artists. The BAC therefore formalized the Student Grant Awards in 2013, and since then has awarded annual grants to students of all facets of the Arts."
Rashun Robinson $10,000
The BAC said, "Rashun is entering his senior year at Nova Scotia College of Arts and Design University, where he is pursuing a Bachelor of Fine Arts degree with a Major in Film. Rashun has been interested in film for as long as he can remember. He says his passion has grown through his studies, and he is looking forward to producing excellent work and making Bermuda proud.
Leslie T. R. Tucker $10,000
"Leslie is pursuing a BM in Music Education at the University of North Carolina at Greensboro. Leslie has been studying the violin for fifteen years. After completing his degree, he hopes to return to Bermuda as a music teacher in the public school system, or a violin teacher at the Bermuda School of Music.
Peri Nolan-Trott $5,000
"Peri is studying to obtain a MA in Counselling/ Art Therapy at Edinboro University, School of Graduate Studies. She has worked with the Department of Child and Family Services for 30 years. She is pursuing a degree in Art Therapy in order to incorporate her passion for art into her work as a Social Worker."

Read More About