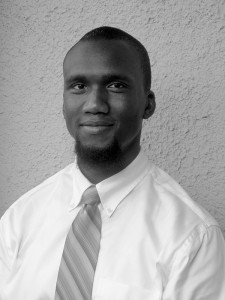 ThinkFest 2019 ends this Sunday with a talk entitled: "Vacations for Liberation? Bermuda, Black Tourism and the Global Politics of Traveling while Black".
Historian Dr Theodore Francis will discuss the ways in which the Black diaspora addressed the problem of segregated travel and highlight Bermuda's central role in Black tourism and the island's industry's connections with Black Caribbean and Black American communities.
An Assistant Professor of History at Huston-Tillotson University in Austin, Texas, Dr Francis graduated from Morehouse College and earned his M.A. & Ph.D. in Caribbean-Atlantic World History at the University of Chicago.
He said: "This presentation explores how segregation created barriers, complications, and unforeseen opportunities for black travel within the island, the wider Caribbean region and the United States.
"Specifically, it examines how Bermuda's black tourism sector – including guest house managers, black travel agents, musicians, taxi drivers, owners of clubs and tour services, etc. – played a key role in the struggle against transatlantic segregation during the early to mid-twentieth century.
"Also, it explores how their businesses were informed by the island's civil rights politics. It closes by considering the ways that Bermudian black tourism pioneered some of the business ideas and practices utilized by contemporary travel corporations and reflects on the lingering twenty-first century issues of traveling while black.
"While many Bermudians know about some of the island's black-owned guesthouses and their seasonal black American &/West Indian visitors, very few Bermudians have considered their effect on local and global race-politics. My presentation seeks to highlight the importance of this part of the island's tourism industry."
Sundays talk begins at 4 p.m. at the Bermuda College's G301 lecture hall in North Hall.
ThinkFest is Bermuda's first seminar series featuring an all Bermudian cast of outstanding academics and independent thinkers.
Ayo Johnson, founder of ThinkMedia which is producing ThinkFest, said: "Theodore Francis is an excellent presenter and a leading expert in his field. We are looking forward to learning new insights about segregation and black tourism."
The newest event on the Bermuda calendar, ThinkFest is an opportunity for the island to celebrate and acknowledge Bermudian academics and independent thinkers, a platform for networking with potential employers, funders, other academics and researchers and a forum for discussing the latest research in a wide variety of fields.
Each of the ThinkFest presenters dive deeply into a single topic for an extended period, followed by a chat with a host and audience Q and A.
Tuesday's event [September 17] – "Bermuda's economic train wreck" with Robert Stubbs – has been cancelled.
Tickets for ThinkFest 2019 events can be purchased online here or at the door. Visit the website for more information.
All ThinkFest events take place at the Bermuda College. ThinkMedia members [by August 1, 2019] are entitled to free admission.
Read More About