The Bermuda Championship has provided information that will help spectators prepare for the event.
A spokesperson said, "The Bermuda Championship gates are officially open. Bermuda's first official PGA Tour event is happening October 31 to November 3 at Port Royal Golf Course. The following information will help spectators prepare for this year's inaugural event:
Tickets
"Daily grounds tickets are available for $20 online or at the gate.
"Enjoy all 4 days of the tournament with a weekly pass for $50.
"Senior tickets [55 and over] are available for $15 at the gate only.
"Juniors 17 and under are admitted free to the grounds each day with a ticketed adult, courtesy of Butterfield & Vallis.
"VIP Upgrade – The Ocean Club is an upscale shared hospitality venue overlooking the iconic 16th hole at Port Royal Golf Course. Guests can enjoy unlimited food and beverages, picturesque ocean views, and all the excitement that is happening on the green. For more information, contact Sean Sovacool at sean@bermudachampionship.com or 441-595-9506
Bag Policy
"Certain items are restricted at PGA Tour events. Please review the lists below and leave any non-approved items in your car or at home. The tournament does not provide a "bag check" facility. All bags will be searched upon entering."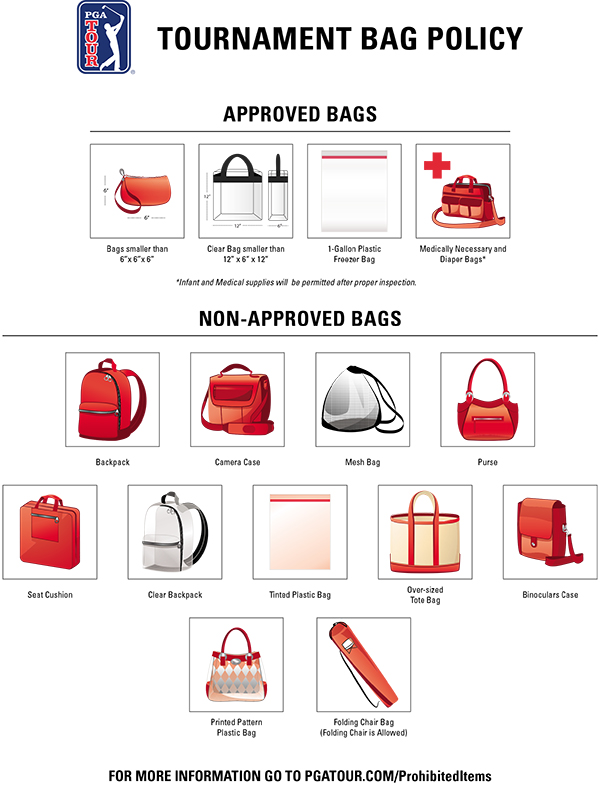 Tips Before You Go
"1. Visit the website www.bermudachampionship.com where you'll find important information like:
Daily pairings and tee times
Parking lot locations – public parking is free for spectators
List of prohibited items. Make it easy to pass through security and bring only the necessities. Items include but not limited to:
Backpacks
Coolers
Outside food and beverage
Lawn or oversize chairs [collapsible camping chairs without chair bags are permitted]
Cameras [point and shoot, film or DSLR]
"2. Make sure your bag conforms to the PGA Tour bag policy
Prohibited bags will NOT be accepted or stored on-site.
No backpacks, bags or purses larger than 6″ x 6″ x 6″ in their natural state
Transparent/clear plastic hand and shoulder bags are permitted if they are 12″ x 12″ x 6″ or smaller
"3. Check the weather and dress accordingly
"4. Print your ticket or make it available to scan on your phone
"We look forward to seeing you at Port Royal Golf Course for the inaugural Bermuda Championship! For questions contact 441-595-9503 or email bcinfo@bermudachampionship.com."

Read More About