Described as "well circulated yet uncommonly appealing" by the leading US coin gallery that will be auctioning it, a Bermuda Hog Money shilling dating from the early days of the island's settlement will be going until the hammer in Baltimore next month.
Thought to be the first local coinage to go into circulation in English-speaking North American, Hog Money was introduced in the early 1600s — just years after Bermuda's permanent settlement.
Hog Money was stuck in denominations of twopence, threepence, sixpence and a shilling; the coins carry an imprint of a sailing ship on one side, an image of one of the feral boars which used to roam the island on the other.
The Bermuda Hog Money shilling going auctioned by Baltimore's Stack's Bowers Gallery on November 6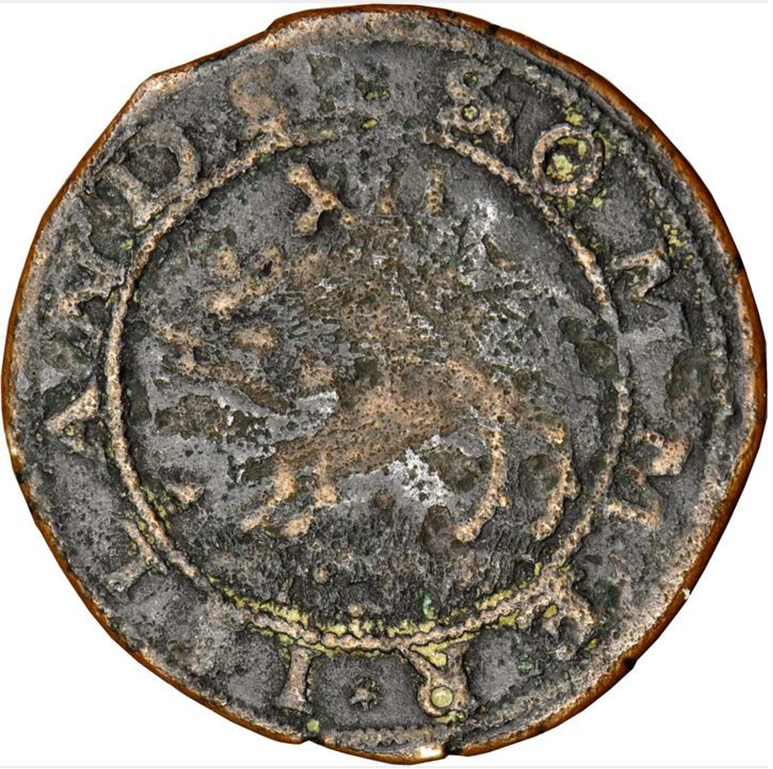 There are two theories as to how colonies of wild hogs came to be on the island in the 16th and 17th centuries.
Some scholars argue the animals were purposelessly introduced sometime after the island's discovery in 1505 by Spanish or Portuguese mariners who thought the remote island might one day develop into a provisioning point and way-station for ships en route to or returning from the Caribbean and South America. Other researchers say they were more likely descended from animals which swam ashore following shipwrecks in the island's treacherous waters.
Either way, the hogs became an important source of food for survivors of the Virginia-bound Sea Venture, temporarily stranded in Bermuda in 1609 and 1610.
Their escape aboard two Bermuda-built vessels led to the island's settlement as an adjunct of the Virginia Company in 1612. And by that time the hogs had come to be so closely associated with the islands it was decided to feature them on the obverse of Bermuda's new coins.
"Given that other commodities such as tobacco also served as useful mediums of exchange on the islands, the coins' usefulness was short lived and by early 1618 they had been largely phased out," says the catalogue description of the Hog Money shilling being auctioned by Baltimore's Stack's Bowers Gallery on November 6.
"Interestingly enough, specialist in Bermuda coinage Mark Sportack proposes that these coins were so detested late in their circulating life that many were thrown away as useless trash, and the mass deposit found at Castle Island in the 1990s supports this thesis.
American painter Winslow Homer's 1899/1900 watercolour Bermuda Settlers, depicting wild hogs in a cedar grove, was inspired by the feral pigs which once roamed the island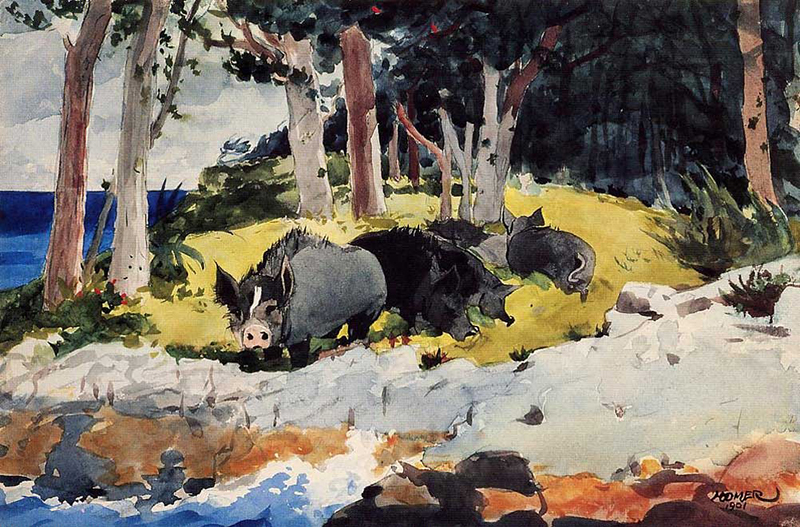 "… Prior to the late 20th century all denominations were considered extremely rare. Thanks to the advent of modern metal detecting equipment, however, many ground finds have been recorded since the early 1990s. On the other hand the total number of pieces discovered to date remains limited, the extant population in no way large enough to meet current — to say nothing of future — numismatic demand."
Stack's Bowers goes on to say while the Hog Money shilling it will auction is "the most readily obtainable" of the Bermuda coins irrespective of denomination, "once again we must stress that all issues in this series are rare in an absolute sense.
"… Its offering should be viewed with great relish, as a desirable example of this early New World issue."
Some other scarce examples of Bermuda Hog Money sold at a California auction in September.
You can find out more about the Hog Money shilling being auctioned in Baltimore, and register to bid on it, here.
Read More About