The Kiwanis Club of St George's new leadership team has been installed, with the new team officially taking office today [Oct 1], in keeping with Kiwanis procedures.
A spokesperson said, "It was a special night for the Kiwanis Club of St George's as the club's new leadership team was officially installed. The new team officially takes office on October 1, in keeping with Kiwanis procedures.
"The event had a surprise element when the new president was installed – Daron Lowe is the incoming President, and unbeknownst to him, it had been arranged to have him actually 'pinned' by his mother, Mrs Wilma Lowe.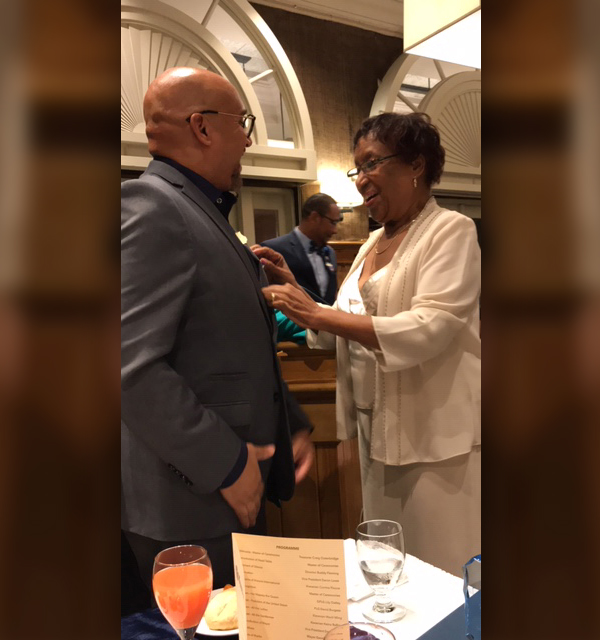 "The Kiwanis Lieutenant Governor, Gary Dowling, performed the installation of the entire team – in addition to President Daron Lowe, the remainder of the club's Officers and Directors are David Burgess, Vice President; Craig Outerbridge, Treasurer; Buddy Fleming, Director; A Vincent John, Director; and Keina Rollins, Director. Also under Kiwanis bye-laws, the outgoing president, Gary Kent-Smith, will serve on the Board of Directors for at least another year as Immediate Past President.
"The proceedings were started with a banquet, at the Grotto Bay Resort, and the guest speaker was the Mayor of St. George's, the Worshipful George Dowling III. He gave a brief outline of plans afoot for the Town, and expressed the desire and intention of the Town to work alongside the Kiwanians to help improve the life of children and others in the community.
"Two of the club's Charter Members were announced as being named Honorary Members – they are Evadne Caesar and Marion Edmead. They have been active members of Kiwanis St George since the club's inception in 1988, and both have had the honour of serving as President.
"While all of the outgoing Officers and Directors received Certificates of Appreciation from the President for their work over the past year, the major announcement was the revelation of the member deemed to be the 'Kiwanian of the Year'. This year the recipient of that award was Keina Rollins, who played a major part working 'behind the scenes' for various events and projects arrange by the club.
"Incoming President Daron Lowe, in his remarks, stated that for the coming year the club would concentrate on exposing the incidents of bullying – he said that such a practice exists in all school levels, and pledged that Kiwanis St George would do its utmost to help eliminate this social problem. This is all in keeping with the Kiwanis mission of 'serving the children of the world'.
"Kiwanians are a group of volunteers, dedicated to improving the world one child and one community at a time."
Read More About
Category: All