[Updated] The Breast Cancer Awareness Month launch event is being held today [Oct 1], and we will have additional coverage later on and in the meantime the live video is below.
Update: The live broadcast has concluded and the 12-minute replay is below
Update 1.05pm: A spokesperson said, "This October, Bermuda Cancer and Health Centre is proud to participate in Breast Cancer Awareness Month. Breast cancer is the most common kinds of cancer in women. About 1 in 8 women born today will get breast cancer at some point.
The team at Bermuda Cancer and Health Centre have something to say to breast cancer. Lynne Woolridge, Chief Executive Officer states that "We want breast cancer to know that":
"The Centre will continue to provide world class early detection screening to find breast cancer at its earliest stages when it is easier to treat."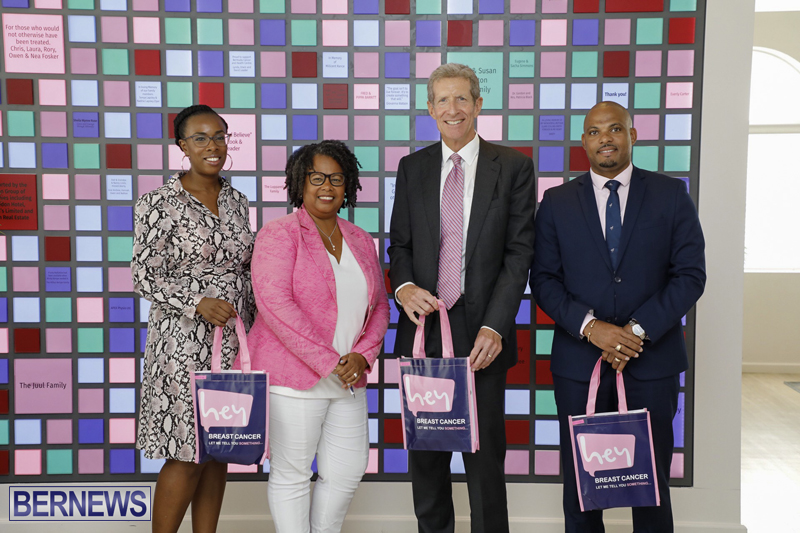 "The Centre will continue to make sure everyone in our community has access to breast screening services at no additional charge to patients. In 2018, thanks to donations from our community to our Equal Access Fund, 222 women were able to receive mammograms at the Centre that they otherwise wouldn't have been able to afford, and the Fund also assisted with the cost of biopsies and radiation therapy treatment for those without health insurance."
Mrs. Woolridge contines "We also want breast cancer to know that we are empowering women and men to recognize the signs and symptoms of breast cancer through a new Breast Health Education programme, "Know Your Lemons". In collaboration with the Global Education partner behind the Know Your Lemons Campaign, we now have staff trained to provide interactive hands-on Know Your Lemons presentations. This campaign is a colourful addition to our Breast Health education programmes, highlighting risk factors, symptoms and screening guidelines. Presentations are FREE and can be requested through our website www.cancer.bm"
"Here are 3 ways the Bermudian community can support Breast Cancer Awareness Month: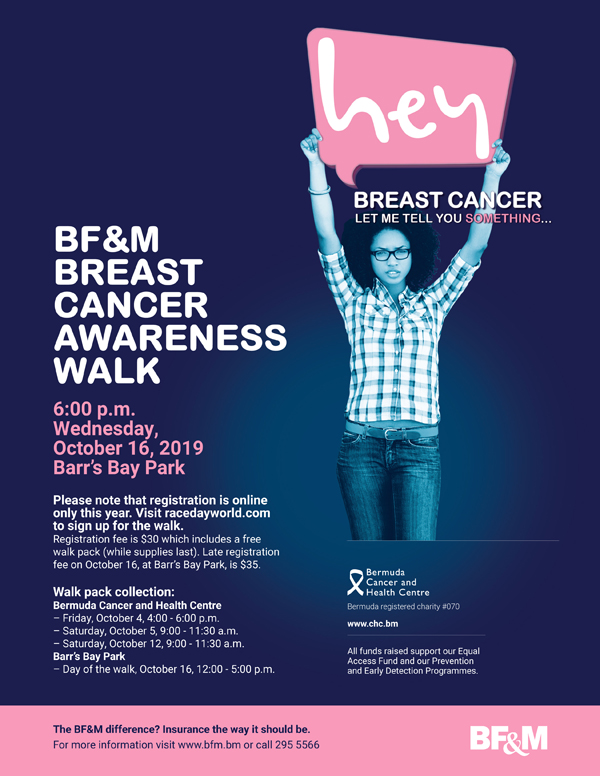 "Participate in the annual BF&M Breast Cancer Walk and on October 16. Barr's Bay Park transforms in to a celebration of pink, where thousands of people support and honour those who have faced breast cancer. Visit here to register and find out more information.
"Make a donation to support women who may not have the financial means to get an annual mammogram, an unexpected breast biopsy or thousands of dollars' worth of potentially lifesaving radiation therapy. Donations can be made through https://www.cancer.bm/donation-home-page or by participating in one of the following events here  for event details:
Wear it PINK Denim Day
A.S. Cooper Shop to Support
Gorham's Fight Night
Gibbons Charity Thursday & Wacoal Bra Fitting
Girls Night In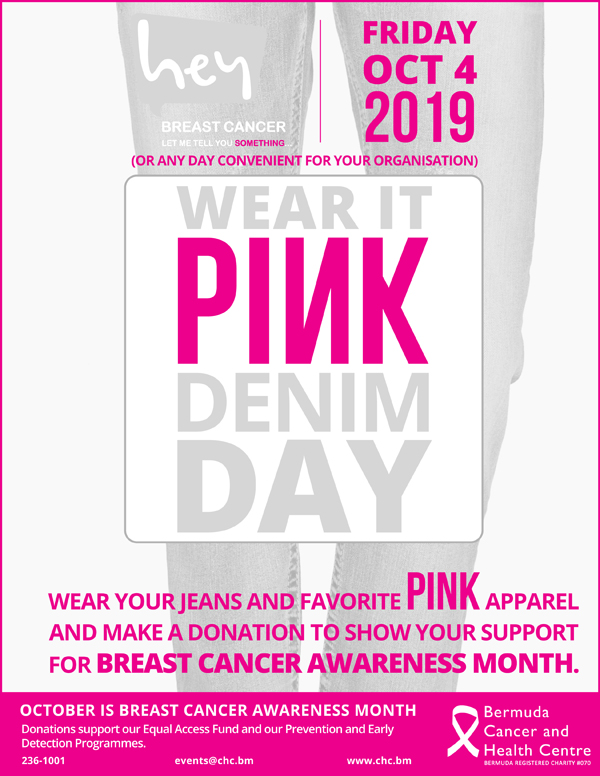 "Attend the FREE Breast Health Talk tonight, October 1st. Arm yourself with information on how to reduce the risk of breast cancer, the signs and symptoms to look for and why early detection is important, RSVP on www.cancer.bm. Or request a Know Your Lemons presentation at your organisation or home visit here for more information.
"As a registered charity, Bermuda Cancer and Health Centre is trying to do right by the Bermuda healthcare system, working to reduce cost, and providing needed services, while subsidising costs for those who cannot afford screening mammograms, diagnostic imaging and radiation therapy. We wish to thank our community for decades of support. Every dollar donated support our Equal Access Fund and our Prevention and Early Detection Programmes. For more information, visit www.cancer.bm"

Read More About