The island will be hosting the inaugural Bermuda Tech Week 2019, which kicks off next Monday and runs from October 14-18 at the Hamilton Princess and Beach Club.
Premier David Burt said, "Bermuda's leadership in the development of its FinTech industry has attracted the attention of the world. Though the government has put significant energy into developing a FinTech industry in Bermuda, which has already yielded 8 active offices with 31 new jobs.
"However, the overall technology industry, not just FinTech, will be important for Bermuda's growth and development.
"Our vision is to have the island recognized globally as a stable, well-regulated location for all technologists and innovators who are building solutions that will power the economy of the future.
"To further build on our vision, last year we decided to host an international technology conference, to show the world that Bermuda is a first class, blue chip, technology friendly jurisdiction.
"The aim was to host technology thought leaders, innovators, developers, and creators in Bermuda, for a week of insightful deliberations about the future opportunities presented by emerging and disruptive technologies.
"We also wanted to show them the Bermuda ecosystem and why Bermuda should be the domicile of choice for technology companies and start-ups.
"The response to our outreach has been excellent, and I am delighted that we will be hosting the inaugural Bermuda Tech Week 2019, which kicks off next Monday and runs from October 14-18 at the Hamilton Princess and Beach Club. If you haven't registered, I suggest you do so quickly.
"Hosted by the Bermuda Business Development Agency [BDA], in partnership with FinTech Bermuda, this initiative provides five days of industry driven events focused on emerging technologies.
"Tech Week begins on Monday, October 14 with the annual Bermuda Technology and Innovation Awards Presentation and Reception, publicly recognising the outstanding achievements being made in information technology in Bermuda.
"On Tuesday, October 15, the focus will be on finance with the Liquidity Summit, an event focused on leading and emerging trends across the world of finance, presented by Hub Culture. This is the 2nd year that HubCulture will be hosting the Liquidity Summit in Bermuda and we're pleased to have them a part of Tech Week's line-up.
"Middle and high school students from across Bermuda also stand to benefit. They will participate in the Bermuda Tech Education Summit, also taking place on Tuesday, October 15, hosted by the Fintech Business Unit.
"The education summit will bring together leading academics, technology companies and local students, as they explore fields of study that will significantly improve Bermuda's competitiveness, by helping students prepare for the digital future. This will also be a time expose our student to the free technology training that the Government has made available to all residents of Bermuda.
"Finally, on Tuesday, KPMG Bermuda will be hosting Defend and Detect – a technology and technique event showcasing how technology and business ideas can come together, to solve complex challenges in managing regulatory risk and compliance."
"The evening will see a networking reception that brings together attendees from the Bermuda Tourism Summit and the Bermuda Tech Summit, hosted by the Bermuda Tourism Authority and the Bermuda Business Development Agency [BDA].
"On Wednesday, October 16, the Bermuda Business Development Agency will host the Bermuda Tech Summit, under the theme 'Focused on the Future'.
"This all-day summit is free to attend and will explore the transformational impact of technology on investment and business models, in a wide range of industry sectors relevant to Bermuda, from hospitality and financial services, to telecommunications and insurance. Attendees will gain an in-depth understanding of how Bermuda's business environment is facilitating innovation.
"On Thursday and Friday, October 17 and 18, coming to Bermuda for the first time, will be Tech Beach Retreat, FinTech Innovation Island, an innovative space to explore opportunities for collaboration, presented by Tech Beach, in partnership with the Bermuda Business Development Agency and the Bermuda Tourism Authority.
"Tech Beach has been held previously in Miami, Jamaica, Trinidad and will now be coming to Bermuda. We're excited to have paired with this company from the Caribbean as we explore how technology can assist development not only locally but in the region.
"To register for events, and to see what's happening across the week, visit www.bermudatechweek.bm.
"This is an excellent opportunity for all technology enthusiasts to network with like-minded others. We hope that local residents will also register for the events so that Bermudians can learn, grow, develop and make our contribution to the fourth industrial revolution, which is being driven by technology. We hope to see all of you at Bermuda Tech Week 2019. Thank You."
The Bermuda Tech Week 2019 Schedule of Events follow below [PDF here]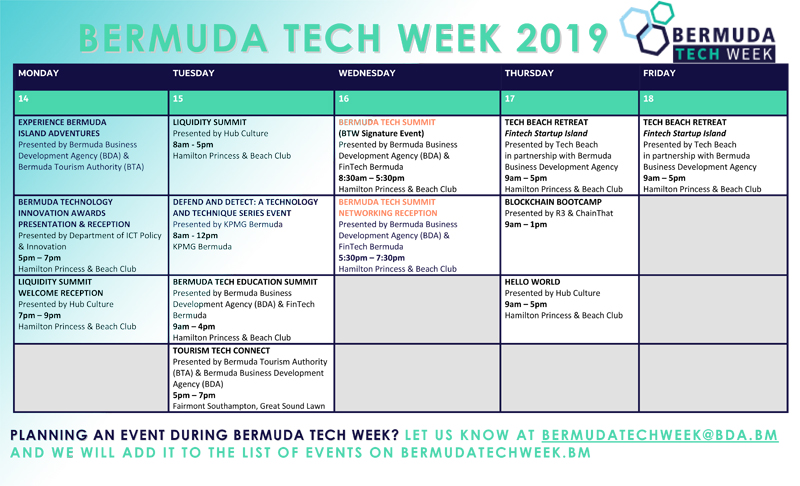 Read More About
Category: All, News, technology, Videos