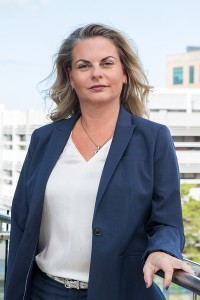 BTC and Digicel Bermuda have announced the appointment of Leslie J. Rans to the role of Chief Executive Officer.
Ms. Rans joins Digicel from Bermuda Aviation Services, where she has been CEO for the last two years and takes over from Paul Stafford who, after two years leading the Bermuda team, is moving to another senior role within Digicel Group.
Charles Marshall commented; "As a Director of Digicel/BTC, I would like to thank Paul Stafford for all the hard work he has done here over the past two years.
"Through his hard work and vision, Digicel Bermuda has seen significant growth and operational improvements across business and built the foundations for the next phase of digital evolution with a strong focus on improved customer experience. I wish him continued success in all his new endeavours.
"I welcome Leslie to the Digicel/BTC family. Her record is impressive and speaks for itself. I am very much looking forward to working with her, as we continue introducing the exciting, new technologies which will benefit all of Bermuda in the future."
The company noted, "A Bermudian, Ms Rans brings a wealth of telecoms and financial management expertise to the role having spent eighteen years in a variety of senior leadership positions including, but not limited to, One Communications [formerly KeyTech Limited] and the Bermuda Telephone Company [BTC].
"Passionate about building strong teams and achieving sustained profitability in a rapidly evolving industry, she will leverage her in-depth insights into the needs, values and culture of the Bermudian people to deliver the best experience to all Digicel's customers."
Commenting on joining Digicel, Ms Rans said; "I am delighted to be joining the team at a time when Digicel is building its digital future. As we journey towards becoming a digital lifestyle partner for our customers, I'm looking forward to leveraging our world-class networks and platforms and compelling content portfolio to deliver an amazing experience to our valued customers in Bermuda."
In welcoming Ms Rans, Digicel Group CEO, Jean-Yves Charlier, commented; "As we go all in on digital services, Leslie's impressive and extensive track record with some of Bermuda's foremost organisations positions her perfectly to lead our team in Bermuda. I would like to thank Paul for his service in Bermuda and to congratulate Leslie on her appointment and wish her every success."

Read More About
Category: All, Business, News, technology