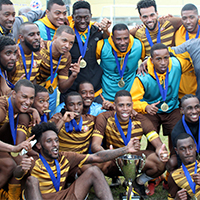 [Updated with photos] The Dandy Town Hornets were crowned the Dudley Eve Champions at the Devonshire Recreation Club following their 5 – 2 win over Robin Hood.
Robin Hood's starting line up was Dale Eve, Jaylon Bather, Chae Brangman, Justin Corday, Tomiko Goater, Philip Parsons, Antwan Russell, Colin Ryan, Lejuan Simmons, Shakir Smith, and Dominique Williams; while their substitutes included Christopher Ricca, Ashton Bell, Casey Castle, Liam Evans, Aaron Nelson, Ereico Outerbridge, London Steede, and Tevahn Tyrell.
Dandy Town Hornets' starting line up was Treadwell Gibbons, Jomei Bean-Lindo, Ernest Trott, Eusebio Blankendal, Jahkari Furbert, Azende Furgert, Jahtino Richardson-Martin, Kwame Steede, Angelo Simmons, Seoin Darrell, and Judah Chapman; while their substitutes included Kyle Wade, Neil Smith, Dashun Butterfield, Omar Wilson, Oneko Lowe, Clay Darrell, Lynn Emery, Michael Parsons, and Julian Roser.
The Dandy Town Hornets took the lead in the 11th minute when Kwame Steede scored, however the score was level 11 minutes later when Chae Brangman scored for Robin Hood.
.
The Dandy Town Hornets lead was restored in the 24th minute when Angelo Simmons scored, and then five minutes later the score was 3 – 1 when Jahkari Furbert scored another goal for the Dandy Town Hornets.
It wasn't until the 74th minute when the next goal was scored, however that then sparked three goals in ten minutes; first Justin Corday scored a header to pull Robin Hood within one, Dandy Town substitute Oneko Lowe made it 4 -2 when he scored in the 81st minute and then three minutes later another Clay Darrell made it 5 – 2, resulting in the Dandy Town Hornets claiming the coveted trophy.
Click to enlarge photos:

20 Most Recent Sports Photo Galleries
-


Read More About