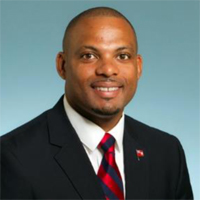 The PLP announced today that Senator Jason Hayward will be the PLP candidate for the by-election in Constituency 17 Pembroke Central.
The by-election has been called due to the untimely death of MP Walton Brown, and is scheduled to take place on November 21st.
Senator Hayward's bio on the official Parliament website states, "Senator Jason Hayward is a committed trade unionist and currently serves as the first elected full-time President of the Bermuda Public Services Union [BPSU].
"Mr. Hayward serves as the President of the Bermuda Trade Union Congress, an executive of the Caribbean Public Services Association, and holds a seat on the Board of Directors of the BIU Credit Union.
"Upon graduation from the Berkeley Institute, Mr. Hayward attended the Bermuda College and graduated with an Associate degree in Arts & Science. He then attended Mount Saint Vincent University and graduated with a Bachelors of Business Administration. Mr. Hayward also possesses a Masters of Business Administration in Finance from Nova Southeastern University.
"He is an alumnus of the Canada – Caribbean Emerging Leaders Dialogue [a Commonwealth leadership development program], an alumnus of the US Department of States' International Visitor Leadership Program, holds a Level 7 Certificate in Strategic Management and Leadership from the Chartered Management Institute and formally served as an Executive and Management Officer of the North Village Community Club between 2007 – 2014."
Read More About