An exhibition of marine paintings by Stephen Card will hang at Gallery One Seventeen until the end of November at 117 Front Street East.
A spokesperson said, "Stephen Card is often asked how long it took him to paint a maritime scenario, a boat, a ship, etc. His answer is very often the same: 'it took me well over thirty years to paint that painting.'
"His answer in a nutshell: the years it takes to accomplish one singular painting can be summed up to one's experience in the length of time it has taken to this point to paint with some sort of satisfaction.
"Gallery One Seventeen welcomes you to the gallery as Captain Card has taken over the gallery with twenty of his newest works.
Pilot vessel Elbe5 with HAPAG "schnell damfer" Deutschland c 1902: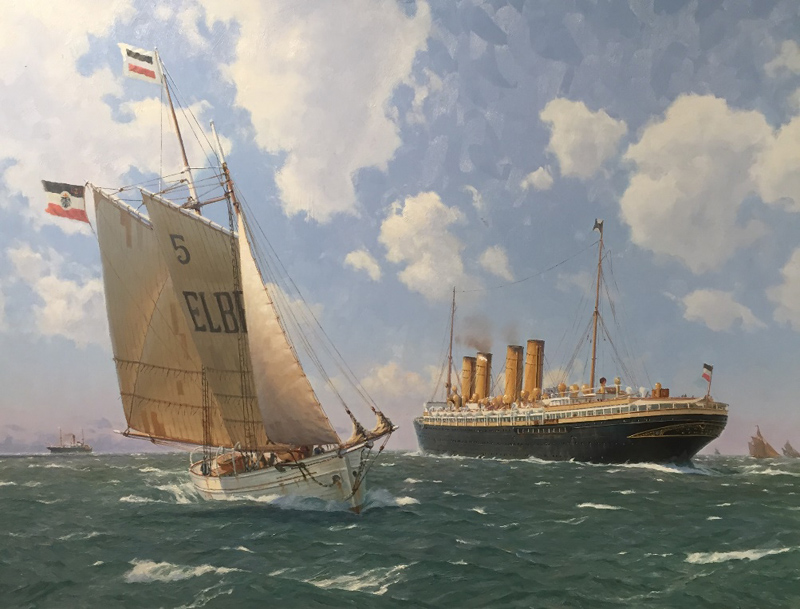 "Born in Bermuda on October 28, 1952, Stephen came to the world of marine art after many years following an altogether different career path.
"Having grown up in Bermuda's unique marine environment, it wasn't surprising that Stephen developed an early fascination with ships and the sea. At the age of 11, he visited the New Zealand Shipping Company's Rangitane, a memorable experience that resulted in a lifelong interest and passion for passenger ships and shipping.
"In 1966, his keen interest in ships led him to join the Bermuda Sea Cadet Corps, an organization well known for sending cadets abroad as part of their training. For Stephen, his first training trip was a three week voyage in 1977 as Deck Boy in the Cunard liner Franconia.
"The following year, the Corps sent 20 cadets, including Stephen, to train at the Royal Navy Gunnery School, H.M.S Excellent, in Portsmouth. They traveled in the Franconia to New York and then crossed in the old Queen Elizabeth to Southampton. After a month in England, the group traveled back to Bermuda, again in the Queen Elizabeth and Franconia.
Bark Waterwitch [Britain's last sailing trading vessel]abeam Wolf Rock Lighthouse off Land's End: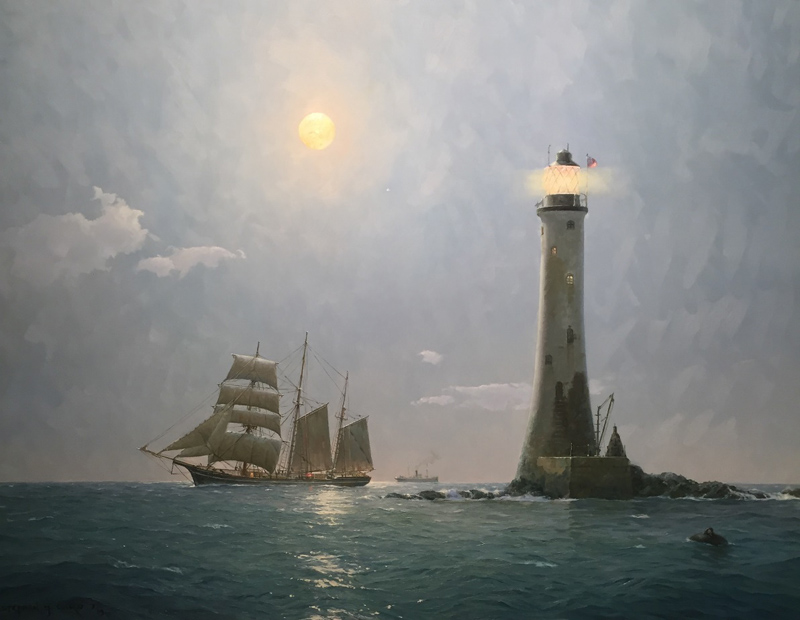 "During school holidays in 1969, Stephen flew to the UK to join the tug/tender Gatcombe as Deck Boy for her delivery voyage to Bermuda. On finishing school in 1970, Stephen joined the Glasgow firm of J & J Denholm [Management] Limited as a Navigating Cadet on board the 33,000-dwt bulker Naess Pioneer.
"Over the next five years, he served on various ships in the fleet, ranging from tankers and bulkers to gas-turbine container ships and oil/bulk/ore carriers. During this time he also attended the Glasgow College of Nautical Studies, where he studied and sat the examinations for Mate [Home Trade] Second Mate [Foreign Going] and Mate [Foreign Going].
"In 1975, he was appointed to the reefer Loch Lomond as Second Officer on her maiden voyage. Apart from a short period as Second Officer in Shaw Savill & Albion's Icenic and Chief Officer in the Denholm Training Ship Wellpark, Stephen spent six years in the Loch Lomond and her sister Loch Maree as Chief Officer.
"After returning to the Glasgow college where he studied and successfully and sat for Master [Foreign-Going], he joined the London firm of Uiterwyk Lines [UK] Limited in 1981 and was appointed to their reefer Polar Uruguay as Chief Officer. In early 1982, he became master of their 15,000 dwt general-cargo vessel Pyramids U. He became a Member of The Nautical Institute [M.N.I.] in 1982.
Swedish America Line's m.s. Kungsholm in The Narrows Abeam Fort St. Catherine, August 1937: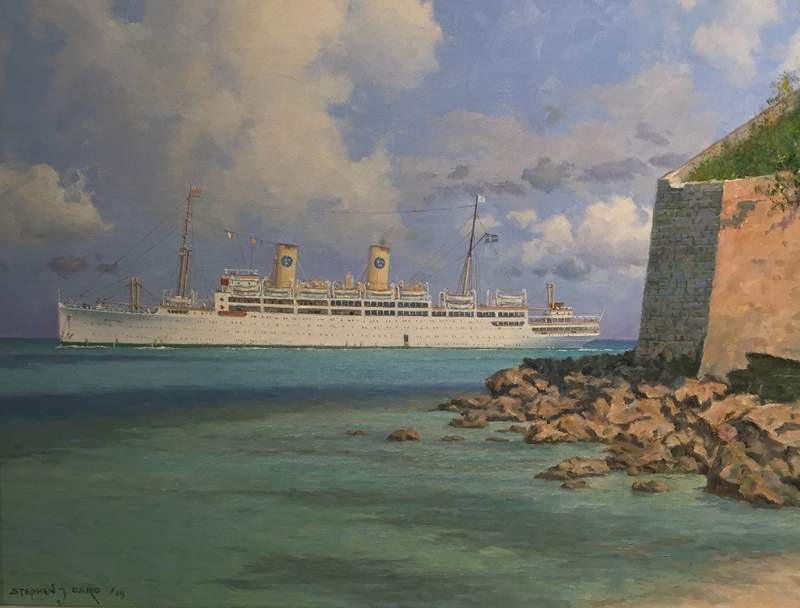 "Later that year, Stephen was offered the post of Queen's Harbour Master, Bermuda and he returned to the island to take up the position. Whilst there he was able to devote spare time to his old hobby of sketching and painting. At year's end, however, having decided to return to sea, a chance meeting with Holland America Line's Chairman Mr. Nico van der Vorm led to a commission for three paintings for his Seattle office.
"Such was the success of this project that Stephen was encouraged to pursue his interest in painting and drawing to a point where he decided to come ashore for good to become a professional marine painter. His first one-man exhibition was held in late 1984 at The Heritage House Gallery in Hamilton, Bermuda.
"In 1990, Stephen was asked to paint a series of five oils for Holland America Line's Statendam, a commission that ultimately led to 20 years work involving almost 100 paintings featuring HAL vessels, most of which appear in his book, Holland America Line – The Spotless Fleet published by Carmania Press in 2006.
"Numerous works have also been painted for other ships within the Carnival group, including the Imagination, Costa Victoria and Queen Elizabeth 2, Queen Victoria and the new Cunarder Queen Elizabeth. A number of his works can also be found aboard the Saga Shipping's Saga Sapphire and Saga Pearl II in addition to many corporate and private collections worldwide.
The Ward Line's s.s. Morro Castle, outbound on the Est River, c 1933: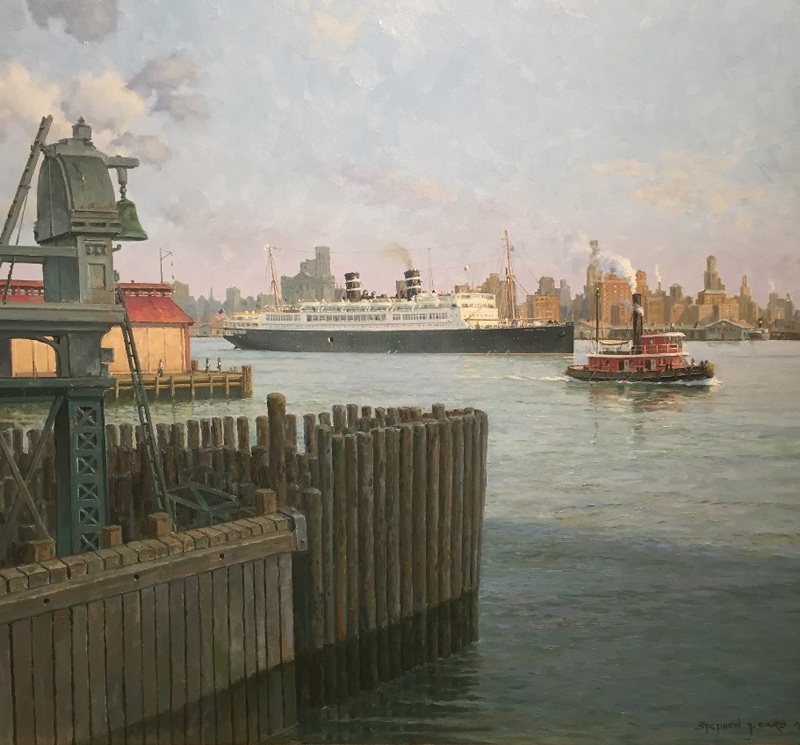 "Mainly self-taught, he currently works in oils and, although he does the occasional sailing vessel, he is much better known – and happier – painting ocean liners of the 20th century.
"An exhibition of marine paintings by Stephen J. Card will hang at Gallery One Seventeen until the end of November. Gallery One Seventeen is located at 117 Front Street East, just east of the cabinet building. Opening hours are Mondays through Saturdays from 10.00am until 5.00pm and on Sundays during the autumn and winter from 12.00pm until 4.00pm. Private viewings outside of our normal hours of operation may also be arranged for your convenience."
For more information, call 295-1783 or email gallery117bda@gmail.com.

Read More About
Category: All, Entertainment