The Ag Show Ltd.– in partnership with lead sponsor AXIS Capital – announced the winners of the 2019 Education Awards, which recognises the hard work and creativity of local students, teachers and parents who participated in this year's exhibition.
Antwan Albuoy, Exhibition Director, said: "On behalf of the entire Exhibition Committee, I'm delighted to present these awards valued at over $13,000 to local schools throughout the Island.
"The caliber of talent we see in these displays is always outstanding and reminds us exactly why this annual event is so important to our community. From woodcrafts to flower arrangements and vegetables that students grow on their own, we are thrilled to see these traditions passed down from one generation to the next and for our young people to keep these vital parts of Bermuda's culture and history alive."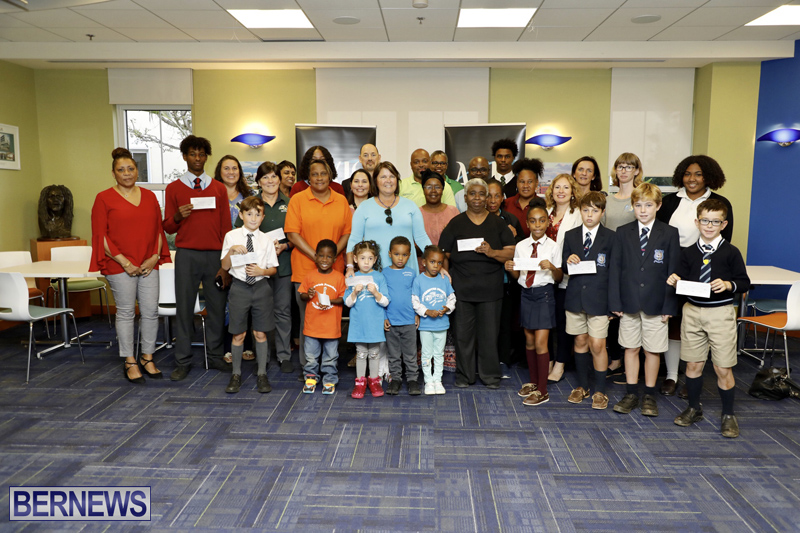 Mr Albuoy thanked each school that participated in the 2019 Ag Show and encouraged as many young people as possible to take part in the upcoming event in Spring 2020.
"An annual three-day event, the Agricultural Exhibition takes part in late April at the Botanical Gardens in Paget. This event's mandate is to provide an educational and fun environment for all Bermuda's residents looking to embrace the Island's agricultural legacy," a spokesperson said.
"Currently consisting of school exhibitions, floral shows, animal exhibits and equestrian programmes – all related to Bermuda's agricultural heritage – it is considered one of the most important events on Bermuda's cultural calendar.
"It was first held on a bi-annual basis starting in 1843 and became a yearly agricultural event in 1955. In 2015, however, it had to be cancelled due to financial and other logistical challenges."
Richard Strachan, Chief Operations Officer of AXIS said they were proud to provided sponsorship which last year allowed students, seniors and those with special needs to attend for free. AXIS has also sponsored the Education Awards over the last four years.
The 14-minute live video replay is below:
"Beyond the financial commitment we have provided, the Ag Show offers us a chance to make a personal contribution to the community, with many of our staff serving as volunteers for the event as part of our AXIS Day of Giving," Mr Strachan said.
"Our community support programme is dedicated to supporting education and youth based causes – and the Ag Show aligns with both these goals."
Mr Strachan congratulated all the winners of the 2019 Education Awards and said AXIS was looking forward to sponsoring the show again in 2020.
The award presentation, which took place at AXIS' Pitts Bay Road offices on Tuesday, November 26, saw prizes awarded to 15 schools on the Island, from Preschool up to the High School level. For a full listing of the awards given out, see below.
The 2019 Education Award Winners are:
| | | | |
| --- | --- | --- | --- |
| Name of School | Place/ Category | Price | Description |
| Devonshire Preschool | 1st/ Preschool | $1,150 | Most creative entries & points in Preschool category. |
| Southampton Preschool | 2nd/ Preschool | $900 | Creative entries. |
| Warwick Preschool | 3rd/ Preschool | $500 | Creative entries. |
| Northlands Primary | 1st/ Primary | $1,150 | Most creative entries & points in Primary School category. |
| St. George's Preparatory | 2nd/ Primary | $900 | Creative entries. |
| Saltus Grammar School | 3rd/ Primary | $500 | Creative entries. |
| Sandys Secondary Middle School | 1st/ Middle | $1,150 | Most creative entries & points in Middle School category. |
| Mount Saint Agnes Academy | 2nd/ Middle | $900 | Creative entries. |
| Warwick Academy | 3rd/ Middle | $500 | Creative entries. |
| The Berkeley Institute | 1st./ High School | $1,150 | Most creative entries & points in High School category. |
| Cedarbridge Academy | 2nd/ High School | $900 | Creative entries. |
| Warwick Academy | 3rd/ High School | $500 | Creative entries. |
| K. Margaret Carter Center | 1st/ Special School Entries | $1,150 | Most original and points entries. |
| Dame Marjorie Bean Hope Academy | 2nd/ Special School Entries | $900 | Original entries. |
| Somerset Primary School | 1st Prize for Educational Display/ Primary School | $500 | Most original educational display. |
| T.N. Tatem Middle School | 1st Prize for Educational Display/ Middle School | $500 | Most original educational display. |

Read More About