[Written by Michaela Antoinette]
"My mother was one of a kind. She gave until her last breath. She taught up until her last days. An artist, a visionary and a planter of seeds." – Michaela Antoinette
We invite all of you to come out and show love for the late Marcelle Clamens, whose extensive local and international career and philanthropic history has been covered over the years by Bermuda's leading media outlets.
Marcelle Clamens was Bermuda's soprano songbird, a devoted teacher and an avid organic gardener. Following in her mother's, Daisy Elizabeth Powell of Powell's Nursery, footsteps, she taught many of Bermuda's greatest talents and brightest stars.
Marcelle Clamens' charity, Talent Explosion, which showcased 'combining the arts on one stage,' raised over $50,000, which provided scholarships to various students to assist them with their artistic endeavours.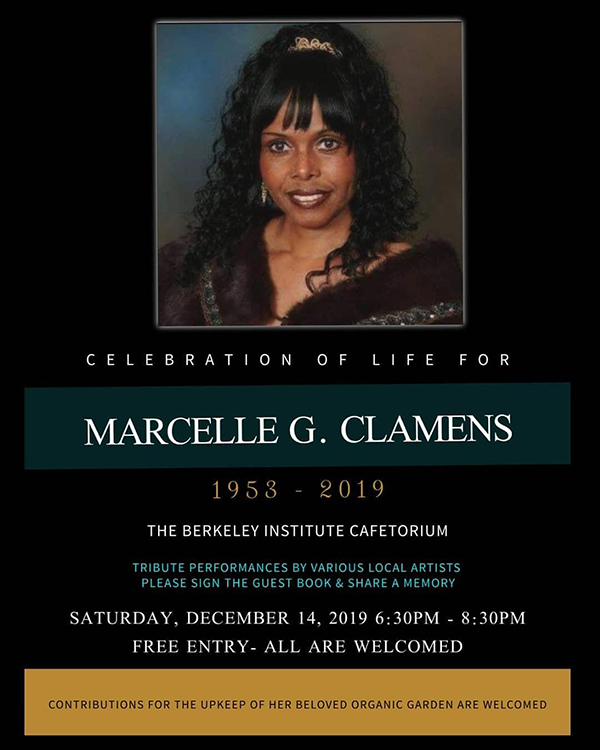 Her celebration of life memorial will be held at the Berkeley Institute Cafetorium this Saturday, December 14 from 6.30pm to 8.30pm. This is a free event and all are welcome.
There will be tribute performances by B.L.A.C., Tricray Astwood, Joy Barnum, Cindy Smith, Charo Hollis, and more. This celebration was organized by Johnny Woolridge, a long time family friend, musician, teacher and spiritual leader and will be hosted by Mr. Wendell Dill.
Please feel free to write a short memory or sign the guest book to tell us who Marcelle Clamens was to you.
She wanted Bermuda to be informed about the genetic disorder Marfans Syndrome that she and I are battling so that people are encouraged to never give up.
Marfans Syndrome is a connective tissue disorder that affects all who were born with it in various ways and intensities. For us it means dealing with issues concerning the bones, organs, digestive and nervous systems and whatever else in and on the body that requires working connective tissues. In short, 80% of the body is affected.
We all deal with our own trials and my mother's resounding message was always to love and give more. Even throughout her health struggles, you would see her magnificent smile as bright as ever.
She was a light on this earth, and my family and I, along with all of you whose lives she has touched, will always remember her loving, giving, fiery and fearless spirit.
In lieu of flowers, contributions to the upkeep of her beloved organic garden are welcomed. Call 734-3254 and leave a message if you are interested in making a contribution.
We hope to see you there.
Read More About