Tiny Goes Green – a "fun book with a serious message for kids" written by Elizabeth Mulderig – is aiming to draw attention to the growing problem of plastic waste in Bermuda and abroad.
"My good friend Debbie Jackson helped me edit this book. She is very involved in ecology and I could not have written the story without her help," Ms. Mulderig said.
"It's a Tiny's eco-venture that takes place in just one day which is consistent with all of Tiny's past adventures. The tree frog wakes up one day and decides change starts with him. So, he hops across the entire island collecting trash, most of which is plastic.
"Tiny recycles some, reuses some and re-purposes the rest building himself a colourful plastic tree house. He realises we must change our ways, Tiny shouted with glee, I'll stop using plastics as change starts with me."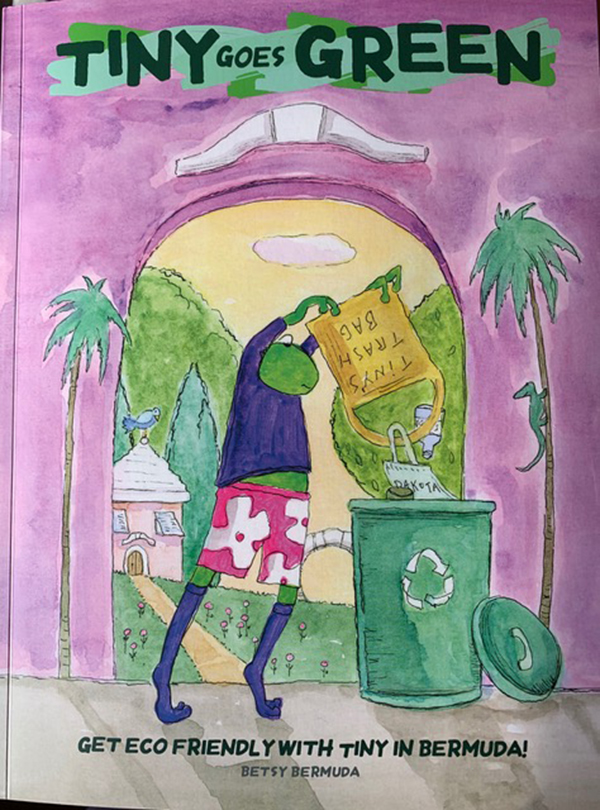 Ms. Mulderig said she remembers growing up in Bermuda in the seventies when the beaches were full of seashells.
"In a matter of a few decades the oceans are now choked with plastics and one must dig deep under the trash to sometimes find a seashell. It's so sad. My nieces have young children and I'm hoping that by the time they are older a solution might be found concerning this problem," she said.
For now, Ms. Mulderig thinks the best way forward is to teach children to be aware of the pollution and show them the power they have to make change, saying that "even if it's a small change, anything is better than ignoring it. After all, the future of Bermuda belongs to them."
Each one of the Tiny the Tree Frog books has its own positive message about Bermuda. Whether it's Tiny showing off island sights in Tiny Tours Bermuda or sharing the importance of laughter and love in Tiny's Super Mommy, each book has something to teach.
Her baby book, Hello Tiny in the Sea, is what prompted her to write this latest story.
"I point out the beauty of Bermuda's ocean in this baby book, which has become very popular. However, I'd now like to demonstrate to an older group of kids how important it is that they get involved in keeping our ocean and our island clean and beautiful," she said.
"This is the perfect book for the Christmas season. A book that might inspire families to take relaxing walks around the island and clean up a bit along the way as well. It's never too late to teach little kids and big kids as well to care about and take pride in Bermuda.
"When I travel, no matter where I go, I always feel incredibly blessed to return to the island. In this season of blessings and gifts I like to remember one of the best gifts ever is the fact that I get to live here. And Tiny loves Bermuda too!"
"Tiny Goes Green" is available throughout stores on the island or by visiting the website.

Read More About
Category: All, Entertainment, Environment, News