The Bermuda Underwater Exploration Institute [BUEI] and Warwick Academy Human Rights Project will screen three films this month, with "Capernaum" on Friday [Jan 24] at 6.30pm, "Papicha" on Saturday [Jan 25] at 5.15pm, and "Rafiki" on Sunday [Jan 26] at 5.15pm.
Tickets cost $15 for adults and $12 for students and available at the BEUI's gift shop, by phone at 294-0204 or on ptix.bm.
Capernaum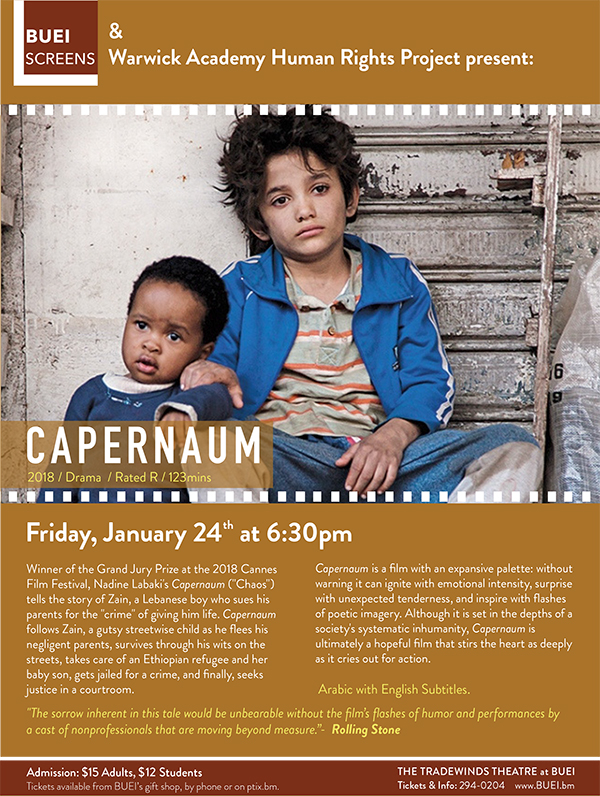 The event poster says, "Winner of the Grand Jury Prize at the 2018 Cannes Film Festival, Nadine Labaki's Capernaum ["Chaos"] tells the story of Zain, a Lebanese boy who sues his parents for the "crime" of giving him life. Capernaum follows Zain, a gutsy streetwise child as he flees his negligent parents, survives through his wits on the streets, takes care of an Ethiopian refugee and her baby son, gets jailed for a crime, and finally, seeks justice in a courtroom.
"Capernaum is a film with an expansive palette: without warning it can ignite with emotional intensity, surprise with unexpected tenderness, and inspire with flashes of poetic imagery. Although it is set in the depths of a society's systematic inhumanity, Capernaum is ultimately a hopeful film that stirs the heart as deeply as it cries out for action."
Papicha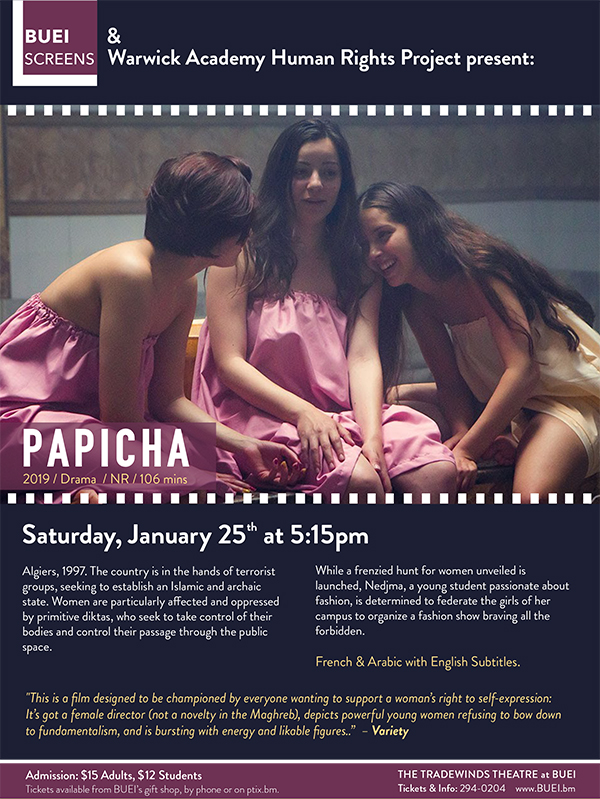 The event poster says, "Algiers,1997. The country is in the hands of terrorist groups, seeking to establish an Islamic and archaic state. Women are particularly affected and oppressed by primitive diktas, who seek to take control of their bodies and control their passage through the public space.
"While a frenzied hunt for women unveiled is launched, Nedjma, a young student passionate about fashion, is determined to federate the girls of her campus to organize a fashion show braving all the forbidden."
Rafiki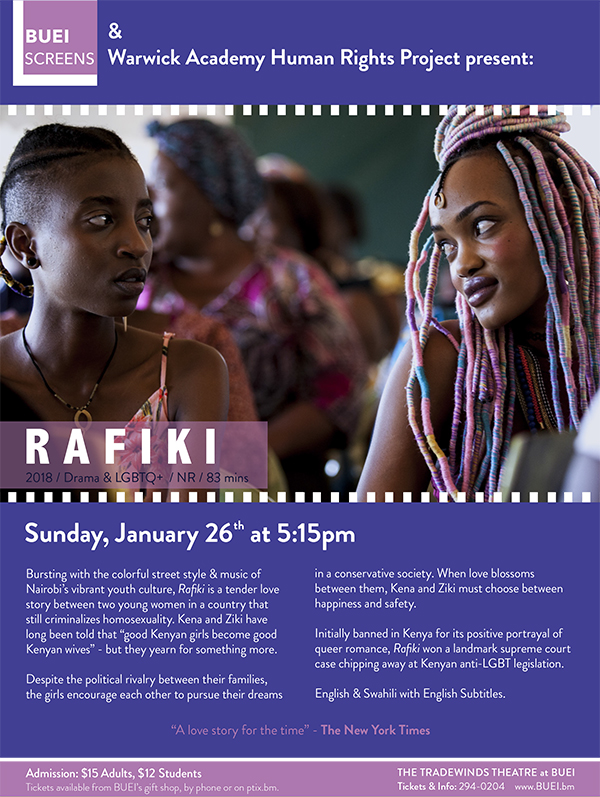 The event poster says, "Bursting with the colorful street style & music of Nairobi's vibrant youth culture, Rafiki is a tender love story between two young women in a country that still criminalizes homosexuality. Kena and Ziki have long been told that "good Kenyan girls become good Kenyan wives" – but they yearn for something more.
"Despite the political rivalry between their families, the girls encourage each other to pursue their dreams in a conservative society. When love blossoms between them, Kena and Ziki must choose between happiness and safety.
"Initially banned in Kenya for its positive portrayal of queer romance, Rafiki won a landmark supreme court case chipping away at Kenyan anti-LGBT legislation."

Read More About
Category: All, Entertainment, Films/Movies