An organisation promoting professional development for directors is celebrating a successful 2019.
And the Institute of Directors has also announced its 2020 programme of courses which starts next month [Feb].
Laura West Burt and James O'Shaughnessy achieved the IoD Diploma in Company Direction designation. Their success brings the number of Bermuda Diploma Holders to 22.
The Diploma in Company Direction [Diploma] is stage 2 in the IoD Chartered Director programme. The module is a 3-day intensive case study called Developing Board Performance.
Programme delegates put their skills to the test as they assume responsibility as a board member to tackle a real-life boardroom scenario, mirroring in many ways the operation of a board. The course provides delegates with hands-on experience that can make a significant impact on their effectiveness in the boardroom.
James O'Shaughnessy and Laura West Burt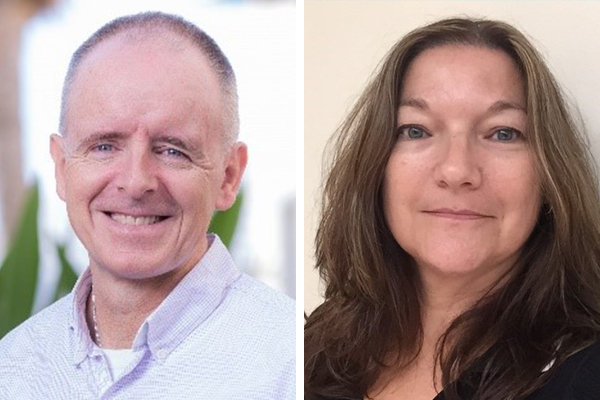 Delegates also receive feedback on their own performance as a board member; this helps them to return to their organisations ready to tackle future challenges with greater expertise and confidence.
The Diploma designation is achieved by passing a three-hour case study examination in which each delegate assumes the role of a non-executive director whose role it is to assess the status of the company and make recommendations to the board.
Mr. O'Shaughnessy said: "I've enjoyed the programme, thankful for the continued IoD support, met some great people, learnt a lot more than I originally expected and frequently apply the knowledge gained in my day to day director responsibilities."
The Branch also congratulates 14 new Certificate in Company Direction holders:
Angela Atherden, Counsel, Conyers
Barry Zurbuchen, Non-Executive Director
Candace Steele, Chief Compliance Officer, Colonial Group International Ltd.
Elizabeth Stewart, Senior Vice President, Markel Bermuda Ltd.
Jacki Dodds, Head of Regulatory Compliance, HSBC Bank Bermuda Limited
James O'Shaughnessy, Independent Non-Executive Director
Jo Stanton, Head of Finance, Tangency Capital Ltd
Julia Mather, Director, Falcon Insurance PCC Ltd.
Marc Morabito, Chairman, Zobec Group of Companies
Mary Jane Gutteridge, Consultant
Michael Tanglao, General Counsel, One Communications
Nicole Pinder, Vice President, Accounting & Reporting, Hamilton Insurance Group Ltd.
Richard Lau, Senior Vice President of Information Technology, Ascendant Bermuda Limited
Yolanda Outerbridge, Head of Human Resources, HSBC Bank Bermuda Limited
The Certificate in Company Direction [CICD] is stage 1 in the IoD Chartered Director programme. The CICD comprises 4 modules covering key areas of governance, finance, strategy and leadership which are fundamental to effective directorship.
The programme provides delegates with an in-depth view of the role, responsibilities and legal duties of a director, strengthens their knowledge of financial terms and concepts and the assessment of financial results, and delivers practical insights and performances of an effective board.
Delegates also gain insight into the issues and processes associated with formulating strategic business plans, and learn the importance of ensuring the right strategic discussions are continuously being held to help the board develop strategic leadership. All modules utilize case studies which provide practical support to learning and small group work that encourages collaboration.
Rochelle Simons, Chairwoman of the Institute of Directors commented: "IoD London Course Leaders who traveled to Bermuda to lead CICD modules were pleased with the deep engagement of 2019 cohort delegates in subject discussions and those tangential conversations which take place in every course regarding the potential benefit of the modules to their networks of business leaders.
"This year, five delegates successfully committed to completing the programme within calendar year 2019, while most of the remaining delegates began the program in the fall of 2018 and completed it within 12 months.
"These efforts are to be commended when one considers adding program courses and examinations to demanding corporate commitments. This trend toward 12-month completion is fairly new as many delegates have allowed a minimum of 18 months to 2 years to complete the CICD designation."
"The IoD Bermuda believes that providing resident directors with quality professional development will inspire confidence and courage for effective directorship, which will positively influence sound decision making and professionalism in the boardroom."
"2019 Diploma and Certificate in Company Direction successes compliment the 2 Chartered Director successes of Neil Glass and Sara Schroter Ross, that were announced at the beginning of 2019.
The following are current Bermuda standings:
67 Certificate in Company Direction
22 Diploma in Company Direction
5 Chartered Directors
The 2020 Professional Development year begins in February. Registration is available through the Bermuda Insurance Institute website www.bii.bm.
February 25, 26 & 27 – Finance for Non-Finance Directors
March 9 & 10 – Leadership for Directors
September 21 & 22 – Role of the Director and the Board (International)
September 23, 24 & 25 – Strategy for Directors
September 28, 29 & 30 – Diploma in Company Direction: Developing Board Performance
Contact the IoD to learn more: iodbermudabranch@gmail.com or dial 336 2447.
Read More About