Saphire Faith International Ministries [SFIM] will host its first annual Singles Summit on Saturday, January 25 from 10.00am to 4.00pm at the Grotto Bay Beach Resort.
A spokesperson said, "On Saturday January 25th, Saphire Faith International Ministries will host its first annual Singles Summit.
"The Bermuda 2020 Singles Summit will take place at the Grotto Bay Beach Resort from 10am to 4pm. The Summit is designed to bring singles of the Christian faith together for friendship, fellowship and empowerment. However, we will not turn away anyone who is interested or pursuing an encounter for a life changing experience – you are welcome.
"We are mindful that there are people who worship on Saturdays, we encourage you to get your tickets and come after your service.
"The event is organised by a dynamic mother-daughter duo, Marlene Flynn and Shaunte Simons, who are co-founders of Saphire Faith International Ministries. SFIM is not a church. It operates under the Auspices of Church of God Glory Temple with the prayer and support of their pastor, Rev Dr Blanche Burchall, and the Administrative Bishop, Dr LLoyd Duncan.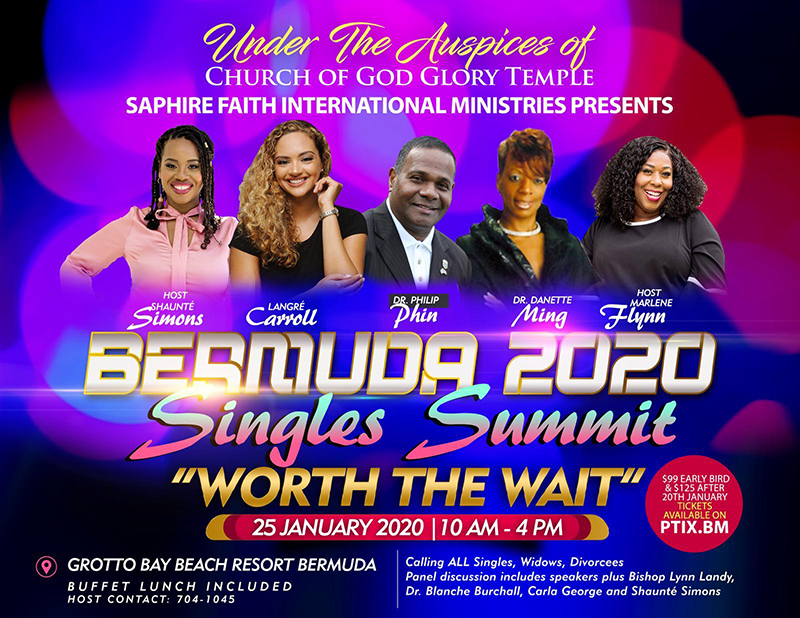 "Both mother and daughter are passionate about serving God and for empowering individuals in the faith. They successfully launched their Ministry in January 2019 with 'Start Your Year Strong,' then in August 2019, they brought us 'God My Source… Entrepreneurship, God's Design'.
"The Ministry also launched a scholarship and provided two young people in the faith with financial assistance with their university expenses.
"Outside of this Ministry, Shaunte is an attorney and also the creator and host of the 'Pray, Plan, Slay' podcast. The podcast, launched in September 2019, has already been streamed in over 28 countries spanning six continents and has been listened to by over 2,500 people.
"According to Apple Podcast statistics in October 2019, it was the most listened to faith podcast in Bermuda, and third overall behind two CNN podcasts. Shaunté is also a motivational speaker who encourages and coaches people to reach their full potential.
"Marlene is a well-known member of the community having worked in corporate Bermuda as well as running her own businesses. Marlene is a minister and a motivational speaker as well as a co-host on 'The T Talk Show' on Channel 82. She is an active member at Church of God, Glory Temple and a former president of the Jamaican Association [Bermuda].
"Saphire Faith International Ministries, through the Bermuda Single Summit 2020, seeks to bring Christian singles together from churches on the island, regardless of denomination, for a day of empowerment, fellowship and friendship.
"While there are a lot of ministry activities within the church that cater to families – husband, wife and children – there are not many activities that are geared towards those who are single and especially those who are without children. Quite a few singles yearn to build a community of people with like minds with whom they can have fun and build relationship in a healthy, wholesome atmosphere."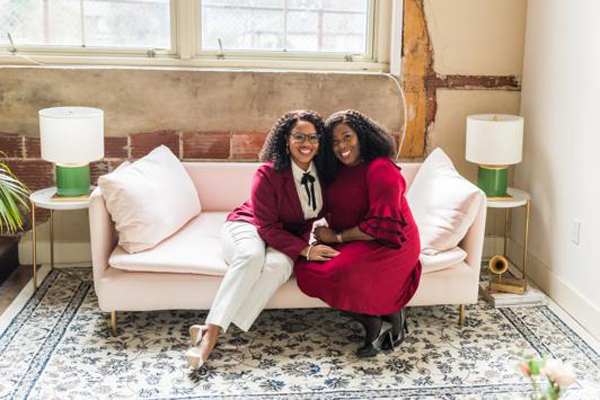 "The Bermuda 2020 Singles Summit is the beginning of creating such a community. The hope is that the summit will impact the attendees and change the way they view themselves and their season of singleness.
"It will encourage them to create intimacy with their creator while affording them the opportunity to become a part of a vibrant community with other singles. I speak to all singles: This is your season – in this new year, new decade – to shine for the glory of God purposefully and intentionally.
"In this season of your singleness you can live your best life – why wait for what you think will be a better season? You are a masterpiece of God's creation, placed in the earth, in this season of singleness, for such a time as this! Don't count the years of your singleness, make the single years count.
"For those of you who desire to get married, remember it is while serving in this singleness season that you will meet your Naomi or your Boaz.
"Come hear from dynamic speakers Dr Danette Ming [a Minister with the Church of God - New Testament], Langre Carol [Photographer and Author of The Single Heart], Dr Phillip Phinn [Presiding Bishop of NO Limits Ministries Ontario, Canada], and Shante Simons [Attorney and Author] as they share their experiences and their perspectives according to the word of God on the title – 'Worth the Wait'.
"Following the speakers' delivery, there will be a panel discussion. Panelists include Bishop Lynn Landy [Agape Faith Ministries] Dr Blanche Burchall, author and pastor [Glory Temple]; attorney and author, Carla George, and attorney, author and co-host Shaunté Simons, together with speakers Dr. Phlilp Phinn, Dr. Danette Ming, and Langre Carroll.
"The cost of the Summit, which includes lunch, is $99, or $125 after 22 January."

Read More About
Category: All