'Think Like an Entrepreneur' — an eight-week in depth course with the aim of teaching entrepreneurs how to test the viability of a business idea and create an entrepreneurial mindset to reach entrepreneurial goals — is set to begin on Tuesday, February 4th, 2020.
"Driven by the internationally recognized, award winning Ice House Entrepreneurship Programme, the Think Like an Entrepreneur course will provide a challenging learning experience for all budding entrepreneurs," a BEDC spokesperson said.
"The course is designed to reveal new opportunities, ignite one's ambition and foster the skills that will empower individuals to reach new heights as an entrepreneur. The curriculum for the course draws on eight fundamental concepts that can empower anyone to success. Hailed by one past student as 'an educational opportunity not to be missed,' BEDC is looking forward to welcoming the next group of participants.
"Think Like an Entrepreneur will be facilitated by Donte Hunt, BEDC Micro, Small & Medium Enterprise [MSME] Officer and Dennis Carter, Junior MSME Officer, both accredited Ice House Facilitators certified to deliver the innovative, international programme. The BEDC has been delivering this course since 2015 with rave reviews from past graduates.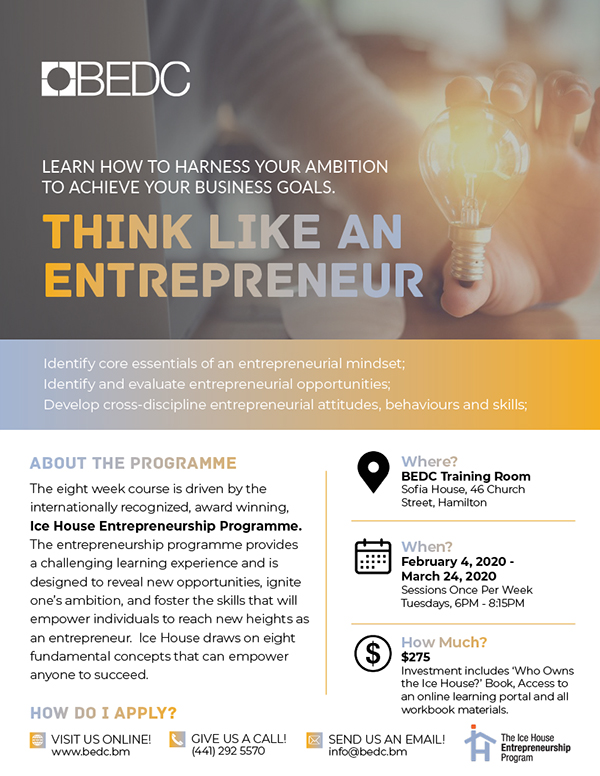 Former student Arin Weller said, "This course challenged me to think bigger, to visualize success, and intentionally make choices that lead to my goals. I gained a renewed confidence in myself and my capabilities."
Donte Hunt states: "We are excited to be guiding another group of aspiring entrepreneurs through the Ice House programme curriculum and look forward to seeing how the course inspires and empowers them to really think like entrepreneurs.
"We know from past cohorts that there are dozens of creative and unique business ideas floating around in people's heads, and what this course does is help participants develop the mindset, skills and confidence to start working towards creating a tangible business."
The BEDC noted, "Participants will learn how to develop an entrepreneurial mindset, identify and evaluate entrepreneurial opportunities, establish goals, manage risks, and build a successful brand. The eight-week scheme will aid in developing cross-discipline entrepreneurial attitudes, behaviors and skills.
"The Ice House Entrepreneurship Programme will be taught at BEDC's office, located in the Sofia House, 48 Church Street, Hamilton on Tuesdays from February 4th to March 24th from 6pm until 8.15 pm. The Think Like an Entrepreneur course costs $275 to participate.
"Your investment includes, all course materials, the book 'Who Owns the Ice House?' and access to an online learning portal. For more information or to register for the course, please visit www.bedc.bm; email info@bedc.bm or call 292-5570."
Read More About