International delegates are set to attend the fourth annual Bermuda Principles Foundation Conference, with this year's event focused on transcriptomics.
A spokesperson said, "Building on the legacy of The Bermuda Principles 24 years ago, the newly registered charity, The Bermuda Principles Foundation, will focus on everything science during the first week of February. In its fourth year, the theme for this year's conference is transcriptomics, which will once again place this tiny island on the international map with a host of STEM-focused initiatives."
Dr Weldon and university students: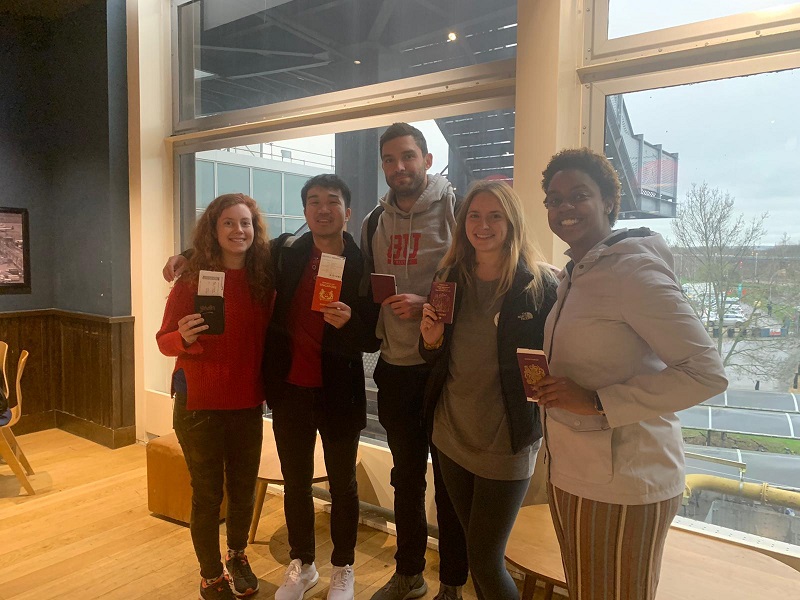 Founder and Executive Director Dr. Carika Weldon said, "Having started with a vision of an international science conference in early 2016, it is overwhelming to now see it grow to a well-known conference in the science calendar. I am proud to use my network to bring science tourism to the island during our slow period of February. This year we have our highest number of delegates flying in, from all over the world."
The spokesperson said, "The Bermuda Principles Foundation's primary objective is to fill the gap in science and work along with other local STEM organizations. From school tours to its annual conference, the registered charity has decided to combine a host of its events, for the first time, into one full week of activities during the first week of February. The schedule of events includes:
"Inviting the public to cast their votes until 12 noon on February 5, 2020 for the #STEMisMe middle school video contest here as well as the Bermuda Principles Foundation's Facebook page, YouTube channel and Instagram. The school with the highest number of combined likes and votes will receive a surprise science prize for the school. The winner will be announced on the February 5th evening news.A joint STEM grub day with Planet Math was also held yesterday and a second grub day will take place on February 7, 2020 at middle and high schools across the island to fund free math lessons and establish Bermuda's first monthly genetics clubs in each participating school.
"The fourth annual #SciencewithScientists School Tour, will take place from February 3 through to February 5, 2020. Bermuda College science majors, along with 7 PhD students from the University of Oxford, Queen Mary University of London, Cornell Weill Medical College and Emory University, will assist Dr Weldon during the school tour. Middle and high school students from across the island will be able to participate in hands-on DNA workshops exploring how sickle cell is diagnosed from genetic testing, as well as become exposed to the concept of bioinformatics, the merging of biology, math and computer science.
"The fourth annual Bermuda Principles Impact Conference will be held at Fairmont Southampton Resort & Spa from February 5 through to February 8, 2020. This year's theme is Transcriptomics, how the body regulates the interpretation of the genetic code. Bermuda research will be represented by Dr. Julius Christopher Barsi of the Bermuda Institute of Ocean Sciences [BIOS].
"There are two special events open to the general public. First, the fourth annual Youth Parliament Science Ethics Debate takes place on February 6, 2020 from 7:30 pm to 9:00 pm. This year's topic is: "Mandatory genetic testing in Bermuda and starting a Bermuda Biobank".
"Secondly, the Bermuda Principles Public Session which will take place on February 7, 2020 from 7:30 to 9:00 pm, featuring special presentations from international scientists as well as International Baccalaureate Year 2 Bermuda High School student, Sierra Pacheco, who will co-present along with her mentor, Dr. Carika Weldon.
"The duo will discuss the findings of Sierra's genetics study on the basis of sleep patterns. There will also be a surprise reveal at this session by Dr Weldon.
"Another special guest who will be accompanying Dr. Weldon at these public events is the youngest neuroscientist trending right now: Miss Amoy Antunet. Amoy, is a 9- year old whiz child who resides in Atlanta, Georgia and gives online lectures on neuroscience from a mini lab in her bedroom to millions of viewers.
"Thanks to one of The Foundation's sponsors, Roche, Amoy will also be mentoring the charity's youngest 2-year-old Bermudian mentee along with Dr. Weldon. Learn more about this budding scientist by visiting Amoy's Facebook page.
"Inviting the public to participate in the online silent auction which showcases a curated collection of 'Bermudian excellence". Pieces range from jewelry to Bermuda experiences to science memorabilia as well as numerous other local artwork. Visit here now to bid, ending on 8:30 pm on February 8, 2020.
"The culminating event, the 2nd Annual Awards Gala which will take place on February 8, 2020. This year's awardee is Professor Joan Steitz, who is a Professor of Molecular Biophysics and Biochemistry at Yale School of Medicine. The Bermuda Principles Award makes her 80th since 1975. Each middle and high school will be represented by a selected student and teacher.
"Full details about all our 2020 events can be found on the charity's new website. Alternatively, visitors to the website can also submit their email to be given access to our free 2020 event app to receive live alerts about the school tour, conference and gala."
Read More About