Bermuda show jumpers are preparing to compete in the 2020 FEI Jumping World Challenge [JWC], which begins on Saturday, February 15.
A spokesperson said, "Bermuda show jumpers are preparing to compete in the 2020 FEI Jumping World Challenge and this year's event promises to be quite exciting with new competitors and horses entered in all of the three height divisions.
"Bermuda Equestrian Federation's spokesperson is very encouraged by the increase number of entries for this year's Challenge; particularly in the Category A division [1.20m – 1.30m]. The increased number of entries clearly indicates the growth and development of local equestrians in the showjumping discipline.
Christian Truran riding De Le Vega: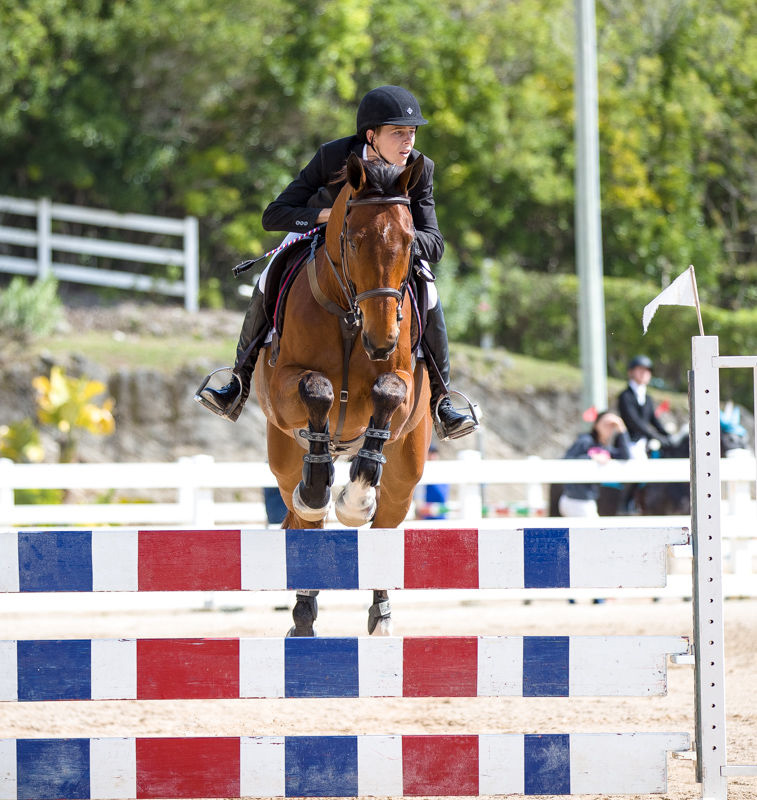 "Competing in Category "A" for the first time, are BEF junior members Kayla Bardgett on Causing Chaos and Christian Truran riding De Le Vega. Philip Correia will also compete on his talented stallion Emerson. Philip has also entered his 8-year-old bay mare Hornellli.
"Equally exciting are the very strong and competitive entries for the Category B [1.10m – 1.20m] and Category C [1.00 – 1.10m] divisions. First time competitors in the Category B division are Cody Rego riding his new horse Rambo, Jaeda Smith riding her new horse Da Vinci and Jaylynn Hines riding Carolina Gold.
"Vicki Steele riding All in One and Philip Correia riding Junior Cardento have also entered the Category B division. Combinations entering the competitive Category C [1.00m – 1.10m] division include Abby Bardgett riding Up Up & Away, Mackenzie James riding Worth the Wait, Stephanie Kempe riding Good as Gold, Brittany Ricca riding Ace Boy and Philip Correia riding Bon Voyage.
"The three competitions that comprise the 2020 FE Jumping World Challenge will be held at the National Equestrian Centre, Vesey Street, Devonshire on the following dates:
Competition #1: Saturday 15th February 2020
Competition #2: Saturday 7th March 2020
Competition #3: Sunday 29th March 2020
BEF Junior Kayla Bardgett riding her horse Causing Chaos: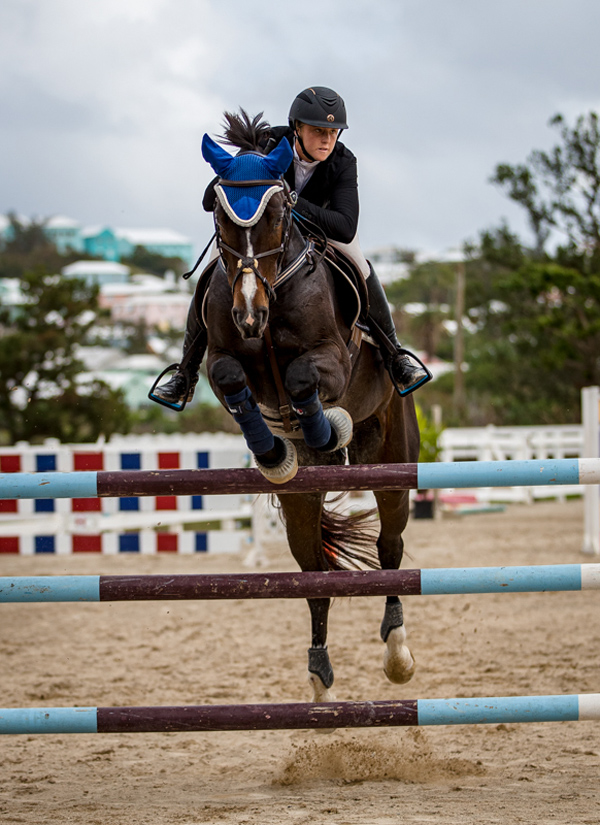 "FEI Level 2 Judge Judy Hagen of Bermuda will judge Competitions 1 & 2 and FEI Level 4 Judge Kim Morrison of Canada together FEI Level 2 Judge Judy Hagen will adjudicate competition 3.
"The Challenge provides local jumper riders with an opportunity to compete in an international setting without having the expense and logistical challenges of travelling overseas. Riders from ten different geographical zones compete over the same jumping courses designed by a FEI appointed course designer. This year's designer is FEI Level 3 Course Designer Christoph Johnen of Germany.
"Spectators are most welcome and there is no admission charge. Further information can be found on the Bermuda Equestrian website as well as the FEI website."
- Photos courtesy of Andy Gibbs

Read More About