After a 24-hour delay due to adverse weather conditions, Bermuda equestrians achieved very favorable scores in the first of three separate competitions that comprise the 2020 FEI Jumping World Challenge.
A spokesperson said, "Leading the way in Category A [1.20 – 1.30m] was Philip Correia and Emerson with double clear rounds and a time of 50.38 seconds. Close on his heels was BEF Junior 17 years Kayla Bardgett riding Causing Chaos. This team also rode two clear rounds, but in a time of 54.38 seconds.
Philip Correia riding Junior Cardento, winner of Category B division [photo courtesy of Andy Gibbs]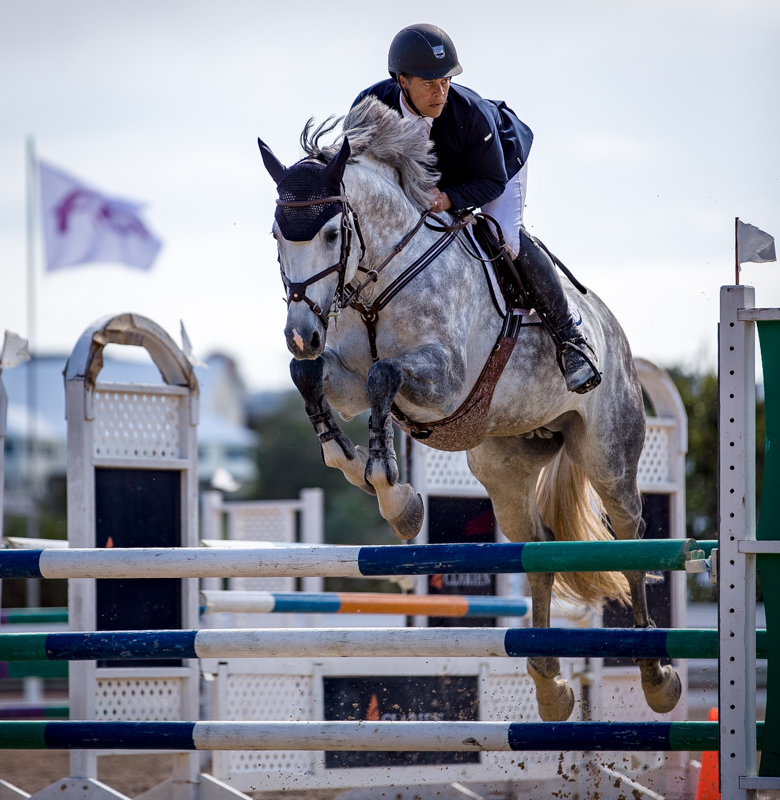 "Riding Junior Cardento, Philp Correia went on to claim first place in the Category B division [1.10 – 1.20m]. This team achieved two clear rounds in a time of 56.37. The winning streak continued for Philip into Category C [1.00 – 1.10m] when riding Bon Voyage, as Philip again captured the coveted blue ribbon with double clear rounds and time of 54.74.
"Judging Competition #1 of the 2020 FEI Jumping World Challenge was Ground Jury President FEI Level 2 Judge Judy Hagen and Ground Jury member and FEI Level 1 Judge Pamela Mahoney.
"Competition #2 of the 2020 FEI Jumping World Challenge is scheduled to be held on Saturday, March 7 at the National Equestrian Center."

Read More About