"The visiting of people who are being housed at an approved Government facility for 14 day mandatory quarantine is strictly prohibited."
That was the message on a graphic tweeted by the police, who said: "The Bermuda Police Service is aware of social media messages circulating, regarding individuals who are being quarantined at Government approved facilities encouraging friends to come and visit. This kind of behaviour will not be tolerated!"
Premier David Burt previously announced that once travelers arrive in Bermuda they will be mandated to enter a Government quarantine facility for 14 days.
The Quarantine [Incoming Traveller] Order 2020 [PDF], which is dated April 2nd, states that persons entering Bermuda from the April 3rd "shall comply with this Order" until it is revoked by the Minister of Health.
It states, "Each person entering Bermuda by commercial aircraft,private jet or ship shall, upon being landed in Bermuda, be placed in quarantine for a period not exceeding 14 days, at a place approved by the Quarantine Authority for the purpose."
It also notes that "any person who contravenes the provisions of this Order commits an offence under section 11 of the Quarantine Act 2017."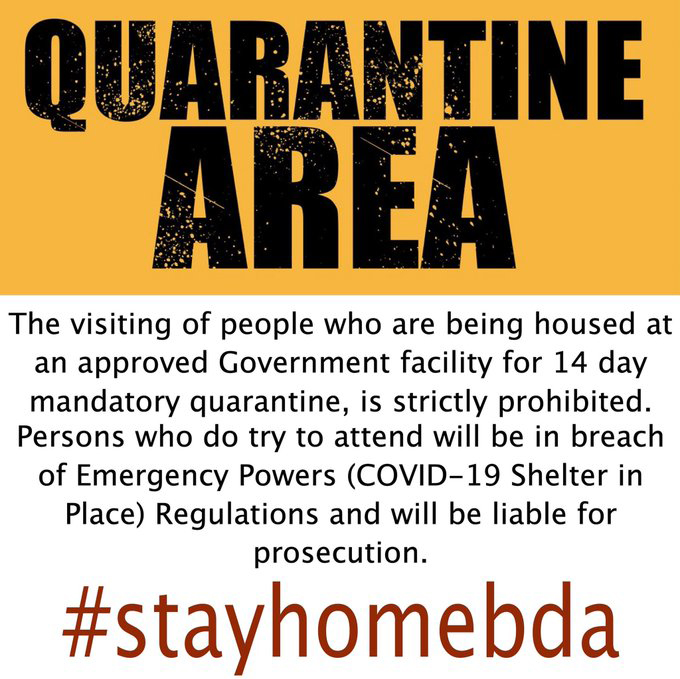 As the island and world deals with the Covid-19 pandemic, we are doing our best to provide timely and accurate information, and you can find more information on the links below.
Read More About