Black Pony Gallery has announced the inclusion of local artist Richard Edson Sutton, an artist and art educator based in Bermuda.
Curator Lisa Howie said, "As a child he resided in several Caribbean Islands before moving to New York City where he experienced a culture shock.
"In the US, he was struck by the systems of inclusion and exclusion, which today inform his choice of subject matter. His paintings often address actual events of social injustice that he conveys realistically and allegorically.
"Sutton's painterly style has been inspired by the Renaissance and Baroque periods, using light and darkness to bring the sitter to life and to qualify the situation depicted.
"His portfolio communicates stories of the oppressed and, importantly, the push for justice. Sutton has a BFA in Painting and Ceramics, and a Master's in Art and Design Education from Pratt Institute, NYC.
"He has been featured in a solo exhibition at Gallery One Seventeen and in group exhibitions at Masterworks Museum of Bermuda Art and Bermuda Society of Arts."
Visit the Black Pony Gallery website here.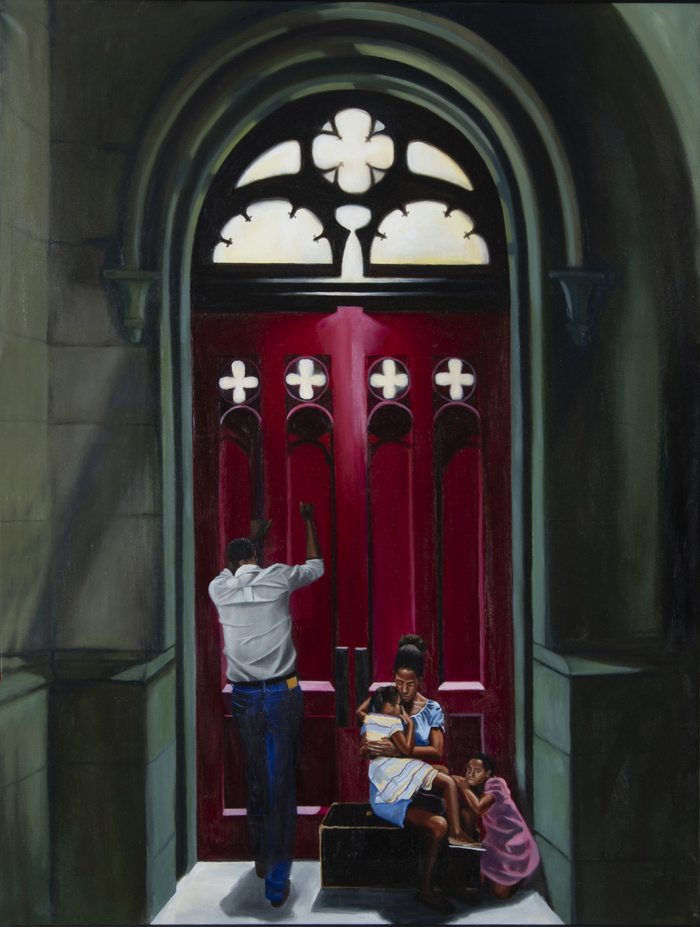 Below is an exclusive Q & A between the artist and curator, Lisa Howie.
LH: Let's talk about your influences. Are there particular artists or artistic styles or genres that have influenced your artmaking?
Res: The artists who have been particular influences in my work include Kara Walker, for her bravery to discuss difficult topics from history; Caravaggio's dramatic use of light; Edward Hopper's studies of light on his surroundings; and The Ashcan School's artists, such as George Bellows for his raw New York lighting and urban renderings.
Also, I admire both Frida Kahlo and Diego Rivera for their honesty towards social justice.
The New York City twilight has always been an inspiration to the way I use color as well. I love to see the pure color of the awnings and other lights contrasted with the silhouette of buildings.
LH: What issues of social justice do you find most compelling and why?
Res: The fight against a system of oppression and the passivity towards it is most compelling. It is a system that quietly advocates for ongoing acts of violence towards "minority" peoples. It is a system which creates a false sense of hope for tomorrow. I want to be a part of deconstructing those systems.
I believe that those who are oppressed will be recognized one day. I want my artwork to speak to that future.
LH: Are you painting for a particular audience and/or do you have a specific outcome[s] you wish to achieve with these political works?
Res: I am not painting for a particular audience. I would like everyone to see my work and contemplate what they know as truth with what is being presented. My desired outcome is to present another perspective to help reshape the way "we" see our world.
James Baldwin stated, "Not everything that is faced can be changed, but nothing can be changed until it is faced." It is necessary that our true voices be heard.
LH: As a teacher of art and a practicing artist, you must balance your time and energy carefully. What advice might you give to an emerging teacher/artist?
Res: As an art educator and practicing artist, the one very important bit of advice I can give is to create a schedule that supports a balance of an ideal life for yourself, where life is at that moment. Once you have the schedule created, fight to be committed to the schedule week by week and, at times, day by day.
Mickalene Thomas once told me, "There is no substitution for time in the studio." As you fight for studio time, ensure you still have a balance in life. If you believe in something, your God and family will keep you grounded and happy.

Read More About
Category: All, Entertainment