Saphire Faith International Ministries [SFIM] will be hosting an online event entitled 'Re-Start Your Year Strong' via Zoom on Saturday, May 23.
A spokesperson said, "Under the Auspices of Church of God Glory Temple, Saphire Faith International Ministries [SFIM] a mother/daughter ministry, co-founded by the power duo, Minister Marlene Flynn, and Chaplain Shaunté Simons is hosting another empowerment conference for all.
"Last year, the ministry held two events entitled 'Start Your Year Strong' in February and 'God My Source' in August – both of which were very well attended. In January 2020, we hosted a successful 'Bermuda Singles Summit – Worth The Wait' and later this year, upon the request of members of the community, we will be hosting, 'Bermuda 2020 Teen Summit'.
"We are currently talking with a local youth group to see how we best can may make this happen – more on this later. The power duo seeks to empower people educational, financially and spiritually.
"On Saturday, 23 May 2020 SFIM is hosting its second annual Start Your Year Strong."
"'However, due to the coronavirus, we have had to put a spin on the name,' says Marlene who is event planner for the ministry. Many people [and businesses] started off on a good footing in January 2020 but realise that they will now have to put things in place to restart their year.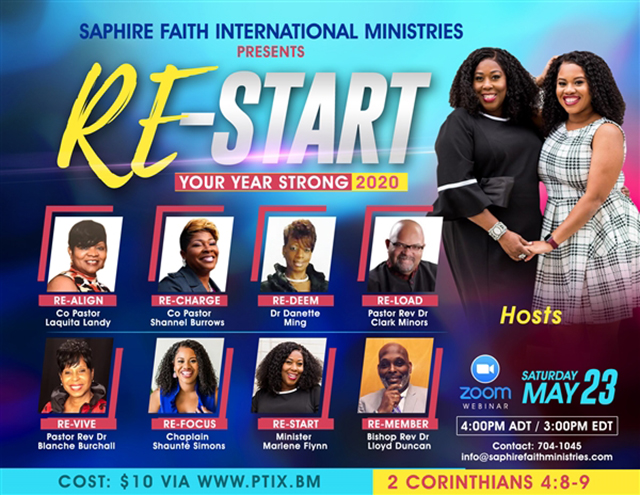 "There is no need to write-off or get a refund on your 2020. There is still seven months left in the year. If you put the right things in place you can finish this year as your strongest year yet. God only took 6 days to create the world, we have seven months to create a successful year, whatever that means to you.
"Considering that we have had our rest in the first five months, it is now time for a repositioning of our goals – a rescue mission that is important to our success.
"When crisis occurs our natural reaction is to question God. Even as believers, we ask, 'Why, Lord?' But, there is a better and a more positive way to respond to crisis! God's reassurance that He will never leave us in the midst of a storm is not fake news.
"Remember, God's purpose for our life is still in tact. Even when it looks like the world is rolling off of a cliff, we must rely on God's promises. God is still at work in us and around us.
"Many people are debating whether this Covid-19 pandemic is man-made or an act of God as a punishment. Most importantly though is how do we react? We are not here to defend God!
"In the beginning of the Covid-19 pandemic, we thought about ourselves and our families. We started to hoard toilet paper then food. Grocery stores were full to capacity – people were in a panic. Then, as if a light bulb went off, we started to wonder if this is the way that we should react to trials and tests?
"As Christians, our belief is in the word of God which told us that these days will come. When then does our faith kick in?
"We don't have to lose our faith or lose our praise! It is time to give legs to our faith. What the enemy of our souls [visible or invisible] meant to use for evil, God will always turn it around for our good and for His glory.
"There is nothing impossible with God – He knows how to re-purpose this pandemic to accomplish His greater purpose in the earth. This pandemic may have taken the world by surprise but God, who made the world and everyone/everything in it, has never been and never will be caught off guard.
"We have all had to do a double take and many are now saying, 'thank God for Covid-19′. It has reminded us that no matter how self reliant we think we have become, we are not in control and must be dependent on God.
"We are reminded that we must be grateful for all things, toilet paper and all. It has reminded us not to take our good health for granted and those of us who have fallen by the wayside in our health have been encouraged to eat healthy and make exercise a way of life. We recognise now, more than ever, that life is indeed fragile and we should be grateful to God for the miracle of life.
"World leaders and scientists battle for a cure or even just to understand this virus that has plagued our world since December 2019. Faith leaders around the world are helping in various ways including providing food and money for medication etc while encouraging their congregation how to navigate these uncertain times.
"As we look around our world we see God at work everywhere. We see people making a decision to love their neighbours as themselves, to connect a little more even though by social media. We see the work of God in every doctor, nurse, healthcare provider, first responders, essential workers.
"We see that each of us, regardless of our money, size of our houses, our education – we all need each other and none of us is an island to ourselves.
"SIFM encourages you not to get caught up in all the hype but instead use this season to catapult yourself into your purpose. Together let us ensure that Covid-19 does not have the last word. It is time to 'Re-Start Your Year Strong'.
"The topics and speakers for the Saturday afternoon ministry event are:
Re-Align, Co- Pastor Laquita Landy
Re-Focus, Chaplain Shaunté Simons
Re-Charge, Co-Pastor Shannel Burrows
Re-Load, Rev Dr Clarke Minors
Re-Deem, Dr Danette Ming
Re-Vive, Rev Dr Blanche Burchall
Re-Start, Min Marlene Flynn
Re-Member, Bishop Lloyd Duncan
"Want to know how to restart your year strong?
"Register for the Saphire Faith International Ministries Zoom webinar scheduled for Saturday, 23 May 2020 at 4:00pm ADT / 3:00pm EDT / 8:00pm GMT+1 and hear God's instructions through His servants.
"Donation: $10.00. See flyer for registration details – to reserve your seat, register today via Ptix.
"Log on details will be provided upon registration. It's going to be epic! For information, please contact info@saphirefaithministries.com or 441-704-1045."

As the island and world deals with the Covid-19 pandemic, we are doing our best to provide timely and accurate information, and you can find more information on the links below.
Read More About
Category: All