The Bermuda Cricket Board [BCB] has partnered with The Booth 2 to sell BCB apparel.
A spokesperson said, "The Bermuda Cricket Board is pleased to announce a partnership with local retailer The Booth 2, to sell BCB apparel.
"The partnership will see The Booth 2 be the sole retailer for BCB licensed apparel from Monday, June 8th – Friday, October 3rd, 2020.
BCB President Lloyd Smith and Booth 2 Owner Darren Booth.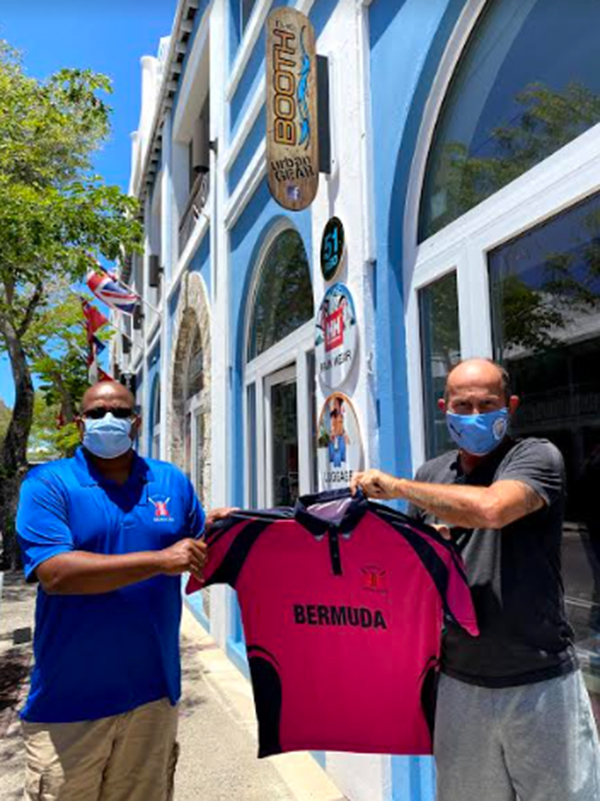 "The mutual beneficial deal will allow the BCB to provide cricket jerseys at a retail store in Hamilton for easier access to the general public for $65.
"The Booth 2 will add the BCB merchandise to their signature brands: Puma Sportswear, G-Shock watch- es, Helly Hansen rain gear and other niche items [luggage etc.].
"The BCB is very appreciative of Mr. Darren Booth to accept our offer to retail BCB apparel in his store. We recognise that the future of our retail offerings is via in-store and on- line sales and will continue to expand into this market.
"Our long-term vision is to brand the BCB into an active wear and lifestyle sports brand and aid in instill- ing national pride via the sport of cricket."
Owner of The Booth 2, Darren Booth, added: "The Booth 2 is very pleased to partner with the BCB to launch the sale of their apparel.
"Cricket is one of Bermuda's National Team sports and part of our very vibrant and beautiful culture. We look forward to adding additional items in the future next to our Puma brand which includes Manchester City and Borussia Dortmund as clients."

Read More About