Registration is open and enrollment has started for 'Entrepreneurship 101', an entrepreneurship education course hosted by the Bermuda Economic Development Corporation [BEDC].
A spokesperson said, "Once the island went into lockdown as a result of Covid-19, BEDC was forced to postpone their regularly scheduled multi-week courses. However, they were never set aside.
"The BEDC team went right to work figuring out how to best facilitate the courses in an online environment and have been working hard to adapt all programmes, which will now be facilitated through a virtual learning tool called GoToTraining. Covid-19 has taken a financial toll on many people therefore the BEDC has reduced the cost of all of the multi-week courses by 50%.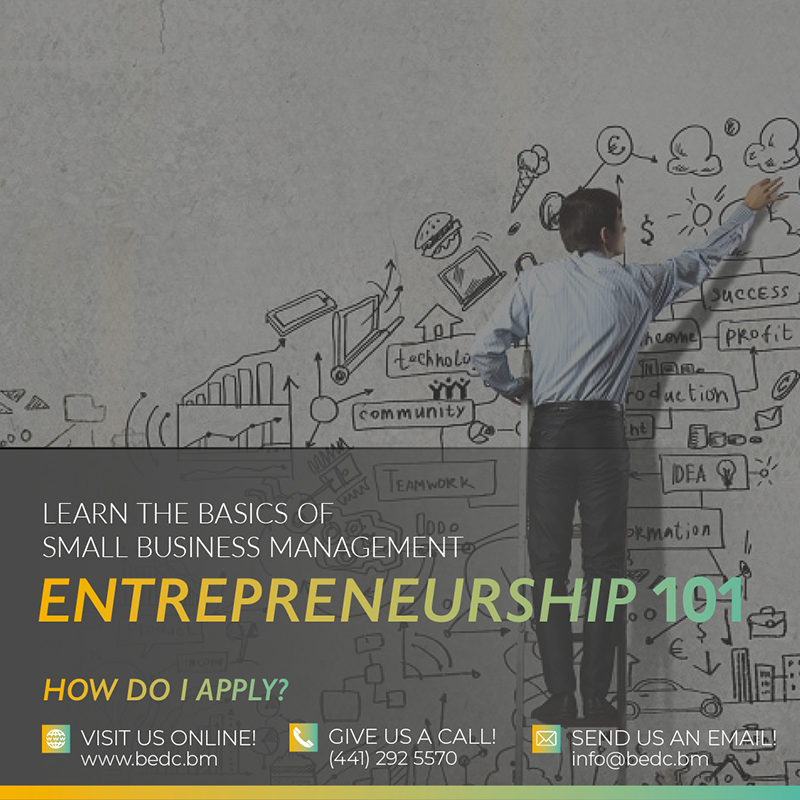 "We recognize that now, more than ever, there is a desire for these types of entrepreneurial education programmes. More people are considering entrepreneurship and are looking for answers on where to start," says Erica Smith, BEDC Executive Director. "It is important that we keep our programmes going, despite Covid-19. The more education we are able to provide, the better it will be for Bermuda's entrepreneurial ecosystem."
The BEDC added, "The Entrepreneurship 101 course provides new and aspiring entrepreneurs with the knowledge, tools and resources needed to start their businesses successfully. Participants can expect to walk away with an understanding of the basics of small business management and how to create an effective business plan.
"The eight-week programme will run from June 16th through August 4th, with a once a week session every Tuesday from 6pm – 8:30pm. The course will be facilitated by Ray Lambert, BEDC's Director of Micro, Small & Medium Enterprises.
Excited to assist another round of eager entrepreneurs, Mr Lambert had this to say about the upcoming course: "When putting together the syllabus for this course, we kept in mind some of the major challenges faced by entrepreneurs on the Island. At BEDC, we meet with business owners on a regular basis, so I am aware of how difficult it can be to set up and operate a business in Bermuda. Entrepreneurship 101 is a great way to get a handle on the process."
Entrepreneurship 101 will cover the following topics:
Making the decision to start a business;
Validating your product or service;
Understanding Government obligations;
Knowing the cost of your business;
Funding your business; and
Marketing, Operations, and Human Resources.
"Many of the aspiring entrepreneurs that come across our path at BEDC feel there is a general lack of 'how to' guidance and 'A-Z' resources at their disposal when first taking the leap into entrepreneurship," states Erica Smith, BEDC's Executive Director.
"BEDC created this course specifically for those individuals – and strongly encourages anyone at the early stages of starting a business to sign up, attend each class and absorb as much knowledge as possible to set their business up for long term success."
Past student, Vivien Carter encourages all aspiring entrepreneurs to invest in their learning and development by taking the Entrepreneurship 101 course.
She stated, "My advice to anyone looking to take this course is, regardless of whether you have a burning business idea, already have a startup or are an emerging small business owner, this course has something to offer you. Between the live presenters who came in weekly to discuss various topics, as well as the other class content delivered, I felt that every session provided me with a wealth of new information."
The BEDC added that, "Entrepreneurship 101 aims to help entrepreneurs enhance their business knowledge and guide them through what can seem like a daunting process. The more knowledge they have, the easier the process, and the faster they can begin business. To register for the upcoming course, which has been reduced by 50% to $137.50, visit www.bedc.bm."
Read More About