Mobile Phone App
Bernews iPhone and Android phone app is now available for download as well as non-download access.
Sponsored by Digicel Bermuda, this free app puts Bermuda at your fingertips with thousands of videos & photos, daily weather forecasts, upcoming event listings, local music, searchable business phone directory with tap-to-call and interactive maps showing distance & directions, ferry & bus schedules and more.
For those keen to keep up on breaking news you can sign up for optional push notifications to receive notifications directly on your screen, and also access our Twitter feed for 24/7 breaking news coverage.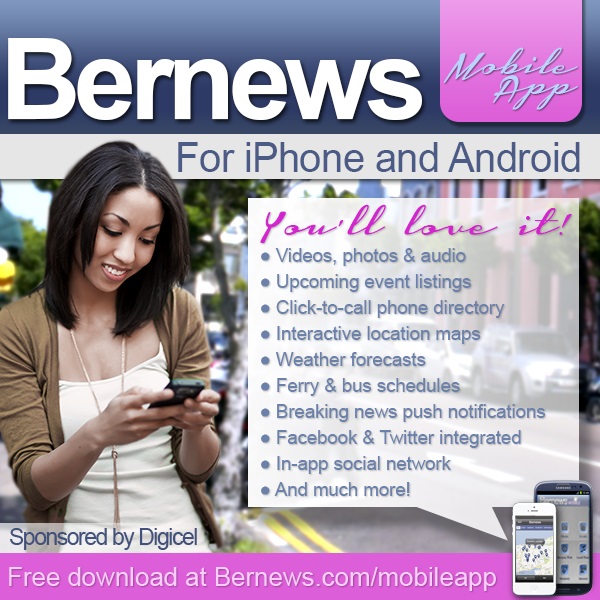 The app isn't a repeat of the website, and offers additional services designed to be practical for daily use. It contains useful information such as the daily weather forecast, bus schedule, ferry timetable as well as a searchable directory containing local businesses and locations.
The directory listings include phone numbers that can be tapped to call, as well as interactive maps providing locations, distance and directions. The listings are divided into categories [banks, churches, schools, hotels, nightclubs, restaurants etc] which can be accessed by swiping the top navigation bar.
The events section contains hundreds of upcoming event listings [spanning nightlife, sports, seminars, community events etc] which can be synced to your phone calendar so you can receive reminders and alerts.
There is also a local music section designed to showcase local artists which we hope to expand. If you are interested in listing your event or showcasing your music, please send us an email.
The photo galleries can be viewed in full screen mode, while the thousands of videos are divided by category for easy viewing. The app contains its own mini social network, and is integrated with Twitter, Facebook and offers Foursquare style check in.
The app was built in-house and we will continue to add to it on a daily basis and expand the features in the future, with our initial focus on improving the present offerings, especially the business phone/map directory. For information on obtaining a free listing for your company in the app please click here.
You can download the free Bernews app in the Apple App Store here, and the Google Play store here.
The app can only be downloaded on some Android systems, for those that cannot download it you can access a non-downloadable version of the app by pointing your phone's browser to apps.bernews.com. Save the page to your homescreen, and it will function just like a downloaded app.