Miss Bermuda Winners who competed in the Miss Universe
The list follows, as well as a dozen photos and videos.
1965 Sylvia Simons
1966 Marie Clarissa Trott
1967 Cheryl Michele Smith
1968 Victoria Martin
1969 Maxime Beam
1970 Margaret Hill [won Miss Photogenic]
1971 Rene Furbert
1972 Helen Brown
1973 Judy Richards
1974 Joyce de Rosa
1975 Donna Wright
1976 Vivienne Hollis
1977 Connie Frith
1978 Madeleine Joell
1979 Gina Ann Casandra Swainson [1st runner-up, later won Miss World]
1980 Jill Lorriane Murphy [*see note]
1981 Cymone Tucker
1982 Heather Michelle Ross
1983 Angelita Diaz
1984 Rhonda Wilkinson
1985 Jannell Nadra Ford
1988 Kim Lightbourne
1989 Cornelia Furbert
1990 Janet Tucker
1991 Andrea Sullivan
1992 Colita Joseph
1996 Naomi Darrell
1997/8 Joanne Darrell
2011 Jana Lynn Outerbridge, she will compete in the Miss World [details here]
1968: Victoria Martin
-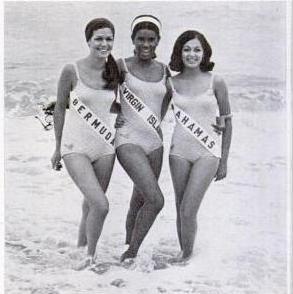 -
1970: Margaret Hill
Miss Hill won the Miss Photogenic award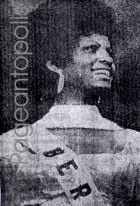 -
1975: Donna Wright
-
1976: Vivienne Hollis
The winner of the 1976 contest is now better known as Vivienne Power, the weather presenter on VSB news.
—-
-
1979:Gina Swainson
The only Bermudian in history to win a major beauty pageant title, Gina Ann Cassandra Swainson won the Miss World Pageant [not the Miss Universe which is what this list is of] held in the UK on November 15 1979.
She placed 1st runner up in the Miss Universe.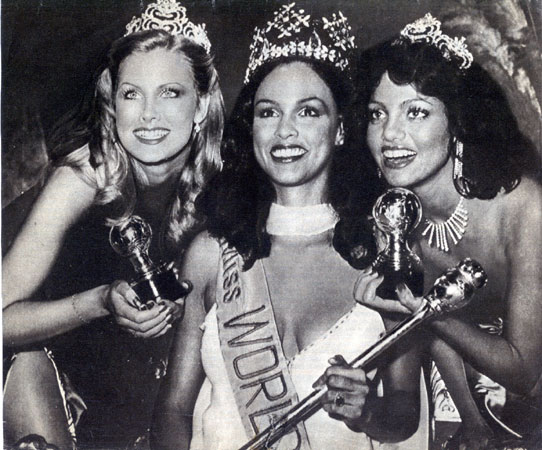 -
1980: Zina Minks
Ms Minks actually won the Miss Bermuda, however she was 17 years old and the Miss Universe required competitors to be 18. Jill Murphy, the Miss Bermuda first runner up, competed at the Miss Universe instead.
Ms. Minks went onto compete at the Miss World Pageant, where she placed in the top 15. She is pictured below at the 1980 Miss World.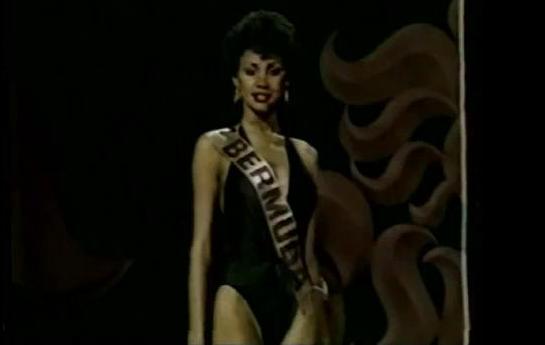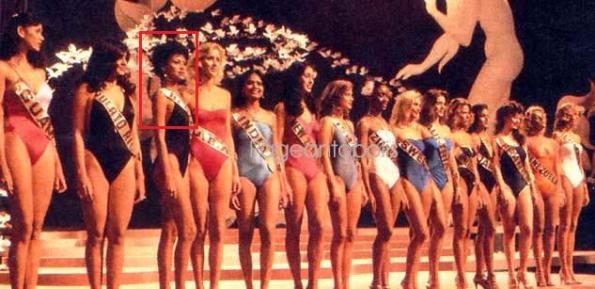 -
1982: Heather Ross
Ms Ross later made headlines when soon after she won the Ms Bermuda title she was sentenced to 3 years in jail by a British court for smuggling 2.2lbs of cocaine into Britain. Fortunately for her, she was deported, and did not serve the full sentence.
The press reported she was working for an 'international drug ring', and that she was a prosecution witness for a drug smuggling charge against Bermudian Bobbie Greene, whose name has been mentioned in alleged connection with the 1973 assassination of Bermudian Governor Sir Richard Sharples
Miss Ross also admitted to the personal use of cocaine.The drugs she were carrying had an estimated street value of $316,000.00. Prosecutor Christopher Sumner said she was reportedly promised $20,000 to smuggle the cocaine.
0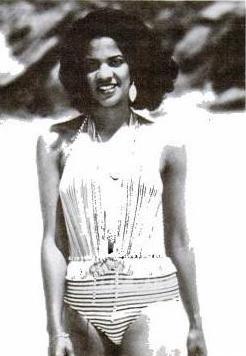 -
Videos-
The video below shows Gina Swainson at the interview portion at the 1979 Miss Universe [sorry for the low quality!]
Zina Minks in the 1980 Miss Universe, she made it to the semifinals
Video includes all Miss Bermudas of the 1970′s; 1970 Margaret Hill, 1971 Rene Furbert, 1972 Helen Brown, 1973 Judy Richards, 1974 Joyce de Rosa, 1975 Donna Wright, 1976 Vivienne Hollis, 1977 Connie Frith, 1978 Madeleine Joell and 1979 Gina Swainson. As they were extracted from video footage 30-40 years old, the clips are very low quality for which we do apologize!
*Info taken from Miss Universe organization, list may be incomplete
Do you have any information or photos to add? Please contact us!