Diana Dill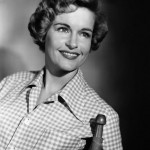 Although she is best known for being the mother of actor Michael Douglas, Diana Dill is successful in her own right with an acting career spanning over 50 years.
Born in Bermuda on January 22, 1923, Ms. Dill's family can trace their roots in Bermuda back to the 1630s.
Ms. Dill is the daughter of Ruth Neilson and Lieutenant-Colonel Thomas Melville Dill, a former Attorney General of Bermuda and former Commanding Officer of the Bermuda Militia Artillery.
Diana began modeling and acting, and by the early 1940's she had made international magazine and film appearances.
Actor Kirk Douglas saw a 1943 issue of Life Magazine, which featured Diana on the cover, and declared he would marry her.
Ms. Dill married on Kirk on November 2, 1943 and they had two sons, Michael and Joel, before divorcing in 1951.
Ms. Dill later married actor and producer Bill Darrid, who died in 1992.
In 2002, at age 79, Ms. Dill married Donald Webster, who once served as Treasury chief of staff under President Richard Nixon
The wedding took place in Bermuda at the Devonshire Parish Church – the same church where her parents got married in 1902.
The reception was held at the Ariel Sands Hotel, which her family owns. Her son Michael and his wife Catherine Zeta-Jones were amongst the 130 guests.
News agencies from American and British newspapers, and People magazine joined the local press in covering the event.
She requested that in lieu of gifts, wedding guests donate money for the preservation of local endemic plants such as Bermuda cedar, Bermuda Palmetto and Olivewoodbark.
She published her autobiography In the Wings: A Memoir in 1999, with a preface by her son, Michael. She appeared at book signings in various Bermuda stores. A few pages are available online where she talks about childhood in Bermuda.
-
British press reported that in the book Ms. Dill discusses her seven year marriage to Kirk Douglas, and accuses of him of being a "drug-addicted, sexually voracious bird of prey".
-
This resulted in Douglas threatening to boycott their son Michael's wedding to actress Catherine Zeta Jones if his "blabbermouth" ex-wife attended.
-
Ms. Dill also apparently admitted to giving an affair with film star Errol Flynn during the marriage.
-
She has appeared in numerous television shows and movies including:
• 1942 Keeper of the Flame
• 1947 The Late George Apley
• 1948 Let's Live Again
• 1948 The Sign of the Ram
• 1949 House of Strangers'
• 1949 Photocrime' (TV Series)
• 1950 Masterpiece Playhouse – The Rivals
• 1950 The Web – Key Witness (TV Episode)
• 1951 The Whistle at Eaton Falls
• aka Richer Than the Earth (UK)
• 1952 Armstrong Circle Theatre – Mr. Bemiss Takes a Trip (TV Episode)
• 1951 Storm Over Tibet (Elaine March Simms)
• aka Mask of the Himalayas (USA: alternative title)
• aka Sturm über Tibet (West Germany)
• 1953 Monsoon
• 1953 Studio One – Greed
• aka Studio One Summer Theatre (summer title)
• aka Studio One in Hollywood (new title)
• aka Summer Theatre (summer title)
• aka Westinghouse Studio One
• aka Westinghouse Summer Theatre (summer title) (TV Episode)
• 1953 Medallion Theatre – The Decision at Arrowsmith (TV Episode)
• 1953 Three Steps to Heaven (TV Series) Mary Claire 'Pogo' Thurmond Morgan #2
• 1953 Willys Theatre Presenting Ben Hecht's Tales of the City
• Episode 1.6 (TV Episode)
• 1955 General Electric Theater – The Seeds of Hate
• aka G.E. Theater (USA: informal short title) (TV Episode) Nora
• 1955 The Indian Fighter Actor [Starring] Susan Rogers
• 1956 Medic
• Reach of the Giant: Part 2 (TV Episode) Edith Martin
• Reach of the Giant: Part 1 (TV Episode) Edith Martin
• 1956 Science Fiction Theater
• Brain Unlimited (TV Episode) Elaine Conover
• End of Tomorrow (TV Episode)Jane Brandon
• 1956 West Point
• aka The West Point Story
• Officer's Wife (TV Episode)
• 1953 Robert Montgomery Presents
• Element of Risk (TV Episode)
• aka Lucky Strike Theater
• aka Montgomery's Summer Stock
• aka The Robert Montgomery Summer Theater
• 1956 Robert Montgomery Presents
• Goodbye, Grey Flannel (TV Episode)
• 1959 Naked City
• The Scorpion Sting (TV Episode) Meg
• Even Crows Sing Good (TV Episode) Hilda
• 1964 Flipper
• The Second Time Around (TV Episode) Mrs. Granville
• 1965 For the People
• The Influence of Fear (TV Episode)
• 1965 Ben Casey
• War of Nerves (TV Episode) Martha English
• 1967 N.Y.P.D.
•  The Boy Witness (TV Episode) Mrs. Whitaker
• 1970 Loving
• 1967 Love Is a Many Splendored Thing (TV)
• 1971 Hawkins (TV)
• Episode A Life for a Life (Clara Guilfoyle)
• Episode Die Die, Darling (Clara Guilfoyle)
• 1973 Kung Fu (TV)
• Episode The Tong (Sister Richardson)
• 1974 The Streets of San Francisco [TV]
• Episode Chapel of the Damned
• 1974 The Cowboys (TV Series) (Mrs. Annie Andersen)
• 1975 Dead Man on the Run [TV]
• 1977 Un Autre Homme Une Autre Chance (aka Another Man, Another Chance]
• 1977 Billy: Portrait of a Street Kid [TV]
• 1978 A Fire in the Sky [TV]
• 1979 Roots: The Next Generations
• 1981 Jaws of Satan (aka King Cobra)
• 1982 Sister, Sister [TV]
• 1983 The Star Chamber
• 1987 Planes, Trains and Automobiles
• 1987 Beauty and the Beast [TV]
• Episode 8: Song of Orpheus
• 1992 A Town Torn Apart [TV] (aka Doc: The Dennis Littky Story)
• 1992 Cold Heaven
• 2003 It Runs in the Family
The 2003 movie 'It Runs in the Family' featured Ms. Dill and real life family members including son Michael Douglas and ex-husband Kirk Douglas.