Shawn Goater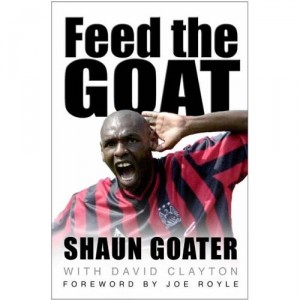 Leonard Shaun Goater MBE [born February 25th 1970] is one of Bermuda's best all time football players.
Nicknamed "The Goat", he played as a striker for a number of English clubs in the 1990s and 2000s. He is most well known for playing for Manchester City where he scored over 100 goals between 1998 and 2003, finishing as the club's top scorer for four consecutive seasons.
Goater represented Bermuda in international matches thirty six times, scoring an impressive thirty two goals. He made his first international appearance at the age of 17 against Canada, and his final appearance was in 2003 against El Salvador.
Goater's first professional club was Manchester United, but he did not reach the first team, making his League debut in 1989 after moving to Rotherham United. He played for Rotherham for seven years before moving to Bristol City in 1996. Two years later he moved to Manchester City for a fee of £400,000 [$630,000].
After leaving City, Goater had spells with Reading, Coventry City and Southend United, before retiring in May 2006.
Click to enlarge photos:
After retiring, Mr. Goater returned to Bermuda, receiving an official welcome from Prime Minister Alex Scott on his arrival.
He presently lives in Southampton and is married to Anita, his childhood sweetheart with whom he has two daughters, Amaya and Anais. Since his return he has held football clinics, as well as been instrumental in the formation of the Bermuda Hogges football team.
He was awarded the MBE in 2003 for services to sport and young people in Bermuda.
His autobiography, Feed the Goat: The Shaun Goater Story was published in September 2006.
League Appearances:
• Season      Club                              Games         Goals
• 1988-1990 Manchester United         0                   0
• 1990-1996 Rotherham United       209               70
• 1993-1994 Notts County [loan]        1                    0
• 1995-1998 Bristol City                        75                 40
• 1997-1998 Manchester City              7                     3
• 1998-1999 Manchester City              45                  9
• 1999-2000 Manchester City             40                23
• 2000-2001 Manchester City             26                  7
• 2001-2002 Manchester City             42                 28
• 2002-2003 Manchester City             26                   7
• 2003-2004 Reading                                -                      -
• Total:                                                       471               197
-

A compilation video of many of Mr. Goater's football highlights:
-
Shawn Goater's retirement speech to the fans: