[UPDATE Dec 17: Election Results] Shawn Crockwell [OBA] has won C#31 Southampton West Central, defeating Scott Simmons [PLP] and the incumbent Charles Swan [IND]. The OBA pick up a seat, and Charles Swan is out of the House.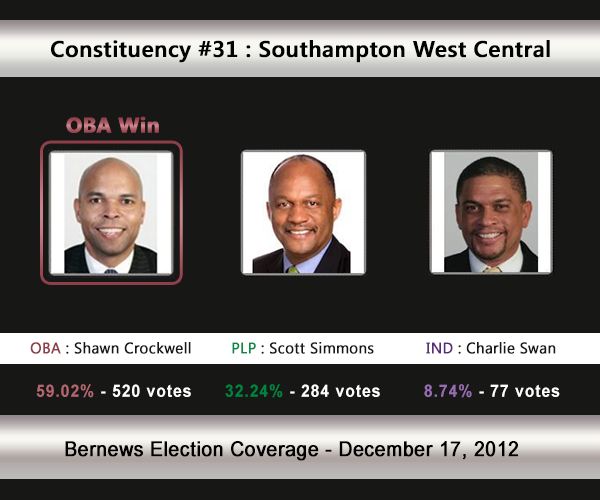 Southampton West Central is set to be a three-way battle between Shawn Crockwell [OBA], Scott Simmons [PLP] and the incumbent Charles Swan [Independent].
Charles Swan will be running as an Independent, not under the UBP's banner.
Mr Swan won a bye-election against the PLP's Marc Bean in 2008. In the 2007 General Election, the UBP's Jon Brunson won 57.38% of the vote vs the PLP's Marc Bean [548-406]. In the 2003 General Election, Mr Brunson won with 57.47% of the vote against Michael Scott [PLP] who received 42.53%.
Areas the Southampton West Central constituency compromises of, or is located by, include Middle Road, Rockaway Road, the Railway Trail, Luke's Pond Drive, Luke's Pond Road and also includes Buck Island.
Scott Simmons' bio, as provided by the PLP:
Scott A. Simmons currently serves as the Press Attaché to the Premier of Bermuda and has previously worked in the Cabinet Office as Press Secretary and Senior Advisor, Media Relations.

Educated at the Bermuda Institute, Bermuda College and the University of Toronto, his professional career began with the Bermuda Police Department where he served as a police cadet and a police constable and further developed at the Bank of Bermuda specifically Corporate Banking, Corporate Trust and Global Custody.

He joined the hospitality industry at Princes International's Group of Hotels in Bermuda as Night Manager, Assistant Manager, Director of Security and Assistant Manager respectively. His experience in smaller hotels included professional development at Cambridge Beaches and the Coral Beach Club.

His political career began when he ran in the 2003 General Election as a candidate in Constituency 9, Smiths West and was later elected Public Relations Officer of the Bermuda Progressive Labour Party. His government experience was enhanced when he was appointed Press Secretary to the Premier and Senior Advisor, Media Relations and then asked to serve on the Board of Tourism, Board of Works and Engineering, Board of Immigration and the West End Development Corporation. Following serving at the Cabinet Office, he was invited by two consecutive Government Ministers to serve as a Communication Consultant and latterly as a Senior Aide.

Concurrent with his duties at the Cabinet Office, Mr. Simmons is a Director on the Board of the Bermuda Land Development Corporation and is active on its Business Development Committee.

He has one daughter, Isabella, and lists fishing, running and reading as personal pursuits when time allows.
-
Shawn Crockwell's bio, as provided by the OBA:
Shawn currently serves as a Member of Parliament for Pembroke West, Constituency # 19 after being elected in December 2007. In addition to a political career, Shawn is an Associate at the law firm of Mello Jones & Martin in the litigation group and advises on a broad range of general civil, matrimonial and criminal matters.

Shawn was educated at the Bermuda Institute Seventh Day Adventist School where he attended from kindergarten through grade 12. Shawn then graduated magna cum laude from Oakwood College (now Oakwood University) receiving a degree in history and political science. Shawn went on to acquire his law degree from the University of London and qualified as a Solicitor at the De Montford University in Leicester England.

He is a member of the Alpha Phi Alpha Fraternity Inc. and is currently affiliated with its local chapter, Epsilon Theta Lambda Chapter. Shawn offers free legal advice at the Legal Advice Centre on Angle Street and has also volunteered for various charitable organizations such as PRIDE Bermuda, CADA, and YouthNet.

In his spare time, Shawn enjoys watching sports, playing golf and tennis. Shawn is fond of reading biographies of former and current influential personalities and watching documentaries.
-
Charlie Swan's bio, as provided:
Charlie Swan is a successful businessman, the Managing Director of CF Batson Swan Ltd., and he has run his family owned business for twenty five of the fifty years it has been in existence.

Charlie Swan the Member of Parliament for Southampton West Central first came to the legislature as an appointed Senator in February 2008 and was later elected to Parliament in December of 2008.

Charlie Swan has proven to be a hard working and meticulous politician – a stickler for detail who has demonstrated a rare quality to put the issues of the people of Bermuda first and foremost.

Charlie always researches issues thoroughly and asks tough question in and out of Parliament. It was Charlie Swan's questions that uncovered the Bazarian Lease and his prodding that caused government to return the National Hero holiday to June to coincide with the Annual Comet Races.

Charlie has not only proven to be a dedicated to his constituency in Southampton but has become a committed to the entire west end community.

Privately Charlie Swan has been actively involved in many community and philanthropic undertakings, most notably, through his involvement as a Rotarian and as a cadet and officer in the Bermuda Sea cadet Corps. Charlie also played an integral part in the formation of the Bermuda Youth Sports Program.

Charlie speaks passionately on education and has a particular interest in the National Training Board. Given his experience in the construction field, he also speaks passionately on public works and housing. As an employer Charlie Swan has proudly influenced, trained and mentored many persons in the trades – a number of whom have gone on to be successful business people, and competitors, in their own right.
-
Constituency boundary map, click to enlarge: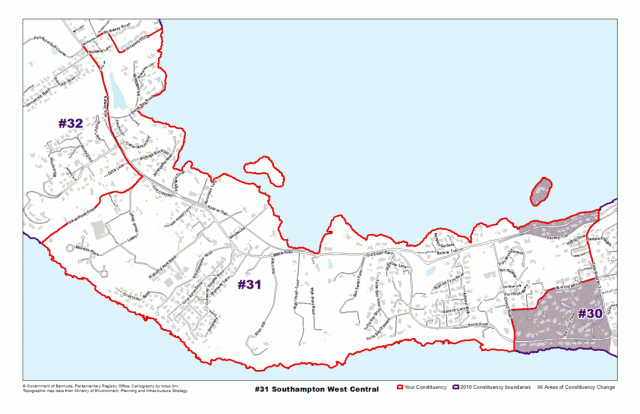 Category: Constituency, Won by the OBA in 2012