[UPDATE Dec 17: Election Results] Kim Wilson [PLP] has defeated Ed Bailey [OBA] in C#34 Sandys South Central. Ms Wilson has served in the Senate and Cabinet, but this will be her first time in Parliament.
The upcoming election will see two lawyers face off in Sandys South Central; with Kim Wilson standing for the PLP, and Ed Bailey representing the OBA. Mr Bailey has not yet been officially rolled out, however has been canvassing the area.
The incumbent is veteran politician Walter Lister, who is retiring from politics. In the 2007 General Election, Mr Lister won 69.26% [649-284] of the vote vs the UBP's Sarah Burrows. In the 2003 General Election, Mr Lister won with 66.59% of the vote against Ed Bailey [UBP] who received 28.72%.
Areas the Sandys North Central constituency compromises of, or is located by, include Church Valley Lane, Sound View Drive, Sound View Road, and Somerset Road.
Kim Wilson's bio, as provided by the PLP:
Kim N. Wilson obtained her Bachelor's Degree in Psychology from the University of Illinois, a Master's in Education from Indiana University, and a LLB from London University in the United Kingdom. She was admitted to the local bar in 1995.

Her legal background includes both Criminal and Civil Litigation, Estates Planning, Wills and Probate. The issue of crime, the contributing factors and the impact on our community has stood in the forefront of her career. She understands the challenges faced by the judicial system having served on the one hand as Defense Counsel and on the other hand as an Acting Magistrate in the lower courts. Having provided legal advice on landlord and tenant matters to the Bermuda Housing Corporation for over 10 years, Ms. Wilson also has a great deal of experience with landlord tenant affairs and she has taken a keen interest in the issue of affordable housing. Her interests also extend to research and consideration of local constitutional matters.

Ms. Wilson has served on a number of boards and committees of which include among others the Human Rights Commission, E-commerce Advisory Board, Criminal Injuries Compensation Board and the Board of Governors for CedarBridge Academy. She is a member of the Allen Temple AME Church and has been active in fund raising for their capital projects and as a Sunday school teacher.

In October 2006, Ms. Wilson was appointed as a Government Senator in the Upper House and was additionally appointed as Junior Minister of Finance and Education.

In December 2007 she was appointed the Attorney-General and Minister of Justice. In 2010, Ms. Wilson was appointed as the Minister of the newly created Ministry of Economy, Trade and Industry. In 2011, she returned to the position of Attorney General and Minister of Justice and also serves as the Senate Leader.

Ms. Wilson is married to Dr. Kent Simmons. They reside in Sandys Parish and have 2 children, Niara, aged 10, andKent II, aged 7. As a retreat from her active life she enjoys spending time with her family, gardening, cooking and boating.
-
Ed Bailey's bio, as provided by the OBA:
Ed Bailey was born in Sandys Parish in the family homestead, which remains intact at 7 Bob's Valley Lane, Constituency 34, Sandys South Central. He and his wife continue to live in the parish.

He served in the Bermuda Police Service for 14 years and achieved the rank of Inspector. He was then called to the Bermuda Bar as a lawyer and now owns his own law firm. Currently, he sits as an acting magistrate in the lower courts.

He attended West End Primary and Sandys Secondary School and had the honour to be the first lawyer to graduate from these two academic institutions.

A home-grown Somerset man, he and his wife Rosalyn own Bailey's Enterprises, which does business in the parish. He has served on the St. James Church Vestry.

As Past President of the Cricket Board of Control, he has fond memories of the visiting international cricket teams who played many matches against our young cricketers.

He has served as a Member of the House of Parliament, and been a member of the Tourism Board, the Public Service Board and the Vehicle Licensing Board.
-
Constituency boundary map, click to enlarge: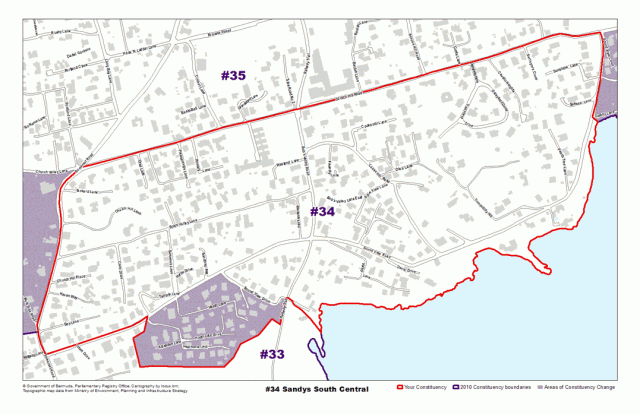 Category: Constituency, Won by the PLP in 2012