[UPDATE Dec 17: Election Results] Incumbent Michael Scott [PLP] has retained his seat. He was challenged by Ray Charlton [OBA] in C#36 Sandys North.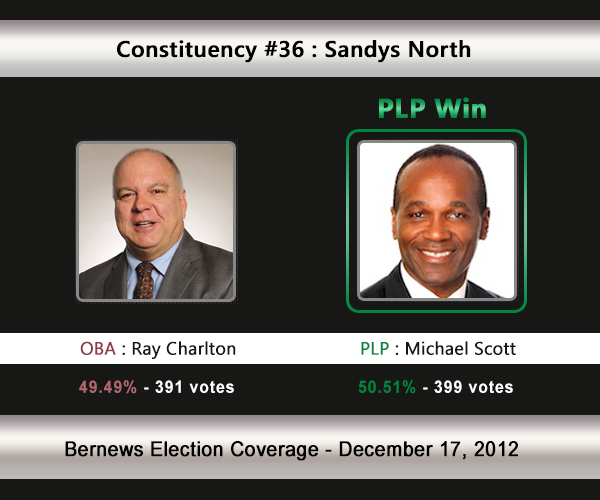 The incumbent Michael Scott [PLP] is being challenged by the OBA's Ray Charlton.
In the 2007 General Election, Mr Scott won 62.2% [486-292] of the vote vs the UBP's Ed Bailey. In the 2003 General Election, Eugene Cox [PLP] won with 64.15% of the vote against Gerald Fubler [UBP] who received 35.85%.
Areas the Sandys North constituency compromises of, or is located by, include East Shore Road, Mangrove Bay Road, Somerset Road, School Lane, Long Bay Lane and a number of smaller islands such as Watford Island, Boaz Island, Ireland Island South, Ireland Island North, Daniel's Island, One Tree Island, Current Island, and Malabar Island.
Michael Scott's bio, as provided by the PLP:
Mr. Michael John Scott JP MP, a Lawyer, has been fully engaged in Progressive Labour Party (PLP) politics for over 30 years in addition to his successful legal career.

Mr. Scott was educated at Southampton Glebe & The Berkeley Institute and holds a BA from Mount Allison University. He was called to the English Bar in 1981, and is a Member of Middle Temple where he completed his pupilage with a concentration in criminal and civil litigation, before returning to Bermuda to practice in 1981.

In 1989 and 2003, he was PLP candidate in the Southampton West constituency. In the lead up to the significant 1998 General Election Campaign, Mr. Scott was appointed PRO. Following the 1998 PLP Election victory, he was appointed a Senator with responsibility for Legislative Affairs, Development & Opportunity, Telecommunications, and E-Commerce.

In July 2003, he was re-appointed to the Senate as Government Leader and Minister of Legislative Affairs. Mr. Scott won the Bye Election of March 2004 in Constituency #36 (Sandy's North), occasioned by the passing of the Hon. C Eugene Cox. He was re-appointed Minister of Legislative Affairs, and, later that year, Minister of Telecommunications & Ecommerce. From 2007 to June 2009 he was the Junior Minister of Justice.

In June 2009, he was appointed Minister of Energy Telecommunications & E Commerce and in October 2010, under the Hon Paula A. Cox, he was appointed Attorney General and Minister of Justice.

In November 2011, Mr. Scott was appointed Minister of Government Estates & Information Services. Mr. Scott has carried on the great traditions of his predecessor as responsive and accessible MP carrying out welcome projects for the improvement of his constituency.

Until his appointment as Attorney General and Minister of Justice, Mr. Scott was the sole proprietor of the Somerset legal practice Browne Scott. Prior to that, he had co-founded Messrs. Scott & Scott with his brother and author Lawrence G. Scott. He had earlier been engaged with Browne & Wade Chambers, the law firm of two distinguished PLP Leaders – the late Mr. L Frederick Wade and the late Dame Lois M. Browne Evans.

Mr. Scott is a Member of the Allen Temple AME Church in Sandy's Parish and serves as PRO of the
Allen Temple Senior Choir.
-
Ray Charlton's bio, as provided by the OBA:
A resident of "God's Country" – Ray Charlton has a strong commitment to Sandys. Ray is the son of Walter "Red" and Frances Charlton, and has spent many years of his life in Somerset. He lives there with Lynn, his wife of 30 years. They have three children.

Ray attended Port Royal and Saltus Grammar Schools and later continued his Education at the Cable & Wireless Engineering College and Chelmsford University in the UK. After he obtained a Higher National Diploma in Telecommunications Engineering and Electronics, Ray started his career in telecommunications with Cable & Wireless before moving to WorldCom in the United States.

Ray says, "Through Cable and Wireless, I had the benefit of a strong technical education, which provided a solid foundation for a successful and rewarding career. I am a strong believer in the need to re-establish a technical and vocational curriculum in our public education system for our students. I fully support the OBA's vision to implement an integrated technical curriculum beginning in the middle schools and continuing through Bermuda College. It's an important part of our plan to provide young Bermudians with the skills and training they need to get good jobs."

Ray returned to Bermuda in 2008 to manage the installation of the Challenger undersea cable connecting Bermuda to the US. He is presently the Vice President of Cable Co Ltd., a Keytech company.

Apart from his telecommunications work, Ray has been actively involved in his community. In the late 1980's he was a founding member of the Bermuda Youth Sporting Program (BYSP) and served on their board. He worked as a coach and umpire until moving abroad for work in 1998. In 2010, Ray signed on with the Mirrors program and he serves as a coach at the Sandys Middle School. He is very concerned at the government cutbacks suffered by Mirrors and the loss to young Bermudians who could benefit from the programme.
-
Constituency boundary map, click to enlarge: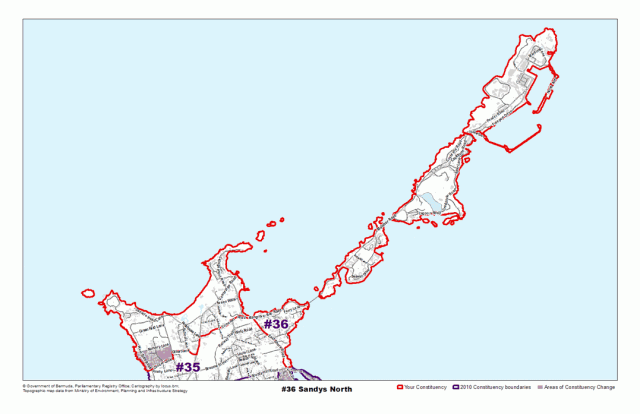 Category: Constituency, Won by the PLP in 2012