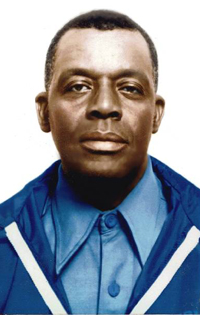 [AMIS Memorial Chapel & Crematory]
A Homegoing Service celebrating the life of Albert Daniel "Joe" Smith, in his 94th  year of Tribe Road#3, Devonshire, DV03, son of the late Sethlo and Grace Smith, beloved husband of Mary and loving father his children Jocene Harmon [Victor], Chris Smith [Rhonda Woods], Adele Davis and Andrew Smith [Patrice], will be held on Tuesday, September 4 2018 at 3:00 p.m., St. Paul's Anglican Church, Middle Road, Paget.  Interment will follow in St. Paul's cemetery.
Visitation:  Relatives and friends may pay their respects on Monday evening, September 4, from 7:30 p.m. to 9:00 p.m. at AMIS Memorial Chapel, Khyber Pass, Warwick.
Beloved grandfather to Richelene, Seon, Qurnna [Damian], Christina [Omar], Melissa, Zephyra [Robert], Richard Jr., Kejon, Geordal, Dion, Kyhon [Timika], Kyle, Christino, Tahkeison, Neikori, Tahnaesha and Chrysda. 17 Great grandchildren and 2 Great great grandchildren.  Sister: Althea Green, Sister-in-law: Greta Somner [Melvin] and Brother-in-law: Gary 'Buchie' Gibbons [late Shirley], Daughter-in-law: Deborah Gibbons, numerous nieces and nephews, other relatives and special friends.
Albert Daniel 'Joe' Smith was predeceased by sons: Richard Gibbons Sr. and Brian Smith, brothers, Alfred 'Tom' Smith, Earlston 'Boots', Sisters Marie Hurst and Clarice Joell.